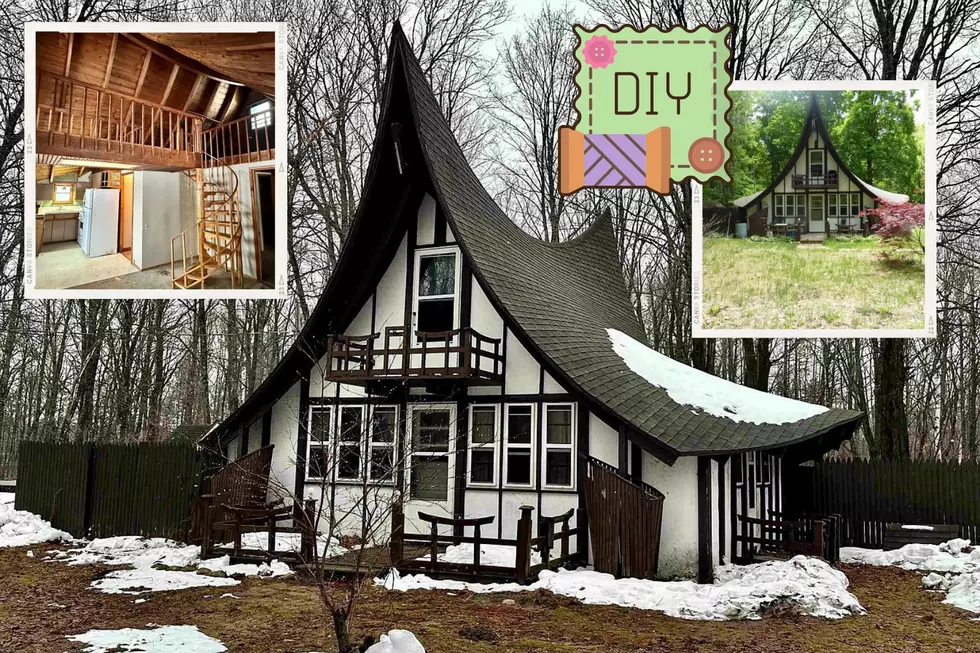 Northern Michigan A-Frame House For Sale is a DIY Dream
Photo courtesy of Jon Zickert REO-TCBeulah-Frankfort and Canva
Cheap and old. That's a combination of words that might deter some people. However, in this instance, just think of it as inexpensive and classic.
That's how I would describe this awesome-looking A-frame house for sale in Northern Michigan.
Being a fan of looking through interesting real estate listings, of course, I follow "Cheap Old Houses" on Instagram. And they show you just that...cheap, old houses that are for sale, not just in the United States, but across the world. Which is why it's so cool to see something from Michigan make the feed.
A-Frame Houses For Sale in Michigan
This particular sale listing comes to us from Mancelona, Michigan, which is just northwest of Grayling near the top of the lower peninsula. I was able to find it on Zillow, listed by REO-TCBeulah-Frankfort.
It's an adorable A-frame house with two bedrooms and one bathroom. Here's the thing; it's so cheap (only $85,500) because it definitely needs a little TLC. Nothing seems to be horribly wrong with the house or prosperity, but it's certainly seen better days. It's down to the bare bones in some rooms. But just think about it this way; you could turn this house into exactly how you'd want it to be. It's almost like a fresh start, but you've got a really good base to work with.
Michigan Homes For Sale That Need Some Work
If you're the type of person who wants a home to be move-in ready, I'm sorry to say, this probably isn't the listing for you. However, if you're a DIY-er and you're willing to put in the elbow grease to make this thing shine, look no further than 10290 Carmichael Dr. NE in Mancelona, Michigan.
Once she's been restored to her former glory, you can spend the rest of your time biking, fishing, swimming, or taking part in one of the many other great outdoor activities that this location has to offer. Check out this A-frame in the gallery below.
Northern Michigan A-Frame House For Sale is a DIY Dream
If you're a fan of northern Michigan living and don't mind little elbow grease, consider this adorable A-frame home that's for sale. It's on the cheaper side because it needs some work, but if you're not afraid to do a little DIY, this could be the perfect getaway for you.
Northern Michigan Cabin For Sale in Paradise
Living in paradise is possibly everyone's dream. If it's yours, you can make your dreams come true by purchasing this adorably cozy cabin in Paradise, Michigan. Check out how cute it is for yourself.
Historic Queen Anne Victorian House For Sale in Owosso, Michigan
If you're in the market for a home that has plenty of space and a whole lot of character, look no further. This stunning Victorian home for sale in Owosso, Michigan could be yours for less than $400K. Take a look through the pictures below.