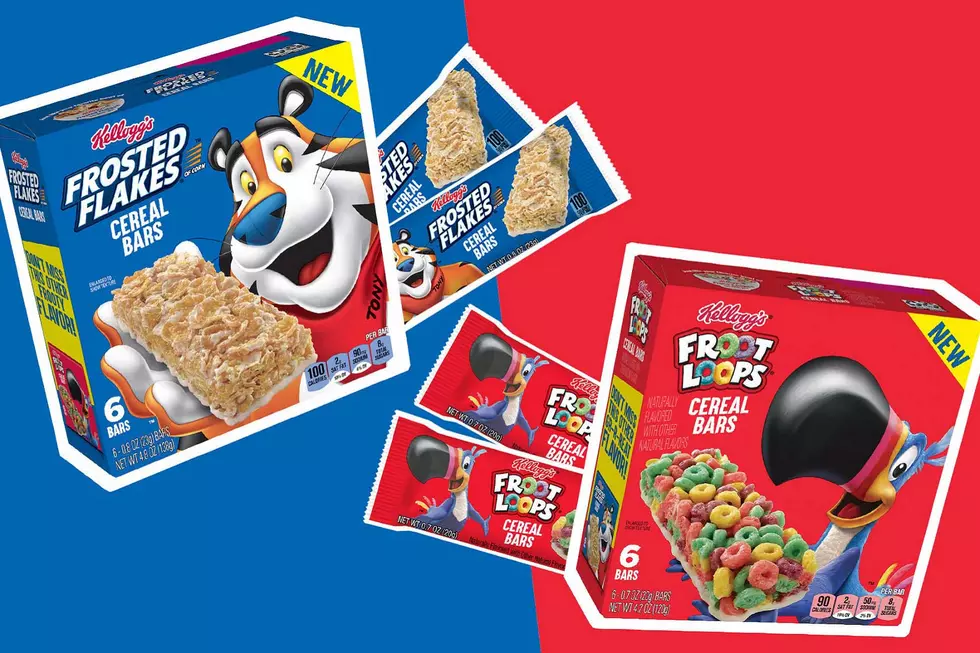 Now You Can Take Your Cereal With You
Photo: Courtesy of Kellogg's
How many of us have been running late and just wished we could take our cereal with us when we leave the house? I once saw a guy in his car, driving down the road, trying to eat a bowl of cereal. Thanks to Kellogg's, we now have a safer and more convenient solution!
Kellogg's is launching breakfast-inspired Cereal Bars, a whole new way to enjoy Kellogg's Froot Loops® and Kellogg's Frosted Flakes®. No spoon or milk required!
These all-new bars are made with cereal pieces and are equal to a half serving of cereal (by weight) to deliver the delicious and beloved flavors of Froot Loops and Frosted Flakes.
This new snack bar will make it easy to grab on the way out the door -- for both both young and old.
In a recent news release, Sarah Reinecke, Senior Director Brand Marketing remarked: "At Kellogg's, we're always looking to innovate and deliver new experiences that our fans desire, and we know breakfast isn't the only time people munch on cereal. Whether you're a cereal-loving kid or just a kid at heart, Kellogg's® Cereal Bars offer a whole new way to enjoy Kellogg's® Froot Loops® and Kellogg's Frosted Flakes® on the go, wherever your day takes you."
The new cereal bars are scheduled to be in stores this month.
It looks like this idea of cereal in a bar has been around for awhile. I found this commercial from the UK from back in 2000...
In time for the holidays, I also just found out there are Froot Loops Candy Canes. How have I missed these? Hopefully I can find some in the stores. I want to give them a try.
The Battle Creek based Kellogg's has been around since 1906. Originally called the Battle Creek Toasted Corn Flake Company. In 1876, John Harvey Kellogg became the superintendent of the Battle Creek Sanitarium and his brother, W. K. Kellogg, worked as the bookkeeper. This is where corn flakes were accidentally created and led to the eventual formation of the Kellogg Company.
CHECK IT OUT: See the 100 most popular brands in America