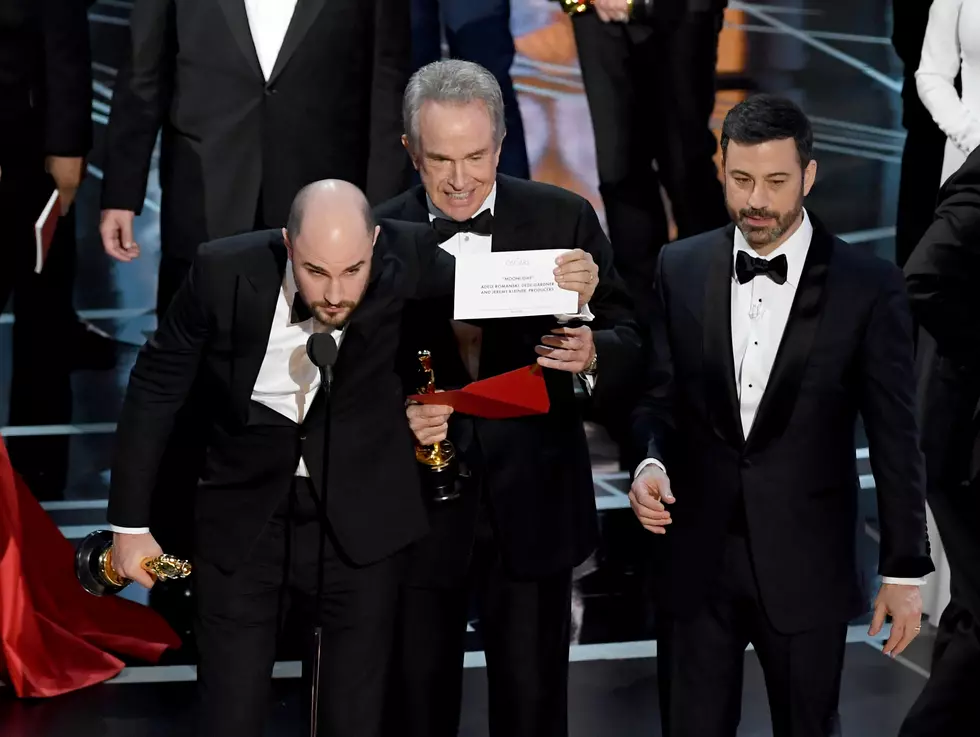 Oscars Stage Manager Reveals Why It Took So Long To Correct the Best Picture Mistake
Getty Images
The Envelopegate investigation continues, and now we have more information on what exactly went down backstage during the Oscars Best Picture snafu. One of the biggest questions has been why exactly it took so long for the Academy producers and PricewaterhouseCooper accountants to notice La La Land had wrongly been named the winner. In a new interview with The Wrap, Oscars stage manager Gary Natoli reveals a whole bunch of details on what exactly happened and why the two PwC accounts were held responsible for the mistake.
As a quick recap, it took over two minutes for host Jimmy Kimmel, Beatty, and a group of stage managers to interrupt La La Land producer Jordan Horowitz's acceptance speech before announcing Moonlight as the winner. Natoli reveals that he didn't even know the wrong winner had been named until over a minute after the announcement. PwC accountants Brian Cullinan and Martha Ruiz were supposedly the only two people who knew the correct winners. (In fact, they were told to memorize the winners should anything go wrong.) But the manager says that as soon as Faye Dunaway announced La La Land, Ruiz, who was standing near him, didn't react.
Assuming everything was going according to plan, Natoli left the stage wings to begin setting up for a closing skit in the audience between Kimmel and Matt Damon. That's when he heard over his radio mic that the wrong winner might have been named. Even when the mistake was realized, Natoli says Cullinan and Ruiz both froze backstage. "I still do not understand the delay," he told The Wrap.
[Stage manager] John [Esposito] was trying to get Brian to go on stage, and he wouldn't go. And Martha wouldn't go. We had to push them on stage, which was just shocking to me.
Eventually Natoli, along with Kimmel and Beatty, went out on stage and the rest of is history. But this new information does provide some more context for why both Ruiz and Cullinan were held responsible, and why PwC announced yesterday that the two accountants won't be a part of future Oscar ceremonies. We already knew Cullinan was the one who accidentally gave Beatty the wrong envelope while distracted tweeting a since-deleted photo of Emma Stone. But even we were puzzled as to why PwC barred Ruiz from future Oscars. The accountant has yet to make a statement, and it's unknown why exactly she was so hesitant to go on stage, but according to Napoli, both accountants were "too low-key" about the matter and acted with "no urgency."
Another notable tidbit from the interview is the fact that Cullinan discussed the correct protocol for a possible mix-up a day before the Oscars, a conversation instigated by Cullinan's previous interview with The Huffington Post. Napoli told him, "You need to immediately go out and rectify the situation, ideally before the wrong winners get to the mic." If "immediately" means two minutes, and "rectify the situation" means do nothing, then yeah, Cullinan succeeded. But should the two PwC accountants really lose their jobs over this? Napoli might consider the whole mix-up "very upsetting," but it did give the Oscars their most talked about moment in years.