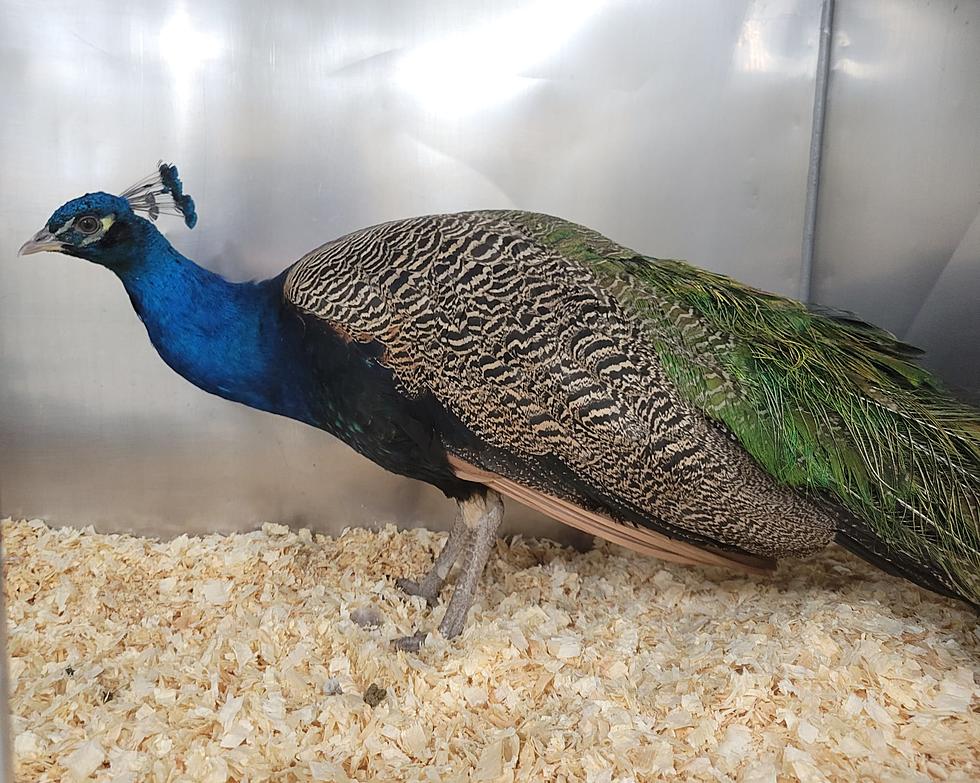 Peacock up for Adoption at Kent County Animal Shelter After No One Claims Him
Kent County Animal Shelter, Facebook
Would you like a pet peacock? Pete is up for adoption at Kent County Animal Shelter!
Last week we told you the unusual bird was found wandering in Kentwood and the shelter has been looking for his owners ever since.
On Friday, Kent County Animal Shelter shared Pete's picture to Facebook, saying the stunning bird was found in the area of Poinsetta SE.
According to WZZM-13, no one has claimed the beautiful peacock yet. And so, after more than four days at the shelter, he's being put up for adoption.
Pete is believed to be about a year old.
Kent County Animal Shelter Division Director, Angela Hollinshead tells WZZM-13,
We see some in the area and there are people who really fancy them. They are a little bit harder to maintain than just your backyard chickens, they do have the tendency to fly...They can get off the ground, and they can go for some distances, so if they're not contained with a roof, they tend to get lost pretty easily.
Maybe that's exactly how Pete the peacock got away from his owners.
Well, if you know anyone missing their peacock or if you're interested in adopting Pete, you can call KCAS at 616-632-7300 or email KCAS@kentcountymi.gov.
Side note, if you are thinking of adopting Pete, heads-up that apparently peacocks are loud - I had no idea! Hollinshead says tells WZZM-13 they "sound like a dinosaur". Now, I personally think that makes them even cooler - but if you have neighbors that live close-by, they *might* feel differently.
Here's a video I found of a peacock's "roar". What do you think they sound like? I'm hearing more of like a monkey/ goose scream/ gurgle.
10 Animals You Can't Own As Pets In Michigan
Some people really want to have an exotic pet in their home, but very rarely is it a good idea. And if you are looking to add a wild animal to your family, check out this list of animals you can not own as pets in Michigan.