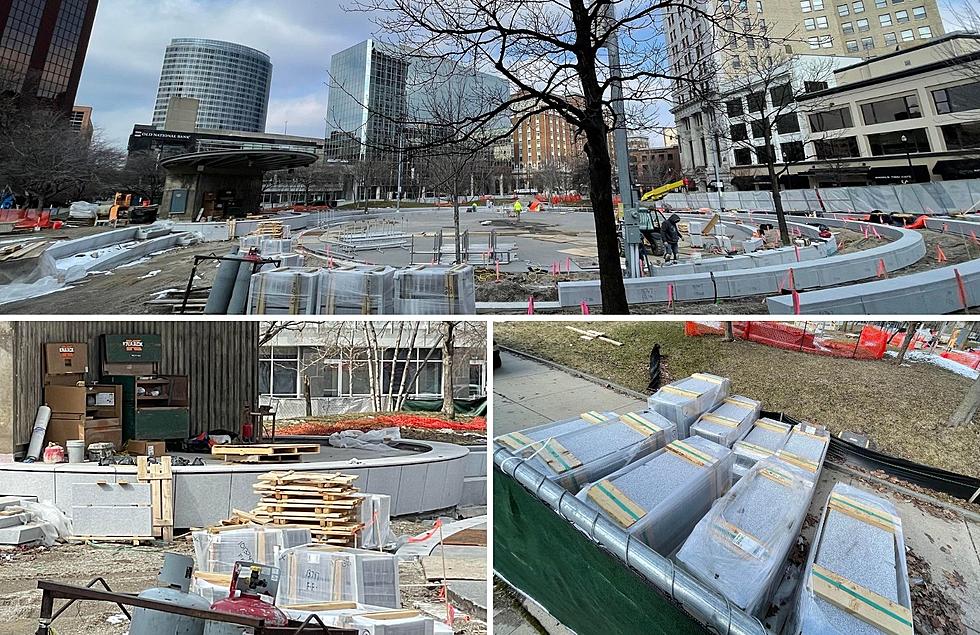 PICS: Work On Rosa Parks Circle In Downtown Grand Rapids Is Ahead Of Schedule.. Sort Of
Credit: Big Joe Pesh
Rosa Parks Circle in downtown Grand Rapids has been closed to the public since May of 2021. The popular gathering spot for hanging out, seeing live music, and so many other events in Grand Rapids has been undergoing a major facelift, which was expected to be done by the fall/winter of 2022. Unfortunately, supply chain issues made it impossible to finish by the initial deadline but it is now on track to reopen in early summer of 2022.
Downtown Grand Rapids Shared Some Renovation Pics On Facebook
How Much Will The Rosa Parks Circle Improvements And Renovations Cost?
The project cost 2.8 million dollars. $700,000 came from the city's Parks Millage and $550,000 from the Downtown Development Authority. The remaining costs were funded by private donors through the Rosa Parks Circle Conservancy.
David Marquardt, director of the city's Parks and Recreation Department, said the "impressive" heavy public use of the Ecliptic has taken its toll on the interactive art piece. Officials have previously said about 700,000 visitors use the park each year.
What Work Is Being Done At Rosa Parks Circle In Downtown Grand Rapids?
Bandshell improvements and re-design
Restroom improvements and re-design
Bicycle loops
Bus shelter
Granite and wood benches
Additional shade trees
Granite curb wall and steps
Drinking fountain
Cast bronze 3-D tabular tabletop site map
New decomposed granite trail surface
New site amenities and litter receptacles
Interpretive signage
I Took A Walk Today From The Mix 95.7 Studios To See The Progress Myself
The entire perimeter of Rosa Parks Circle is fenced off
Workers were installing the new seats when I walked up
I was able to snag a few pics over the fence of the new seats
You can already see some of the work that has been done to the stage
Ecliptic at Rosa Parks Circle
This map shows where different renovations and improvements will be made
I'm really excited to see how things turn out when construction wraps up this summer.
50 Newish Restaurants & Bars In West Michigan You Should Check Out
These are newish restaurants and bars people in west Michigan recommended for good food and drinks.
Top 25 Restaurants West Michigan Wants Right Now