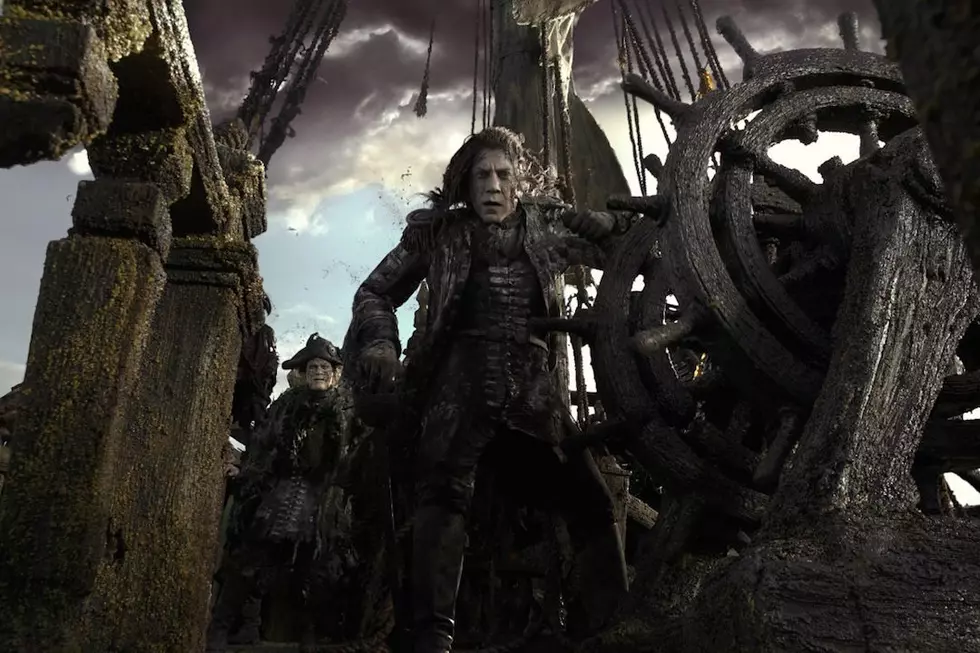 Jack Sparrow Loses His Pants in the International Trailer for 'Pirates of the Caribbean: Dead Men Tell No Tales'
Disney
For many movie fans, international trailers are an afterthought, an attempt to repackage previously released footage for a new market. But given the popularity of the Pirates of the Caribbean movies abroad, it's probably safe to say that Disney takes its international footage pretty seriously. After all, the previous film in the franchise, Pirates of the Caribbean: On Stranger Tides, grossed a total of $240 million domestically and $804 million internationally. Put another way: the film failed to make back its budget ($250 million) in the United States but tripled it abroad.
So while the new trailer for Pirates of the Caribbean: Dead Men Tell No Tales (via Heroic Hollywood) may not have a lot of new footage it does highlight some of the major points from the other teasers  —  ghost pirates! an uncomfortably computer generated Johnny Depp!  —  while also finding time to show Jack Sparrow without his trousers up. If anything, the trailer serves as a reminder that the Pirates of the Caribbean movies are never quite as serious as the trailers make them out to be.
As long as these movies keep making money around the world, Disney will keep finding reasons to throw Jack Sparrow back in harm's way. And while there are undoubtedly some who wonder why we need a fifth Pirates of the Caribbean film, I'm willing to meet the studio halfway with one very specific request. If Disney decides to focus less on Johnny Depp's character and more on the Bond villain-esque performances of actors like Geoffrey Rush, Bill Nighy, and Javier Bardem, then I think I could be convinced to stick around for a couple more films. We may not need more Jack Sparrow films, but more movies about evil swarthy ghost pirates? I'm listening.
Here's the full plot synopsis for Pirates of the Caribbean: Dead Men Tell No Tales:
The rip-roaring adventure finds down-on-his-luck Captain Jack feeling the winds of ill-fortune blowing strongly his way when deadly ghost sailors, led by the terrifying Captain Salazar, escape from the Devil's Triangle bent on killing every pirate at sea — notably Jack. Jack's only hope of survival lies in the legendary Trident of Poseidon, but to find it he must forge an uneasy alliance with Carina Smyth, a brilliant and beautiful astronomer, and Henry, a headstrong young sailor in the Royal Navy. At the helm of the Dying Gull, his pitifully small and shabby ship, Captain Jack seeks not only to reverse his recent spate of ill fortune, but to save his very life from the most formidable and malicious foe he has ever faced.
Pirates of the Caribbean: Dead Men Tell No Tales will bring back Johnny Depp, Geoffrey Rush, and Orlando Bloom in addition to newcomers Javier Bardem, Kaya Scodelario, and Brenton Thwaites. It will sail into theaters on May 26, 2017.