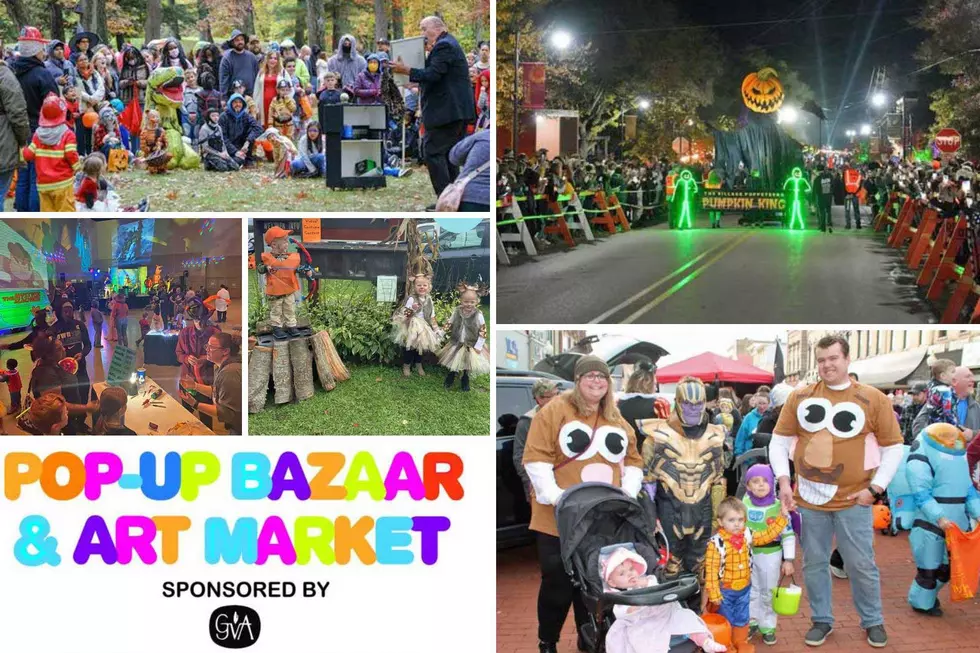 Plan Ahead: West Michigan Fairs and Festivals October 16-31
Photos: Facebook
With the cooler weather, there aren't as many fairs and festivals this time of year in the West Michigan area. There are still a few harvest festivals and Halloween themed events happening in the next couple of weeks.
Friday, October 14-Sunday, October 16, 2022 - Yankee Springs Recreation Area - Gun Lake Campground, Middleville, MI
Do some fall camping during the annual Harvest Festival. This event is for the whole family. Bring along your Halloween decorations, costumes and candy. There will be a full list of activities that will occur in the Gun Lake campground. Keep your eye out for super heroes roaming the campground!. For more information, visit the event website.
---
Sunday, October 16, 2022 - Fulton Street Farmers Market, Grand Rapids, MI
The Grand Valley Artists Pop-up Bazaar & Wart Market is this Sunday. There will be over 100 arts, crafts, and gift vendors. Art of every kind can be found here. Here is a chance to get your holiday shopping started. For more information and to see some vendor spotlights, visit the Grand Valley Artists Pop-Up Bazaar & Art Market Facebook page.
---
Saturday, October 22, 2022 - Lansing Center, Lansing, MI
This is a festival for ghouls and goblins of all ages. How-To Halloween is a family-friendly festival that celebrates creativity, imagination and the innovative spirit. There will be theatrical displays, interactive games, unique vendors and amazing entertainment! It's the combination of the best parts of a Maker Faire, Comic Con, Craft Show, Science Museum, Music Festival and Halloween Carnival to create monstrous fun for everyone. Find out more on the How-To Halloween Facebook page.
---
Thursday, October 27, 2022 - Downtown Ionia, MI
The smell of fresh, homemade chili will be engulfing downtown Ionia once again, for the enjoy Autumn Celebration, Chili-Dawg Challenge. The week leading up to the event features Scare Crow Alley with frightening & creative designs lining lampposts on Main Street. Nearly 6,000 people head to Main Street for this event. Free admission to the public. Get more information on the Autumn Celebration - Chili Dawg Challenge Facebook Events page.
---
Saturday, October 29, 2022 - Milham Park, Kalamazoo, MI
This is a free family alternative to trick-or-treating! Everyone is welcome to celebrate Halloween in a safe and fun way at Milham Park. There will be a costume contest, inflatable corn maze, spin art, a 360-degree photo booth, and lots of Halloween themed games setup throughout the park. There will also be apple cider, donuts, and plenty of candy too! Also on the schedule: Pumpkin Racing, a Magic Show, and dance performances. Moment of Magic Princesses, Spider Man, Black Panther, Hulk, and PJ Mask Cat Boy will also be joining the fun! Additional information can be found on the Halloween Forest Facebook Events page.
---
Saturday, October 29, 2022 - The Old School House, Douglas, MI
This parade started back in 1998. Ginger Wilkinson started the parade for her husband Russell Wilkinson, who always wanted a nighttime torch parade. When she started it, Halloween weekend was one of the slowest in town. The first year we had less than 100 people, but now it is one of the busiest weekends in town. The parade lines up at the Old School House and will proceed down Center Street. More details can be found on the Douglas Halloween Parade for Adults Douglas, MI Facebook events page.
---