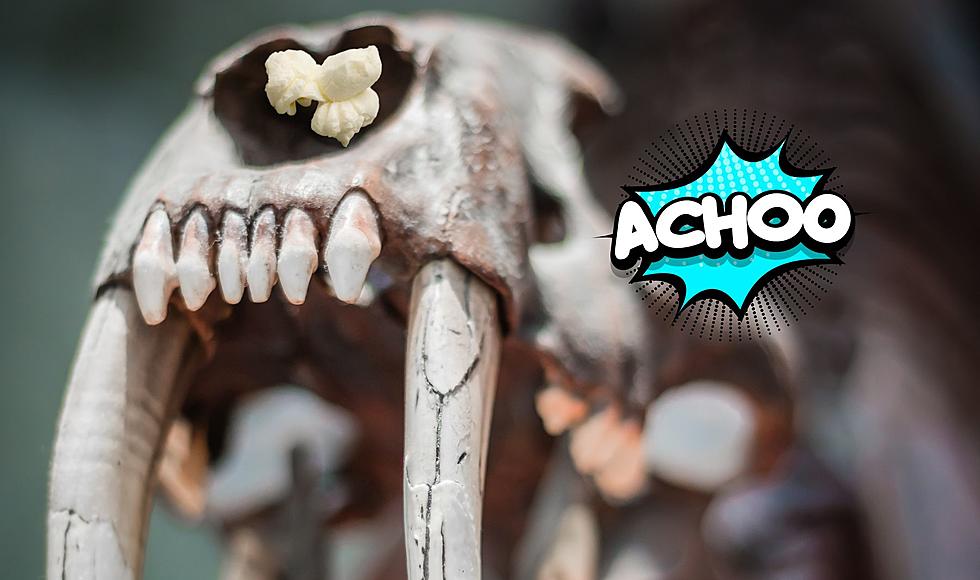 Popcorn Kernel Fell Out Of 10,000 Year-Old Skeleton In Battle Creek Museum in 2020
Canva
Have you ever had one of those experiences where you'll discover the most off-the-wall thing in a place it shouldn't be and ask yourself, "How the hell did that get there?" What could be the best example of that may have happened in 2020 at the Kingman Museum in Battle Creek as they were moving out of the museum building and noticed something fall out of the nasal cavity of their 10,000-year-old saber-toothed cat skeleton.
At first, they thought this small white object was a tooth but ended up being a partially-popped popcorn kernel. Now, how the hell does something like that end up there? They were actually able to make sense of it all when they discovered a 1972
Battle Creek Enquirer
article talking about  the then director of the Kingman Museum, Robert Learner's money-saving idea to use popcorn to pack away the skeletons:
Popcorn Saves
What do you do with a couple 10,000-year-old skeletons that are in the way when you want to do a little spring cleaning and redecorating? Why, just pop a lot of popcorn, put the skeletons in a crate and then fill it up with the popcorn. The museum is now being remodeled and the problem of what to do with a skeleton of a saber-toothed tiger and dire wolf, two animals that lived in this area during the Ice Age, presented a little bit of a problem. At first Learner figured he would have to crate the skeletons, packing them with chipped styrofoam. But when he discovered that would be quite an expensive operation, he had to come up with some other plan.
Overall, 56 pounds of popcorn kernels were used to make the packing corn, and that popcorn had been lodged in the skeleton nose for 48 years. Clearly, it made for great packing material and a good long-term snack.
Inside the Wacky Taxidermy and Miniature Museum in Mackinaw City
What started as a passion project during the pandemic has blossomed into a museum that you can visit in person in Mackinaw City.
Check Out All These Kid-Friendly Museums in Michigan
Whether you're looking for local children's museum where you can take the kiddos for an afternoon, or looking for an excuse to take a road trip to another part of the state, Michigan offers a wide selection of kid-friendly museums where you and the family can lose yourselves.