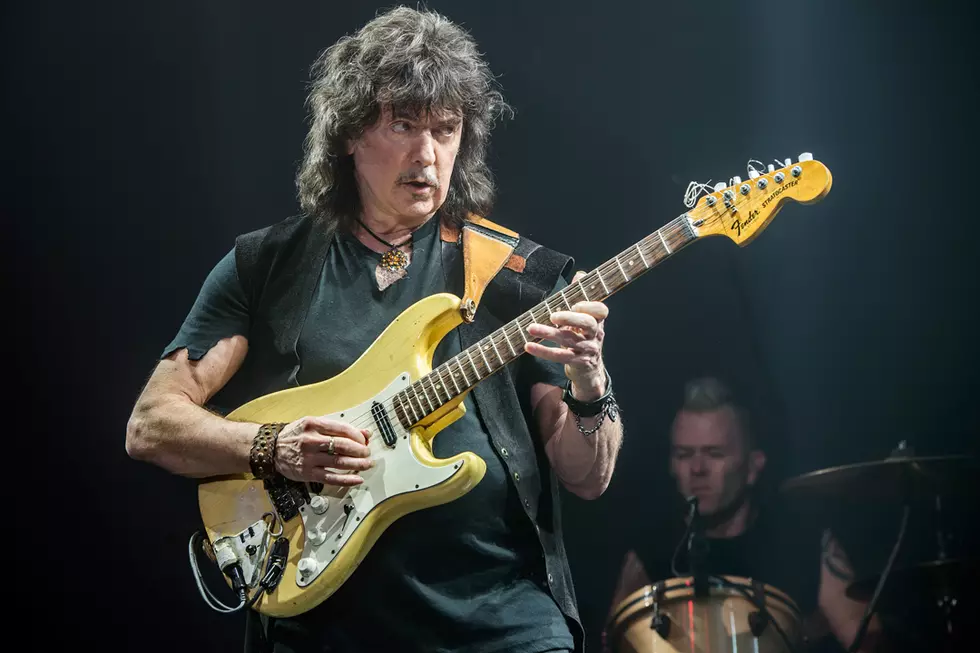 Ritchie Blackmore Was Glad to Be Replaced in Deep Purple
Steve Thorne, Getty Images
Former Deep Purple guitarist Ritchie Blackmore has weighed in on the direction the band went after he left the lineup for the final time in 1993, sharing his thoughts on his short-term replacement Joe Satriani as well as long-term current band member Steve Morse.
Blackmore, who quit the band after a disastrous 1993 show and has spent most of the last 25 years playing outside the rock genre, offered no hard feelings toward Satriani or Morse — in fact, as he insisted in the Ritchie Blackmore YouTube Channel interview clip below, he felt only relief after being replaced, because he'd been trying to pry himself away from Deep Purple to no avail.
"I'm just glad they found a guitar player to carry on, because I thought I was going to be shackled to this band for the rest of my life," said Blackmore. "It was like a ball-and-chain thing, and luckily they said, 'Well, we found someone.' 'Thank God I can get out!'"
While claiming he hasn't "listened much" to the music they've made in the years since the split, Blackmore praised Satriani — who stepped in to help finish Deep Purple's 1993 tour before bowing out to return to his solo career — and Morse as "brilliant players." Adding that he remembers Morse's former band the Dixie Dregs as "fantastic," Blackmore went on to offer a bit of criticism for Satriani's technique.
"Joe Satriani is a brilliant player, but I never see him really searching for notes; I never hear him playing a wrong note," Blackmore mused. "Jimi Hendrix used to play lots of wrong notes because he was searching all the time ... and when he did find that right note, wow, that was incredible. If you're always playing the correct notes, there's something wrong; you're not searching, you're not reaching for anything. But that's not to say that he isn't a very brilliant player. Same thing with Steve Morse — fantastic player."