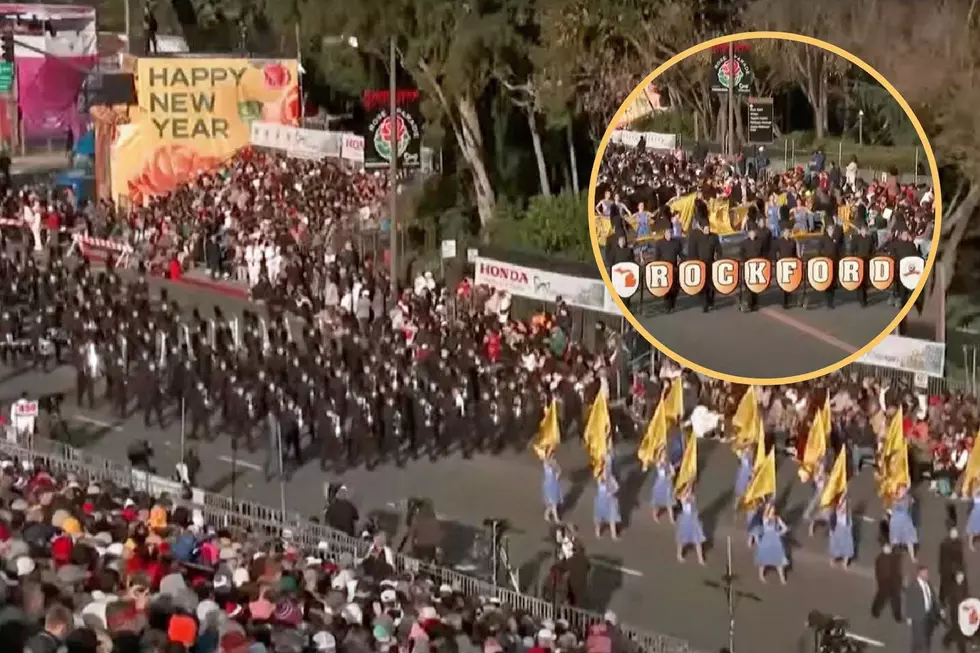 Rockford H.S. Marching Band Dissed By NBC During Rose Bowl Parade
Photos: WOODTV/NBC via YouTube
It has been a rough road to the Tournament of Roses Parade for the marching band from Rockford High School. And to top it all off, just as they appeared on the screen during the broadcast of the parade -- NBC cut to a commercial!
Getting the Invite to the Parade
Their story began about five months ago. The marching band was invited to participate in the Rose Parade. Once they received the invite, the task to raise the needed funds to get to California began.
When the time came for the band to fly to Pasadena for the festivities, Winter Storm Elliott also decided to arrive bringing wind, snow, and blizzard conditions. The band was scheduled to fly in three groups, from two different airports, with two different airlines. Their Southwest flight out of Midway airport in Chicago was canceled. The band now had to figure out another way to get the students to the parade.
On Wednesday, December 28th, the band posted on Facebook that an alternate travel plan had been worked out and it looked like the group would indeed all be making it to California in time for the parade.
Parade Day Disappointment for Viewers
As fans of the Rockford High School Marching Band sat in front of their televisions on Monday, January 2nd to catch the band's performance on national TV -- a commercial break disappointed everyone.
Just as the band started to make their way onto our television screens, NBC decided it was a good time for a commercial break -- cutting away from the band. When the broadcast continued after the commercials, the parade had already moved on to the next band.
The NBC affiliate in Grand Rapids, WOOD TV-8, issued the following statement through their News Director Stanton Tang:
We apologize for the Tournament of Roses parade coverage decision, but the decision to go to commercial right as the Rockford High School marching band came into view was an NBC network decision. WOOD TV-8 has no control over network programming decisions. I will communicate with our network representatives to convey the disappointment of every local community deprived of a chance to see their hometown contingent in the national broadcast.
NBC did air a clip of part of the Rockford Marching Band's performance about 30 minutes later. The complete performance could also be viewed on the KTLA streaming broadcast. Here is the full video of the parade. The Rockford High School Marching Band can be seen about 42 minutes into the video...
WOOD TV-8 aired the full performance during their News 8 at 5 pm broadcast on Monday.
16 Excuses for Michiganders to Break Your New Year's Resolution
Most of us make New Year's Resolutions and most of us end up breaking them. Here is a list of excuses to use when that inevitably happens.