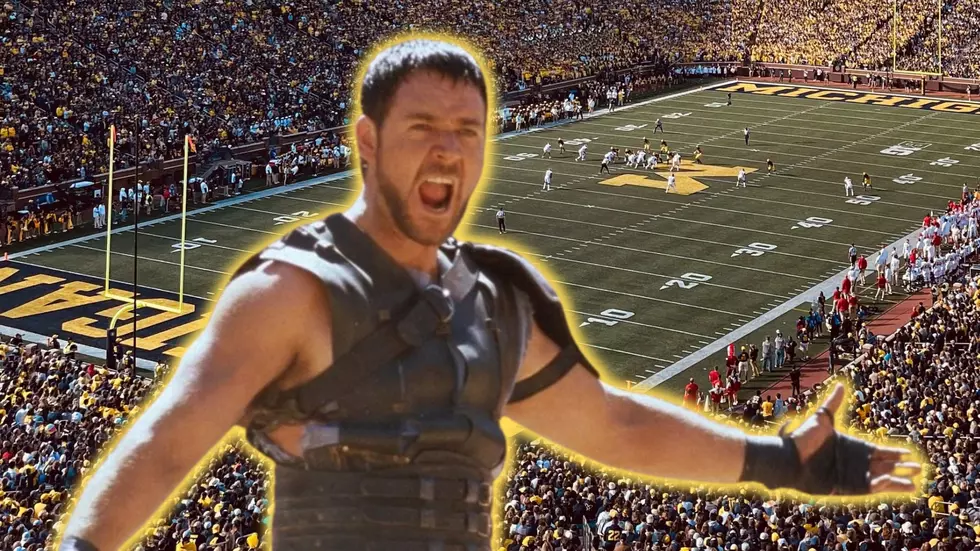 That Time Russell Crowe Inspired Michigan Football So Much, They Beat Tim Tebow in the Citrus Bowl
Universal/UnSplash
Michigan Football is having an incredible 2022 Season. The Wolverines are currently 9-0, in first place in the Big 10, and No. 3 in the College Football Playoff Rankings, behind Georgia and "THAT" school across the state line. It's really shaping up to be an unforgettable season for all the GOOD reasons.
But then, there are years like 2007, where it might be unforgettable for the NOT so good reasons. Despite those low moments, though, Michigan has still found ways to make the season special. During that season, all it took was a speech from none other than The Gladiator himself, Russell Crowe.
For those whose spines DON'T shiver when the year 2007 is mentioned, that was the year Michigan opened the season with massive hopes of a national title, and was upset by a Division II team named Appalachian State.
That game crushed the team's spirits, and the following week, the Wolverines were blown out by the Oregon Ducks, 39-7, on National Television.
But then, the tides turned, and Michigan found a new gear to work in, as if something lit a fire under their butts, and made them forget ALL about the beginning of the season.
And we know now, that "something" was Russell Crowe.
Former Michigan quarterback David Cone explains.
RUSSELL... FREAKIN'... CROWE!!!!
"The Spaniard," Maximus Decimus Meridius!!!
Agree with Jake Crain there, WHY didn't they just pay him to come to give the pre-game speech EVERY game that year? Because that Notre Dame game was an ENTIRELY different team from who played the two weeks before, blowing them out 38-0.
And then, to finish the season by beating the newly-crowned Heisman Trophy winner, Tim Tebow, and that INSANE Florida Gators team in the 2007 season in the Citrus Bowl?
Damn man.
For context, the roster of the 2007-08 Florida Gators included Tim Tebow, Aaron Hernandez (before he killed a dude), Percy Harvin, Deonte Thompson, and Cam Newton (BACKING UP TIM TEBOW!), all coached by Urban Meyer!
Michigan, who lost 34-32 to a then-FCS school to start the year, turned it around, ripped off eight-straight wins, and beat one of the most STACKED teams in NCAA football history, in the 2008 Citrus Bowl, 41-35.
"Strength and Honor" indeed.
Now that I know they were having a movie night, I am curious what other movies they watched during the season, especially what they watched before they lost to Wisconsin and Ohio State in November.
Hail to the Victors! These Epic Athletes Hold UM Football Records
The University of Michigan Wolverines lead all other football programs across all divisions in total wins as of January 2021. Here are the record holders within UM.