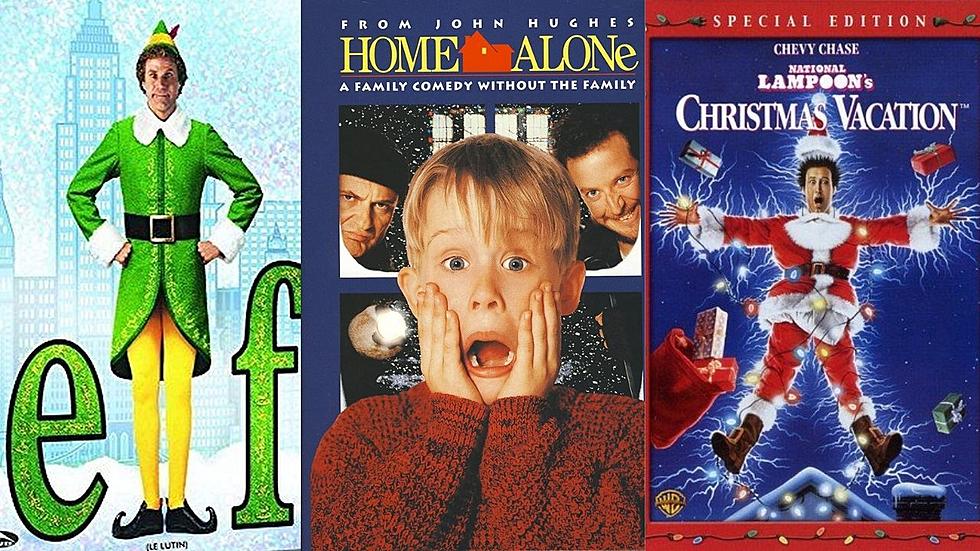 These Are West Michigan's Top Ten Must Watch Christmas Movies
New Line Cinema/Hughes Entertainment/
It's that time of year again!
We're officially counting down the days until Santa arrives.
I asked West Michigan what's their top Christmas movie of all time, and below are the results going from tenth to first place. I even threw in some honorable mentions.
#10 THE MUPPET CHRISTMAS CAROL
Kermit the Frog, Miss Piggy, Fozzie, and the entire cast of the Muppet universe come together to re-tell Charles Dicken's immortal classic "A Christmas Carol". Michael Caine gives a magnificent performance as Ebenezer Scrooge in a world full of muppet comedy and almost scary performances from the "Ghosts of Christmas past, present, and yet to come"
#9 A CHARLIE BROWN CHRISTMAS
When Charlie Brown complains about the overwhelming materialism that he sees amongst everyone during the Christmas season, Lucy suggests that he become director of the school Christmas pageant. Charlie Brown accepts, but it proves to be a frustrating struggle. When an attempt to restore the proper spirit with a forlorn little fir Christmas tree fails, he needs Linus' help to learn what the real meaning of Christmas is.
#8 HOW THE GRINCH STOLE CHRISTMAS
Inside a snowflake exists the magical land of Whoville, wherein live the Whos, an almost mutated sort of Munchkin-like people who all love Christmas. Just outside of their beloved town lives the Grinch (Jim Carrey), a nasty creature that hates Christmas and plans to steal it from the Whos, which he equally abhors. Little Cindy Lou Who (Taylor Momsen) decides to befriend the Grinch.
#7 BAD SANTA
Willie T. Stokes is a convicted con man who's led a miserable life. He drinks heavily and constantly embarrasses himself publicly. He only works once a year dressed as Santa. But then come Christmas Eve, he and his pint-sized helper dwarf Marcus stage elaborate robberies and take their department stores for everything they got. This time around, Willie gets distracted by large women, a bartender who is attracted to Santas, and a kid who's convinced he's the real deal. However, Marcus must once again put up with Willie's heavy drinking and a series of incidents that constantly shoot themselves in the foot. Will Willie and Marcus make it to next Christmas? Or will this be the year the dynamic duo finally face justice?
#6 HOME ALONE
It is Christmas time and the McCallister family is preparing for a vacation in Paris, France. But the youngest in the family, Kevin (Macaulay Culkin), got into a scuffle with his older brother Buzz (Devin Ratray) and was sent to his room, which is on the third floor of his house. Then, the next morning, while the rest of the family was in a rush to make it to the airport on time, they completely forgot about Kevin, who now has the house all to himself. Being home alone was fun for Kevin, having a pizza all to himself, jumping on his parents' bed, and making a mess. Then, Kevin discovers about two burglars, Harry (Joe Pesci) and Marv (Daniel Stern), about to rob his house on Christmas Eve. Kevin acts quickly by wiring his own house with makeshift booby traps to stop the burglars and to bring them to justice.
#5 DIE HARD
NYPD cop John McClane goes on a Christmas vacation to visit his wife Holly in Los Angeles where she works for the Nakatomi Corporation. While they are at the Nakatomi headquarters for a Christmas party, a group of robbers led by Hans Gruber take control of the building and hold everyone hostage, with the exception of John, while they plan to perform a lucrative heist. Unable to escape and with no immediate police response, John is forced to take matters into his own hands.
#4 THE SANTA CLAUSE
Divorcé Scott Calvin is disgusted to learn that his ex and her husband have tried - and failed - to break it easy to their 6-year-old son Charlie that Santa isn't real. On Christmas Eve, Scott reads The Night Before Christmas - then receives an unexpected visitor on his roof. When he's startled by Scott's calling out and falls, the Santa impersonator disappears, leaving only an 8-reindeer sleigh and a suit with instructions to put it on if he's involved in an accident. Scott does, and is transported around the town dropping gifts through chimneys until he's taken to the North Pole and informed by a group, who claim they're elves, that he is now Santa. Charlie is proud of his dad's new job, though Scott's convinced it's a dream. Until his hair turns white, his beard refuses to stay shaved, he gains weight inexplicably, even for his sudden love of junk food - Now he's accepted it, there's just one problem: how to keep it secret from his disbelieving family?
#3 ELF
Buddy was a baby in an orphanage who stowed away in Santa's sack and ended up at the North Pole. Later, as an adult human who happened to be raised by elves, Santa allows him to go to New York City to find his birth father, Walter Hobbs. Hobbs, on Santa's naughty list for being a heartless jerk, had no idea that Buddy was even born. Buddy, meanwhile, experiences the delights of New York City (and human culture) as only an elf can. When Walter's relationship with Buddy interferes with his job, he is forced to reevaluate his priorities.
#2 CHRISTMAS VACATION
It's Christmas time and the Griswolds are preparing for a family seasonal celebration, but things never run smoothly for Clark, his wife Ellen and their two kids. Clark's continual bad luck is worsened by his obnoxious family guests, but he manages to keep going knowing that his Christmas bonus is due soon.
#1 A CHRISTMAS STORY
Christmas is approaching and 9-year-old Ralphie wants only one thing: a Red Ryder Range 200 Shot BB gun. When he mentions it at the dinner table, his mother's immediate reaction is that he'll shoot his eye out. He then decides on a perfect theme for his teacher but her reaction is like his. He fantasizes about what it would be like to be Red Ryder and catch the bad guys. When the big day arrives he gets lots of presents under the tree including a lovely gift from his aunt that his mother just adores. But what about the BB gun?
HONORABLE MENTIONS 
MIRACLE ON 34th STREET
Six-year-old Susan Walker discovers dreams do come true if you really believe. She has doubts about childhood's most enduring miracle, Santa Claus. Her mother, Dorey, told her the "secret" about him a long time ago, so she doesn't expect to receive the most important gifts on her Christmas list. But after meeting a special department store Santa who's convinced he's the real thing, she is given the most precious gift of all, something to believe in.
FRED CLAUS
During childhood, Fred Claus suffered his younger brother Nick's saintliness. Jump ahead: Fred is a fast-talking, genial but self-centered guy in Chicago looking for $50,000 to open an off-track-betting shop. When one scam goes awry, he calls Nick at the North Pole for a loan: Nick will give him the money only if Fred comes up to help a few days with the Christmas rush. After his girlfriend dumps him, Fred heads north. Santa's facing an audit from an efficiency expert, and it's not pleasant. Fred's job is to review charts and determine who's naughty and who's nice. Is there any fraternal feeling left, can either learn from the other, and what about Santa getting fired?
THE POLAR EXPRESS
This is the story of a young hero boy on Christmas Eve who boards on a powerful magical train that's headed to the North Pole and Santa Claus's home. What unfolds is an adventure that follows a doubting boy, who takes an extraordinary train ride to the North Pole; during this ride, he embarks on a journey of self-discovery which shows him that the wonder of life never fades for those who believe.
SCROOGED
Francis Xavier Cross is a cynical, mean-spirited television executive, he treats his loyal assistant with contempt. He just sacked a member of staff on Christmas Eve for simply disagreeing with him, and he's alienated himself from his brother who still insists on inviting Frank to Christmas dinner despite him refusing to go every year. However, Frank is forced to learn the true meaning of Christmas when he's visited by three ghosts.
FOUR CHRISTMASES
Brad and Kate have been together three years, in love, having fun, doing all sorts of things together with no intention of marriage or children. Christmas morning, they're on their way to Fiji, having told their two sets of divorced parents that they're off to do charity work. Through a fluke, they have no choice but to visit each of their four idiosyncratic parents. As the day progresses, Brad and Kate remember growing up, each learns more about the other, and Kate realizes that her life may not be as good as it could be. Do they know each other well enough to weather the storms families bring?
THE NIGHTMARE BEFORE CHRISTMAS
Jack Skellington, the pumpkin king of Halloween Town, is bored with doing the same thing every year for Halloween. One day he stumbles into Christmas Town, and is so taken with the idea of Christmas that he tries to get the resident bats, ghouls, and goblins of Halloween Town to help him put on Christmas instead of Halloween -- but alas, they can't get it quite right.
LOVE ACTUALLY
Against the backdrop of aged has-been rock star Billy Mack's (Bill Nighy's) Christmas themed comeback cover of "Love Is All Around", which he knows is crap and makes no bones about it, much to his manager Joe's (Gregor Fisher's) chagrin as he promotes the record, several interrelated stories about romantic love and the obstacles to happiness through love for Londoners are presented in the five weeks preceding Christmas. Daniel's (Liam Neeson's) wife has just died, leaving him to take care of his adolescent stepson Sam (Thomas Brodie-Sangster) by himself. Daniel is uncertain how to deal with Sam and his problems without his wife present, especially in light of a potential budding romance within their household. Juliet (Keira Knightley) and Peter (Chiwetel Ejiofor) have just gotten married. They believe that Peter's best friend and best man Mark (Andrew Lincoln) hates Juliet, but won't say so to his or her face. Others looking at the situation from the outside believe Mark is jealous of Juliet, as he is in love with Peter. Jamie (Colin Firth), a writer, is taking a writing retreat by himself in rural France following catching his latest girlfriend (Sienna Guillory) in an indiscretion. Jamie ends up spending much time in France with Aurelia (Lúcia Moniz), the Portuguese woman hired as the housekeeper. The question becomes not only if they can communicate their day-to-day needs with each other as she speaks no English, he speaks no Portuguese, and neither speaks French very well, but communicate what seems to be their increasing mutual attraction to each other. Sarah (Laura Linney) has been in love with her co-worker Karl (Rodrigo Santoro) for the two years they have worked together, this attraction about which everyone in their workplace knows. Sarah has to decide if she can be forward enough to express this love directly to Karl, especially in light of what has been her personal priority of dealing with a family issue. Harry (Alan Rickman) and Karen (Dame Emma Thompson) have been in a stable long term marriage. His new assistant Mia (Heike Makatsch) drops hints to him that she would like them to be romantically involved. Harry has to decide whether to fall to the temptation, especially considering being married to a perceptive wife. Single and relatively young David (Hugh Grant) is the newly elected Prime Minister. At 10 Downing Street, he is attracted to one of the new household servants, Natalie (Martine McCutcheon), but isn't sure what to do about it seeing as to their respective positions, the probable public scrutiny, and an incident involving the visiting U.S. President (Billy Bob Thornton). Socially unaware Colin Frissell (Kris Marshall) believes that the lack of romantic love in his life is all the fault of standoffish British women. As such, he decides to take decisive albeit somewhat unusual geographic action. And John (Martin Freeman) and Judy (Joanna Page) are movie body doubles. They can communicate with each other straightforwardly while they are simulating sex filming a movie, but they may not be able to translate the feelings behind that simulation in real-life to each other.
IT'S A WONDERFUL LIFE
George Bailey has spent his entire life giving of himself to the people of Bedford Falls. He has always longed to travel but never had the opportunity in order to prevent rich skinflint Mr. Potter from taking over the entire town. All that prevents him from doing so is George's modest building and loan company, which was founded by his generous father. But on Christmas Eve, George's Uncle Billy loses the business's $8,000 while intending to deposit it in the bank. Potter finds the misplaced money and hides it from Billy. When the bank examiner discovers the shortage later that night, George realizes that he will be held responsible and sent to jail and the company will collapse, finally allowing Potter to take over the town. Thinking of his wife, their young children, and others he loves will be better off with him dead, he contemplates suicide. But the prayers of his loved ones result in a gentle angel named Clarence coming to earth to help George, with the promise of earning his wings. He shows George what things would have been like if he had never been born.
FRIDAY AFTER NEXT
Craig and Day Day have finally moved out of their parent's houses and into their own crib. The cousins work nights at a local mall as security guards. When their house is robbed on Christmas Eve they team up to track him down.
What did you think of the list? Did your favorite movie make it on?
Let me know on social media @bigjoepesh Instagram | Facebook | Twitter
What Would All the Gifts in "The Twelve Days of Christmas" Cost in 2021?
The cost of just about everything is going up...including all the items in the song "The Twelve Days of Christmas".
For the last 38 years, PNC has run the numbers to figure out what it would cost if you set out to get all the items in "The Twelve Days of Christmas". The total cost for 2021 would be $41,205.58. That's an increase of 5.7% over 2019. (PNC excluded costs from last year due to the COVID-19 pandemic.)
What Would It Cost To Buy Bob And Doug McKenzie's '12 Days Of Christmas'?
12 days of Christmas cost, Bob and Doug McKenzie, Christmas Songs, SCTV, Rush, Led Zeppelin, Bob and Doug McKenzie's 12 Days Of Christmas