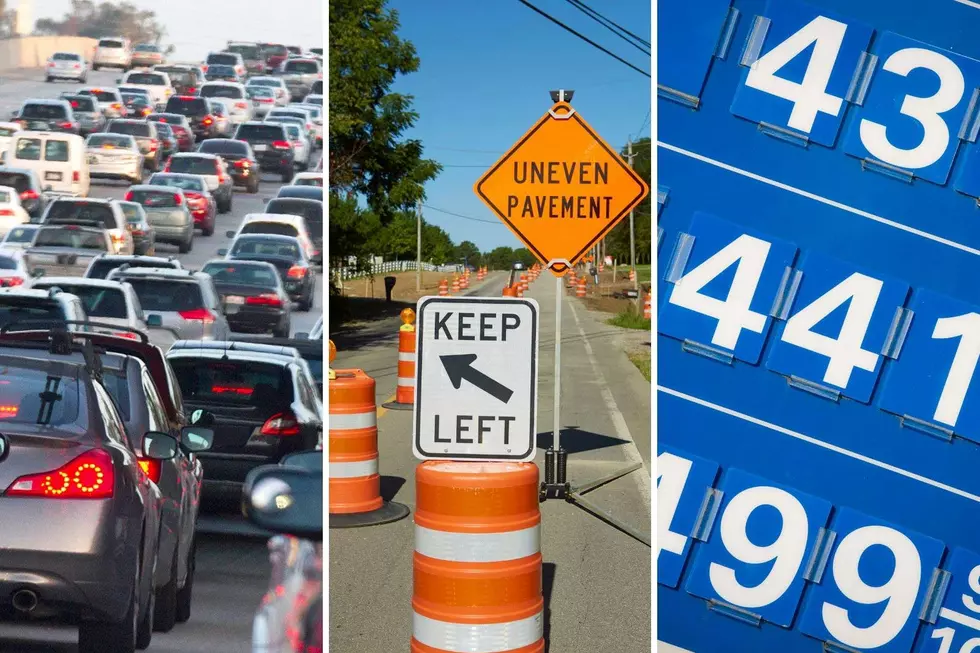 Things to Know Before Hitting the Road this Memorial Day Weekend
Photos: Canva
If you are hitting the road and traveling this Memorial Day weekend -- you are not alone!
How Many People are Traveling on Memorial Day Weekend?
AAA is reporting that 39.2 million people will be traveling this holiday weekend. That number is up 8.3% from last year. Compared to last year, AAA is also reporting that there should be a 4.6% increase in travel by car (that's about 500,000 more people on the road), a 25% increase in air travel, and a 200% increase in travel by bus, train and cruise ship.
Just here in Michigan, more than one million travelers are expected to travel more than 50 miles this weekend, that's up 7.9% from last year.
Construction Work on the Roads to Be Moved Out of the Way
To make things a little easier to travel by car here in the state of Michigan, the Michigan Department of Transportation (MDOT) has announced that they will remove most traffic restrictions for the holiday weekend.
Starting on Friday, May 27th at 3 pm, more than 100 lane restrictions in construction zones across the state of Michigan will be removed. Some equipment and traffic arrangements will still be in place. The lane restrictions will move back into place on after the holiday, on Tuesday, May 31st at 6 am.
Not all lane restrictions can be moved aside. Here in West Michigan, MDOT says the the following work zones will remain active or have lane restrictions this weekend (You can see the complete list here.):
I-96, Kent County, has one westbound lane open with a traffic shift between Whitneyville Avenue and 36th Street. The following ramps will be closed:
--The eastbound I-96 ramp to westbound M-6,
--The eastbound M-6 ramp to eastbound I-96, and
--The 36th Street entrance ramp to eastbound I-96.
I-96, Kent County, has the eastbound ramp to southbound US-131 closed with a posted detour. The M-37 (Alpine Avenue) ramp to southbound US-131 is also closed.
I-196, Kent County, has westbound lanes shifted at the I-196 Business Loop (Chicago Drive) interchange in Grandville. The eastbound I-196 exit ramp to Chicago Drive is closed, and the Chicago Drive entrance ramp to westbound I-196 is closed.
I-196, Ottawa County, has a traffic shift with two westbound lanes open and one eastbound lane open between Hudsonville and Zeeland.
Peak congestion time on the roads during the Memorial Day weekend is usually on Friday afternoon, between about 3-5 pm. Early Monday afternoon (Memorial Day) is usually the busiest for return travel.
How Much is Gas Going to Cost Memorial Day Weekend?
As of Friday morning, gas prices really haven't changed much over the last few days.
In the Grand Rapids area, prices range from between $4.49 to $4.59 a gallon in most places.
If you are heading out of town, gas prices are similar in Traverse City, Lansing, and Kalamazoo. Even across the bridge in St. Ignace and Sault Ste. Marie the prices are about the same. The price does increase a little the further into the Upper Peninsula you travel. Prices in Marquette are about $4.59 a gallon. GasBuddy.com is showing prices a little cheaper in the Battle Creek area, with prices around the $4.40 to $4.49 per gallon mark.
The highest gas prices in the state are in the Detroit area. GasBuddy.com is showing prices ranging from $4.49 up to as high as $4.89 per gallon.
Take Us With You This Weekend
No matter where you might be traveling to this Memorial Day weekend, be sure to take the radio station with you by downloading our app.
Through the app you can stay updated on what is going on in the area, you can listen to the radio station, and you can also send us a message and let us know what you are doing!
Why Do We Have Memorial Day?
The federal holiday on the last Monday of May that is set aside each year to remember the U.S. military personnel who have died while serving in the armed forces. Memorial Day is often confused with Veterans Day. Veterans Day is a day to remember those who have served in the military. Veterans Day is November 11th.
Here Are The Best Gas Apps To Help You Spend Less At The Pump
Everyone likes saving a few bucks at the pump. Here are the apps that can help do just that with all these high rising gas prices, that are probably out there killing not only you but your wallet.
LOOK: See how much gasoline cost the year you started driving
To find out more about how has the price of gas changed throughout the years, Stacker ran the numbers on the cost of a gallon of gasoline for each of the last 84 years. Using
data from the Bureau of Labor Statistics
(released in April 2020), we analyzed the average price for a gallon of unleaded regular gasoline from 1976 to 2020 along with the Consumer Price Index (CPI) for unleaded regular gasoline from 1937 to 1976, including the absolute and inflation-adjusted prices for each year.
Read on to explore the cost of gas over time and rediscover just how much a gallon was when you first started driving.