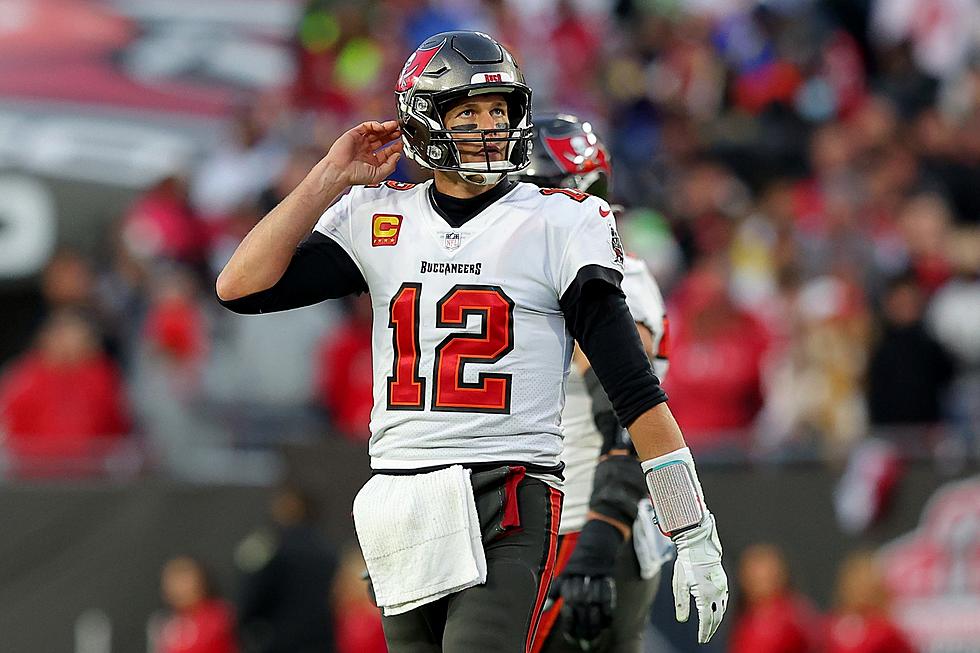 Tom Brady Announces Retirement
Getty Images
Future Hall of Fame quarterback Tom Brady announced his retirement from the NFL via his Instagram account on Tuesday morning.
Brady (pictured) leaves the NFL as the most accomplished player in the NFL history.  He is the only player to win seven Super Bowl titles, and the only one to play in ten Super Bowls.
Brady was drafted out of Michigan in 2000 by the New England Patriots in the 6th round (pick #199).  And after Pats QB Drew Bledsoe was hurt in the 2001 season, Brady took over and led the Patriots to a Super Bowl title in Super Bowl XXXVI over the St. Louis Rams 20-17.
He quarterbacked the Patriots to five more titles (Super Bowls XXXVIII, XXXIX, XLIX, LI, and LIII) in his 20 seasons with New England.  Most notable amongst those five victories was the win in Super Bowl LI, where Brady rallied the Patriots from 28-3 down to force overtime and then beat the Atlanta Falcons 34-28 in overtime.
Brady left the Patriots after the 2019 season and signed with the Tampa Bay Buccaneers.  He then led the Bucs to a Super Bowl title over the Kansas City Chiefs after the 2020 season.  The Bucs then made the playoffs in 2021, but lost to the Los Angeles Rams in the NFC Divisional playoffs.
Tom won the NFL's Most Valuable Player three times, and finished second in the voting three other times.  He threw for over 84,000 yards and 624 touchdowns in his career.  He led the league in passing in 2021 with 5,316 yards and 43 touchdowns at age 44.
In addition to his 10 Super Bowl appearances, and seven victories (both records), he was voted as the Super Bowl most Valuable Player a record five times.
Mad Dog's Top 25 NFL Quarterbacks
On the Mad Dog Show, I was talking about who my top 25 quarterbacks are in the NFL. I put together a list for those of you who didn't catch the conversation.