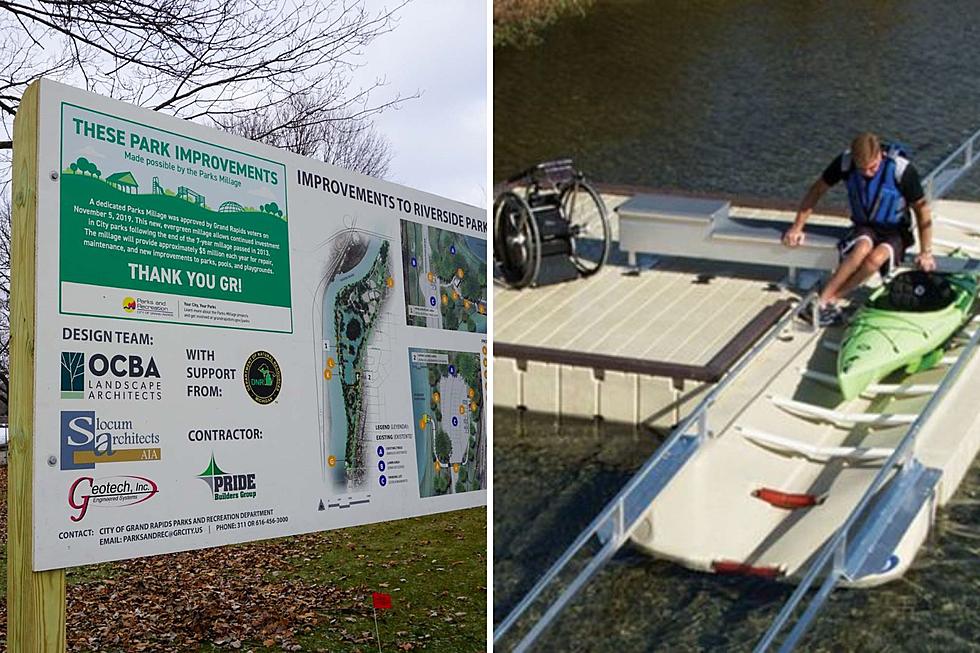 Upgrades at Grand Rapids' Riverside Park, Including New Accessible Kayak Launch, Almost Complete
City of Grand Rapids, EZ Dock
The City of Grand Rapids continues to improve area parks and encourage residents to enjoy the outdoors. A project that will make kayaking more accessible for people of all abilities is nearly completed at Riverside Park.
Construction has been ongoing at Riverside Park at 2001 Monroe Ave NE for the past few months.
New features include an accessible kayak launch, renovated restroom building, new picnic pavilion with solar power, improved soccer fields, native plantings along the lagoon edge, and additional site amenities.
The improvements have been made possible through a voter-approved parks millage with support from a
Michigan Department of Natural Resources
Trust Fund Grant.
Here is how
EZ Dock
describes their launches,
Using our innovative floating dock design, we've engineered a flexible, easy-to-use launch that makes getting into your kayak or canoe quick and simple. No matter if you're a beginner or a seasoned veteran who needs a little extra assistance, the EZ Launch allows people of all skill levels to enter and exit with ease. Best of all, you can extend your season into the cooler months without worrying about wet feet!
This summer, the City of Grand Rapids is offering 120-minute guided kayak adventures on the Grand River. The tours will be held on Tuesdays and Saturdays May through September. The cost is $30 for residents and $40 for nonresidents. Registration will be opening soon here.
They're also offering have free kayaking demos on the last Friday of every month, May - August during Food Truck Fridays at Riverside Park. For updates and for additional activities, follow The City of Grand Rapids Parks and Recreation Department on Facebook.
Have You Seen Some Of These Grand Rapids Hidden Gems?