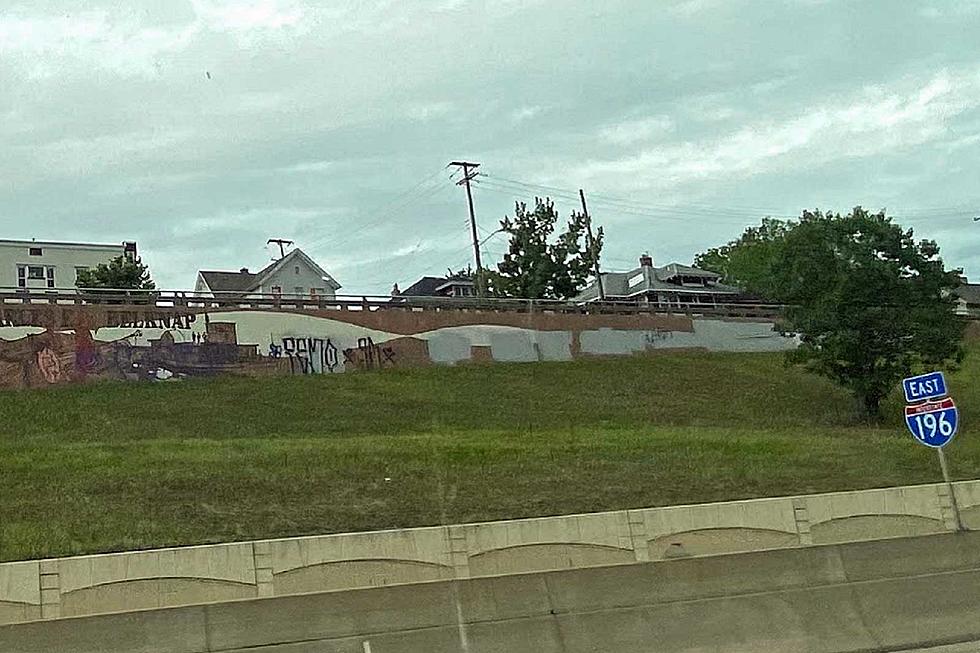 Vandals Are Destroying a Historic Grand Rapids Mural
Photo: Townsquare Media/Scott Winters
It is often referred to as "tagging". It's the graffiti you see spray painted on walls and buildings around town -- and it is becoming a bigger and bigger problem.
Within the city of Grand Rapids, whenever something is tagged, the city sends out someone to paint over it. The city, of course, does not have the ability to match every color of every building or wall that has been tagged, so they usually try getting close. Usually it becomes a beige or gray rectangular patch of paint on the vertical surface.
Unfortunately this tagging activity is also destroying a historic painting in Grand Rapids. It's the mural that overlooks I-196 and the medical mile. It is the Belknap highway mural that has been there for almost 40 years.
A year ago, I did a post on the history of the mural. It was created in 1982 and painted in hopes of making the giant concrete retaining wall look much more appealing than all the amateur spray paint artwork that was there in the past.
Over the last couple of months, vandals have spray painted things on that mural. The city of Grand Rapids has gone out and painted over that "tagging", however the mural is now left with sections of it covered by gray boxes. What happens to that mural now? Who will fix it? Will it just become an eyesore full of graffiti and gray rectangular boxes?
It's sad that we can't have nice things. For years that mural has gone untouched, to be enjoyed by drivers heading east on I-196 out of downtown. Is there a way to stop this vandalism? Will we see that mural painted over in just a solid color (like that yellow or beige color we see on many of the city's bridges and overpasses?).
I have heard no talk of restoring the mural at this point. And even if it were to be re-done, how do yo protect it from future vandalism?
It's so sad when things like this happen. People work so hard to keep out city looking nice, only to have it destroyed by a few idiots with spray cans.
The 100 Best Places to Live in the Midwest