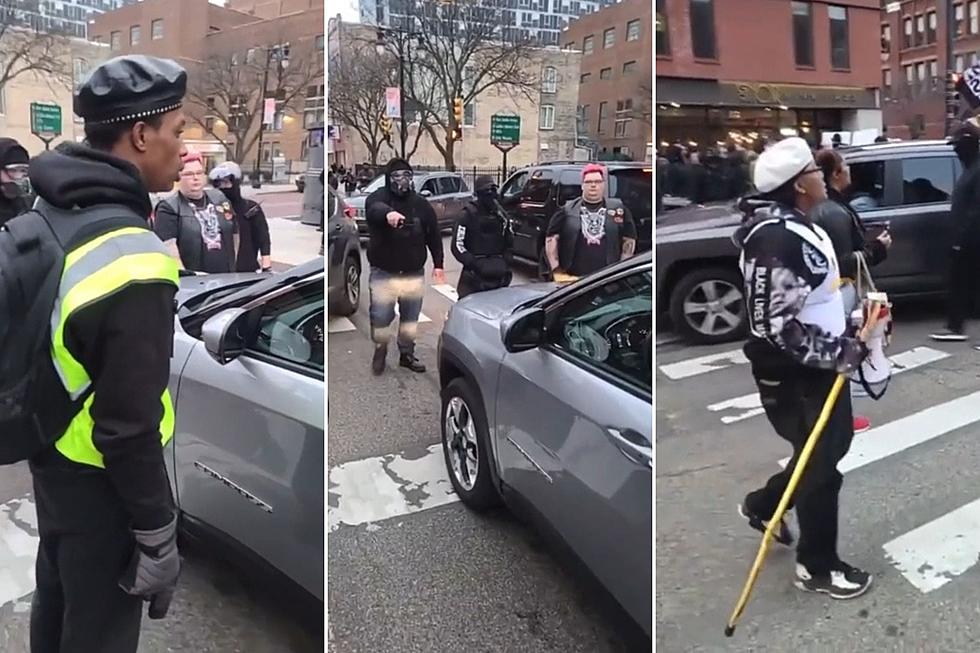 Viral Video Of Grand Rapids Driver Threatened With Gun During Protest
u/JPorpoise/Reddit
UPDATE: The videographer, Adam Gross, has reached out to us to state that the videos were indeed taken at the protest on Saturday night. You can see more of his videos from the night on his facebook page: facebook.com/adam.gross.731
Previous: A video has gone viral of a driver in Grand Rapids who found themselves in the wrong place at the wrong time during the Patrick Lyoya protests on Saturday.
This clip, which was uploaded to social sharing site Reddit, shows a driver in a silver Jeep who may have inadvertently driven into a protest area on the roadway.
The altercation appears to take place at Division and Weston. In the undated video, you can see protesters blocking the Jeep from moving, while simultaneously shouting at the driver to move the car.
As the video continues, protesters continue yelling at the man, at one point during the video you can hear a sound similar to someone chambering a round in a pistol.
At that point you can hear someone; presumably, the man filming the altercation, say  "you guys gotta let him go."
The protestors then move back so the car can exit the area, but as the jeep drives off a few protestors kick the car as it leaves.
Upon seeing this, a woman with a bullhorn admonishes those involved, shouting "DON'T DO THAT, DO NOT DO THAT" in an attempt to keep the incident from escalating.
Reaction to the video online showed that this type of behavior is NOT something those who may support the demonstrations agree with:
Freedom to assemble and freedom of speech are super important to ensure people have an outlet to voice their grievances. But assaulting people and accosting drivers trying to get out of the area is literally criminal. I don't care what flavor of politics. Both the right and the left need to tone down their violent rhetoric and actions. -Pyroclastic_Hammer

 

Protesting someone getting shot by threatening to shoot people. What an embarrassment. -dream-lotus

 

Some dude was in tacticool gear holding an AR at the protest Friday and it was just such fucking bad vibes I will never understand these f***ing war larpers that's not who I'm siding with when I protest -gr_anon
The full video can be seen below:
Video: Possible gun pulled while driver threatened during Grand Rapids Patrick Lyoya protest
Video edited on Kapwing
LOOK: 50 essential civil rights speeches
Many of the speakers had a lifetime commitment to human rights, but one tried to silence an activist lobbying for voting rights, before later signing off on major civil rights legislation. Several fought for freedom for more than one oppressed group.
Keep reading to discover 50 essential civil rights speeches.
.