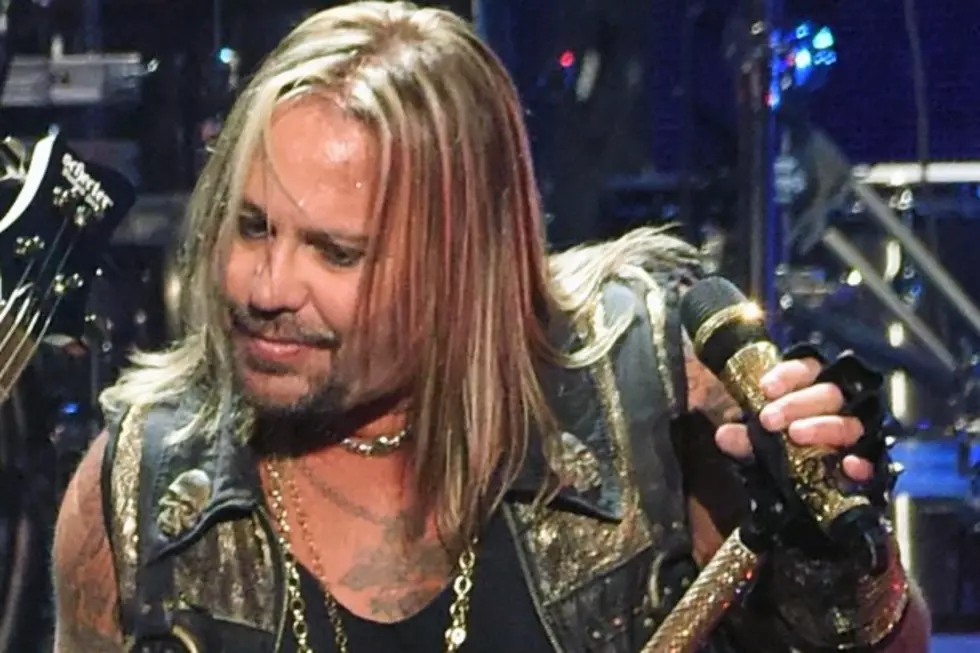 Vince Neil's 'Celebrity Wife Swap' Will Air June 24
Ethan Miller, Getty Images
Vince Neil makes his latest reality TV excursion tomorrow, when he's set to star in an episode of ABC's Celebrity Wife Swap that finds him trading partners with Gunnar Nelson.
As previously reported, this edition of Celebrity Wife Swap plays up the fish-out-of-water dynamic familiar to fans of the show, with Neil's "longtime gal pal," Rain Hannah, heading off to experience Nelson's life of domestic bliss with his three stepdaughters in Nashville while Nelson's wife, Lila, finds herself in the middle of Neil's much louder lifestyle.
According to the report, Rain Hannah and Lila Nelson weren't the only participants who ended up being placed in unusual situations; the episode is also said to feature scenes in which Neil is asked to make dinner for a gathering of 20 friends, including "a hysterical scene in the kitchen as he peeled potatoes and prepped meat, forgetting to saute onions."
"I hadn't been in a supermarket to do grocery shopping since Mötley Crüe first went out on the road in 1981," Neil is quoted as saying. "I didn't know where to find any of the ingredients."
Neil's fans will no doubt recall his previous reality TV appearances, which include a 2012 episode of the Travel Channel's Ghost Adventures that left him a publicly avowed believer in the paranormal. More recently, he showed up on Lifetime's The Haunting Of ... , asking an alleged spiritual medium to put him into contact with Skylar, the daughter he lost to kidney cancer in 1995.
See Motley Crue and Other Rockers in the Top 100 Albums of the '80s
Motley Crue Albums, Ranked Worst to Best