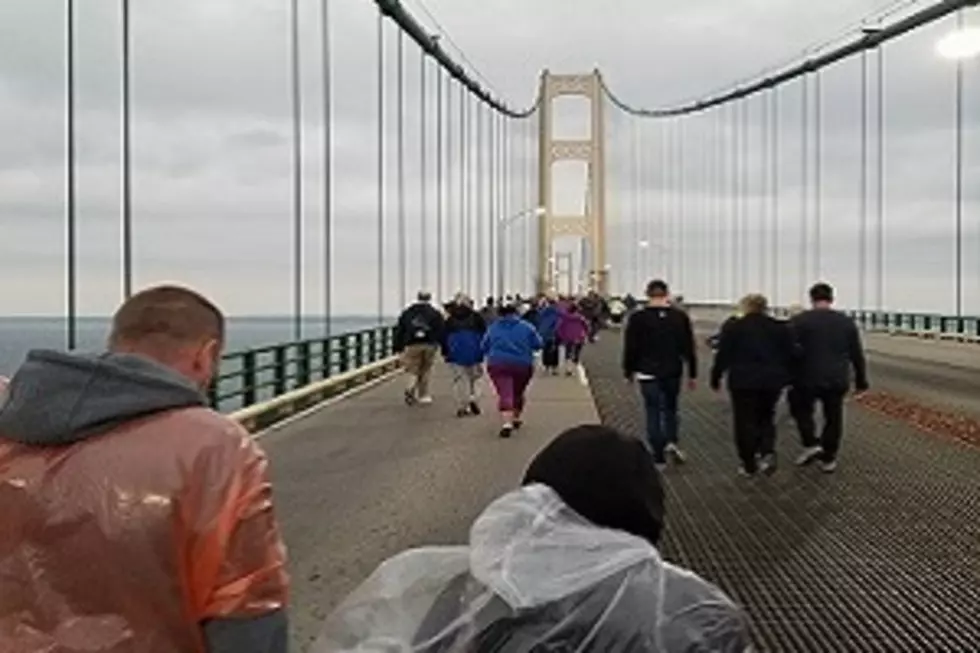 Relive The Experience of Walking the 'Mighty' Mackinac Bridge on Labor Day
Photo: Trisha Winters-Trzeciak
Labor Day is the only day out of the year that you can walk across the Mackinac Bridge -- which spans 5-miles from Mackinaw City to St. Ignace. This year was the 60th Annual Mackinac Bridge Walk and I was able to do it with my 74-year-old Mother!
My mother, Gloria, had "walking across the Mackinac Bridge" on her "Bucket List" for many years. About 5 or 6 years ago, we had plans to make that happen, but she injured a rib and she couldn't make it. This year we finally made it happen!
If you have never walked the bridge, you might want to consider it some Labor Day. You are shuttled by school bus to the starting point in St. Ignace. The buses start running at 4:30 am. (We were among the first in line!).
Once you reach the starting point you wait for a few hours. During this time, traffic is closed down on the bridge and they prepare it for the walkers. This is the first year that traffic was completely halted on the bridge from 6:30 am until 12:00 Noon on Labor Day. The only traffic allowed during that time were shuttle buses and emergency vehicles.
At about 6:30 runners are released to start their journey across the bridge. If you want to jog across the bridge, you have to submit an application well in advance. Only a select number of runners are allowed on the bridge that morning.
After the runners were set loose, Michigan's Governor Rick Snyder made a few remarks, and then set off with his entourage to walk the "Mighty Mac". At about 6:50 am, the rest of the tens of thousands of walkers -- like my Mother and I -- were set free to begin our walk.
There are usually 30,000-60,000 walkers. The Mackinac Bridge Authority estimated numbers this year at about 25,000. The stormy weather on Labor Day morning may have caused some to stay home. It was still a sea of people walking the bridge on Labor Day morning.
At the end, walkers receive a certificate that states they have completed the Labor Day Mackinac Bridge Walk. My Mom now has her "official certificate" and she can check another item off of her "Bucket List". And how memorable it was for me to be able to walk the Mackinac Bridge with my Mother and niece Trisha (who was celebrating her birthday the day of the walk). Three generations of our family walked the bridge on Labor Day!
If you have never had a chance to walk the Mackinac Bridge, put it on your calendar for next year...Monday, September 3rd, 2018. Maybe you'll see my Mom and me!
Click here to read more about the annual Mackinac Bridge Walk and to see additional pictures.