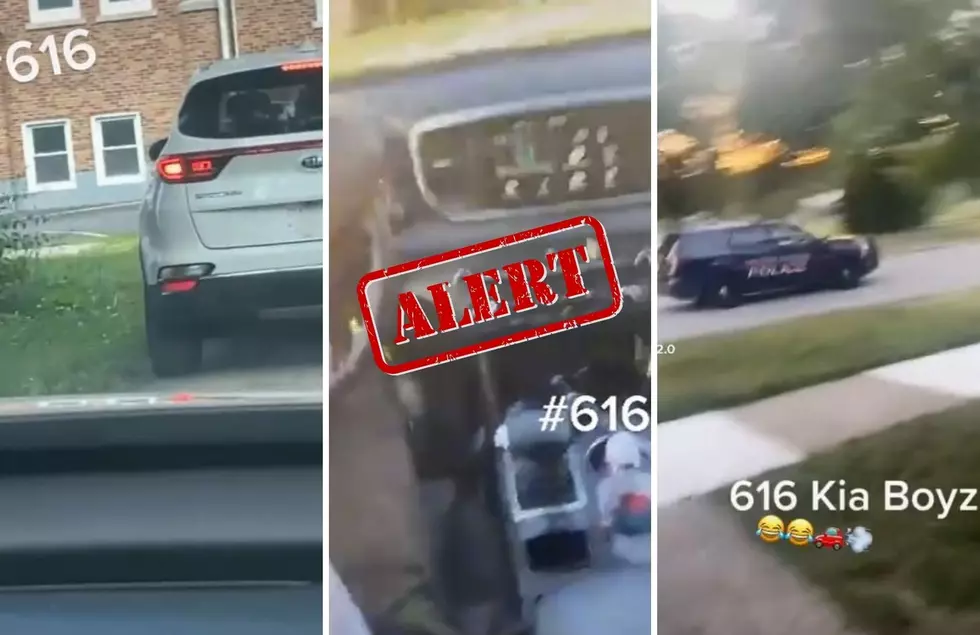 Watch: Are These Teens Stealing Cars Around Grand Rapids For A TikTok Trend?
TikTok Canva
There are rarely scenarios worse than waking up in the morning, walking outside, and finding your car no longer in your driveway. And some Kia owners in West Michigan have experienced it first hand thanks to a tiktok trend gone bad.
You may have previously read about a rash of Kia and Hyuandai thefts around Grand Rapids in recent months. Thanks to a Youtube video that went viral, there are a lot of people who have found a way to easily steal these cars, to the point it's becoming "trendy" to do so.
Who are the Kia Boyz (and Girlz)?
These unnamed teenagers have been posting to TikTok bragging about how they are going around Grand Rapids and stealing Kias to "collect" them. They have several accounts that they have been posting from: @616KiaBoyz616 @616KiaKlan and the now defunct account @616KiaBoyz.2
They've also posted videos showing themselves running from Grand Rapids police, as well as them joy riding in said stolen Kias around town.
Are the Kia Boyz of Grand Rapids the originals?
Weirdly, this seems to be a trend that started in Milwaukee earlier this year. If you search under the Kia Boyz tag, you'll find posts from Kia Boyz 414, which are the original group of teenagers involved with the trend.
What area are they mainly stealing cars?
It seems, for the most part, the Kia Boyz are spending their time in South East Grand Rapids, specifically close to Alger Heights and Burton Heights. While they have stolen Kias from other parts of town, a lot of their videos and abandoned vehicles tend to be in this area.
How do I protect my car?
Thankfully, they seem to be only targeting one type of car right now, but it's still best to use practices to protect yourself no matter what your make or model is.
You can park in a garage or covered space if it's available, also park in the light and use extra theft deterrents and alarms especially if you're driving a 2012 to 2022 Kia Sportage and Optima vehicles, or any Hyundai vehicles with a standard key ignition.
Are The Grand Rapids Police Doing Anything About this?
Yes - while it seems like it's the wild wild west, there is only so much they can do in these chase scenarios. However, your help can stop these kids.
If you want to be on the watch for these teens, they have been working in a group and wearing ski masks, so if you see teens joy riding in a Kia or Hyundai while masked, you may want to call GRPD.
The Ghost Town of Olson in Midland County, Michigan