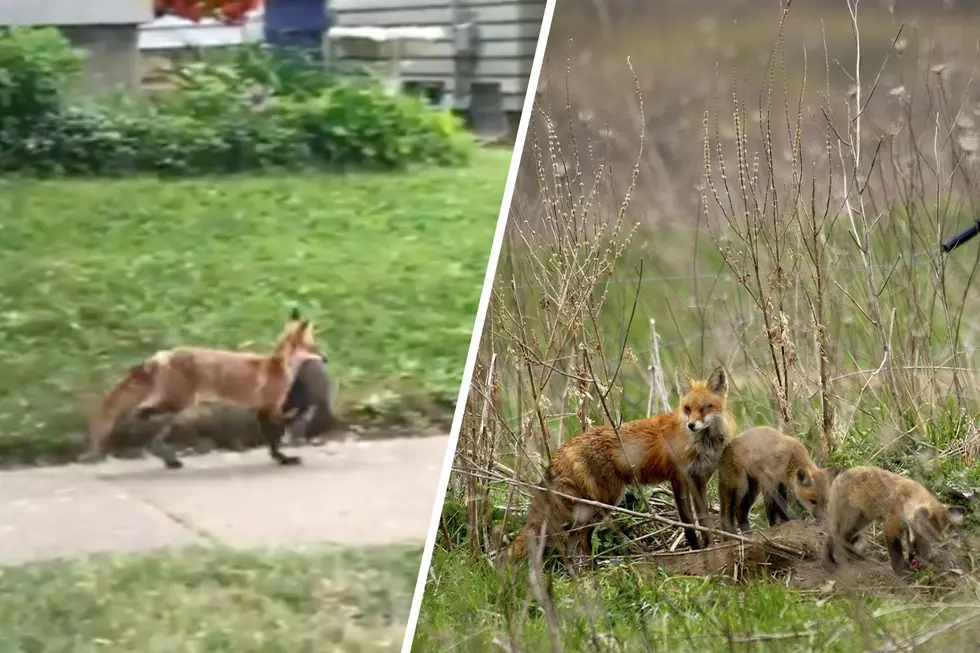 WATCH: Does Grand Rapids Have a 'West Side Fox' Now… Or Multiple?
Neil Blake, MLive/ YouTube, Michigan DNR
There's something about the West Side of Grand Rapids! A few years ago there was the saga of the "West Side Bear", and now a wild fox has been spotted multiple times in the area.
If you recall back in 2018, a young black bear was seen roaming GR's West Side. It got itself stuck in a tree and was safely relocated by the DNR, police, and folks from John Ball Zoo.
Fox Spotted Roaming Near Grand Rapids' John Ball Zoo
This week a video of a wild fox trotting through a residential Grand Rapids West Side neighborhood was shared to the Facebook group We are Westsiders. The poster, Neil, says he's seen seen the fox hunting a few times near the zoo.
Many residents shared their fox-sighting stories:
Mike says,
I have seen this guy or his relatives multiple times between 6:00 and 7:00am near the Coke plant on Butterworth. He is always carrying his breakfast and headed east.
Misty shares,
I seen one on 4th and Davis area not long ago.
Julieanne posts,
I saw one crossing Leonard and Collindale late at nite. Carrying bunny and trotting on sidewalk as happy as could be!
So it's possible the West Side actually has multiple foxes.
Commenters also shared concerns for small pets in the area that could possibly be harmed by wild foxes. Others were concerned that the fox in the video appeared skinny and may be hungry.
Are Foxes Common in Grand Rapids?
It seems foxes were also active in GR in the summer of 2018. According to a story from WZZM-13 at the time, it's not all that uncommon to see foxes in urban areas, especially ones that have recently developed.
Hannah Schauer, the communications and education coordinator at the DNR Wildlife Division told WZZM-13,
We have two different species of fox in Michigan: the red fox and the grey fox. Red fox are probably the more commonly spotted ones in these urban settings.
Foxes are native to Michigan and usually more active in the early morning and evening.
As far as a fox looking skinny in the summer, Schauer said thats normal:
With their long legs and maybe less of a fluffy coat in the summertime, they might certainly look skinnier.
She also said to definitely NOT feed the fox:
If a fox is being fed by people, it might lose some of its natural fear of humans.
Michigan DNR advises to never approach or touch a fox.
In terms of concerns about foxes hunting pets, they usually hunt smaller rodents like mice and rabbits. Shauer said it's unlikely that foxes will go after pets, but if you're concerned, do not let smaller pets outside unattended:
The fox is going to eat some of those smaller critters, so it's very unlikely they are going to go after a pet. But if you're concerned the best thing to do is just accompany those pets outdoors if they're smaller.
If you want to learn more about foxes in Michigan, here's a cool video from Metroparks and the Detroit River Conservancy.
9 Animals That Are, Surprisingly, Legal to Own in Michigan