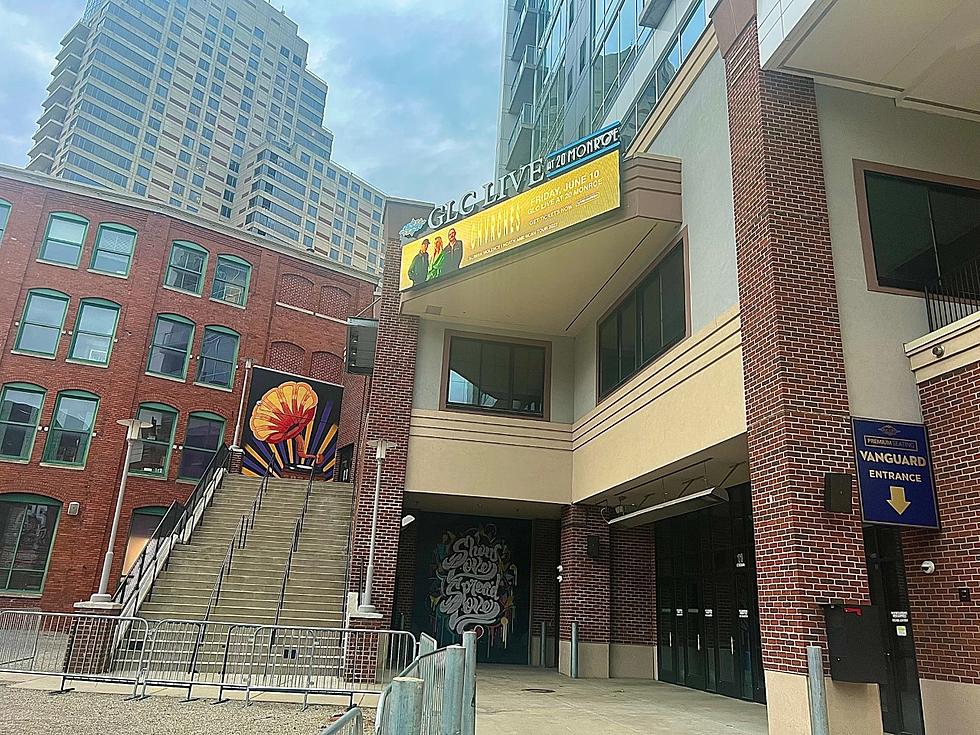 We Finally Know Who Bought GLC Live at 20 Monroe – But Who Will Run It?
Janna, TSM
Mystery solved. Well, part of it anyway.
GLC Live at 20 Monroe, a concert venue in downtown Grand Rapids was sold in late February and we now know who bought it. However, questions remain about who will operate it.
If you've been following the story of the sales of The B.O.B. downtown Grand Rapids and GLC Live at 20 Monroe next door, it's been, well, a little hard to follow.
The Story So Far on the Sales of GLC Live at 20 Monroe and the B.O.B
Here's what we know:
The restaurant/ bar/ entertainment venue The B.O.B. and GLC Live at 20 Monroe (then called 20 Monroe Live) were first put on the market in Nov. 2020. The Gilmore Collection listed The B.O.B. for $15.5 million and 20 Monroe Live for $16.5 million, or a combined price of $31 million.
In varying news reports however, GLC Live at 20 Monroe has been listed as being owned and operated by Live Nation, like in this story from the Grand Rapids Business Journal and this article from WZZM-13. The website for 20 Monroe Live itself is a Live Nation website.
Is it possible that both the Gilmore Collection and Live Nation own the venue? Sure. But the details on that don't seem to be very clear. Way back in 2016, when the venue was first announced, it was worded that the Gilmore Collection would be partnering with Live Nation's House of Blues Entertainment division as their entertainment partner on the  "Venue Tower" project, with the music venue part of the tower will be known as 20 Monroe Live.
After the concert venue was put on the market, but before it was sold, Gun Lake Casino bought the naming rights and 20 Monroe Live became GLC at 20 Monroe.
This lead to speculation that Gun Lake Casino would buy the venue and the B.O.B. next door and turn the B.O.B. into a casino. However, it's been reported multiple times that Gun Lake Casino says they're not buying either property and don't know who is.
In December, all the bars and restaurants, and the comedy club Dr. Grins, closed inside the B.O.B.
While in early December, it was announced that sales of the B.O.B and GLC Live were pending - each being purchased by different owners - it seems the sale of the B.O.B. has fallen through.
Though the future of the B.O.B seems uncertain, it's been said since the sales were announced that GLC would stay a concert venue. Greg Gilmore told Local Spins at the end of last year:
There will be no change at GLC Live at 20 Monroe as Live Nation will still operate the venue.
Earlier this month, Wood TV 8 reported that GLC Live had been sold - but the new owners had not been revealed:
Former owner Greg Gilmore said the sale closed March 1. He said the buyer's name and how much it went for was confidential, though it was initially listed for $16.5 million.
Who Bought GLC Live at 20 Monroe?
If you're still with me so far, what's also confusing is that the concert venue's new owners are ALSO called GLC... but they're not, apparently, Gun Lake Casino.
According to MLive,
The Gilmore Collection sold the venue to GLC GR Live, a limited liability corporation created in 2021 that is connected to a real estate development and private equity firm based in South Bend, Indiana, called Great Lakes Capital, or GLC.
And GLC GR has approached the same organization that operates Van Andel, DeVos Place, and DeVos Performance Hall about leasing and operating GLC Live.
The CAA Could Operate GLC Live
The Grand Rapids-Kent County Convention/Arena Authority (CAA) is that organization.
MLive describes the CAA as,
The public authority that oversees the Van Andel Arena, DeVos Place and DeVos Performance Hall. It contracts with ASM Global, a venue and event management company, to operate and manage the venues.
The CAA also just bought an 11.6 acre from the City of Grand rapids for $24.3 million to build an amphitheater on the Grand River downtown Grand Rapids.
So where does that leave Live Nation in all this? Honestly, I can't tell you...
What I can tell you is that CAA operating GLC Live seems like mostly a done deal:
According to MLive,
On Tuesday, the Grand Rapids City Commission unanimously approved letting the CAA enter into contract negotiations with GLC GR Live to lease and operate the venue.

That approval follows a similar, 15-4 vote on Thursday, March 24, by the Kent County Board of Commissioners also allowing CAA to move forward with those negotiations.
We'll keep you posted as we learn more about "those negotiations."
AND on the other big question: "What will happen to The B.O.B.?"
West Michigan Bars, Restaurants And Places You miss
These are bars, restaurants, and places people in West Michigan miss