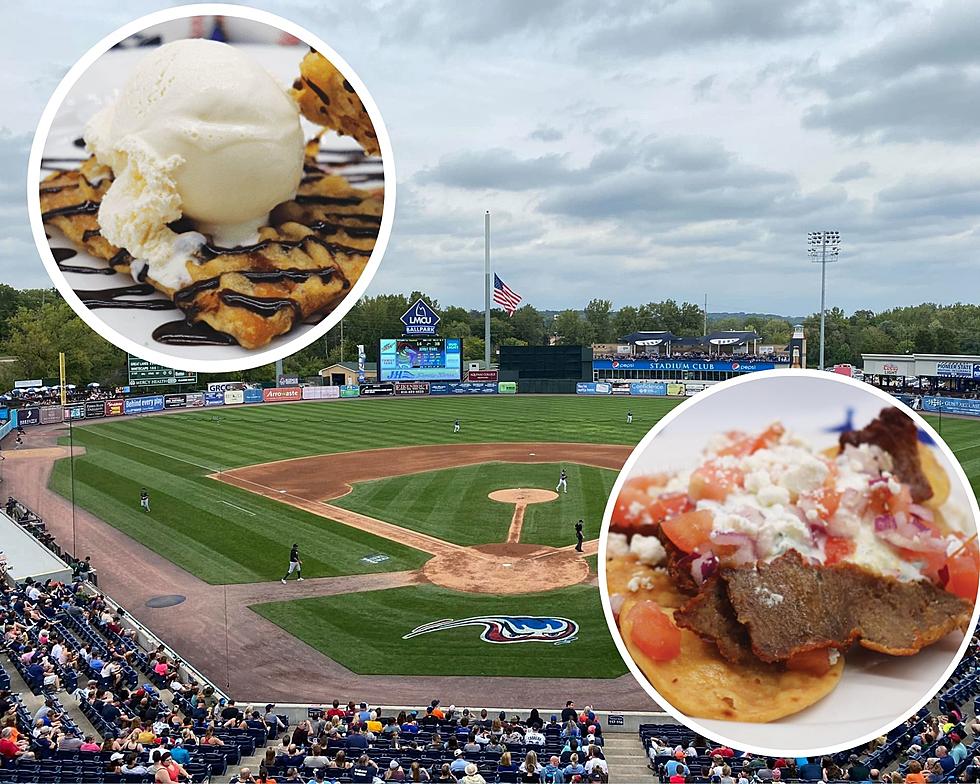 What Concoctions Have the Whitecaps Created This Year? Fan Food Vote Now Open [PHOTOS]
West Michigan Whitecaps, Facebook
For more than a decade, West Michigan Whitecaps fans have been helping to determine items on the minor league baseball team's menu. Some of the options have been pretty wild too - in terms of size, ingredients, (not to mention calories, haha) - and even grabbing national attention!
West Michigan Whitecaps Fan Food Vote Returns in 2022
Is it me, or do this year's offerings - while delicious looking! - seem pretty tame? If I'm not mistaken, there are also fewer options from which to choose. As far as I can tell though, the Fan Food Vote didn't happen in 2021, so it's good to have it back!
Well, I can understand the Whitecaps wanting to ease back into things will all the uncertainties surrounding the pandemic. For the past couple years it wasn't guaranteed that fans would be able to attend games in person at LMCU ballpark.
So what unique, fun food creations have the Whitecaps come up with in 2022?
Potential New Whitecaps' Menu Items at LMCU Ballpark
The Grand Rapids-area baseball team says "The Whitecaps Deliciousness Science Panel" concocted the three below recipes from scratch. Which one sounds yummiest to you?
Funnel Cake Pop-Tarts
Frosted hot fudge sundae Pop-Tarts coated in sweet funnel cake batter and fried. Firstly, since when have "hot fudge sundae Pop-Tarts existed?? Secondly, yes please.
Greek Gyro Nachos
It's a Greek take on a ballpark classic: Fresh pita chips topped with strips of hot gyro meat, feta cheese crumbles, onions, tomatoes, topped with tzatziki sauce. As a lover of nachos AND gyros, I'm sold.
Spicy Chicken Helmet
Whitecaps mini helmet filled with jalapeño corn bread chunks, strips of crispy spicy chicken, and topped with fresh coleslaw. I love it for the adorable helmet alone - but also, it sounds delicious!
Well shoot, I'm torn on which to vote for... You can vote for your favorite once per day now through March 4th here. The winner will be announced March 5th!
Past Whitecaps Fan Food Vote Winners
In the gallery below, you can take a look at the different winners of the Whitecaps Fan Food Vote since its inception.
Also, while technically not a fan vote winner, any conversation about Whitecaps' food offerings would be lacking without a mention of the GIGANTIC Fifth Third Burger, named for the one-time sponsors of the ballpark.
The big ole' burger included five 1/3 lb. hamburger patties, five slices of American cheese, a cup of chili and generous doses of Fritos, salsa, sour cream, lettuce and tomatoes on a 1-pound bun. If you're curious, that amounted to approximately 4,800 calories, 300 grams of fat, 744 milligrams of cholesterol, and more than 10,000 milligrams of sodium.
While the Whitecaps retired the Fifth Third Burger in 2018, the massive burger lives on in our memories! It was even featured on Inside Edition:
And Adam Richman of the TV show "Man vs. Food" once took the beastly burger on!
Here is a look at the fan food favorites since 2010:
West Michigan Whitecaps Fan Food Vote Winners
Take me out the ballgame, take me me out with the crowd, buy me some... waffle fries smothered with pulled pork and beer cheese? Well, in West Michigan that seems to be the case! Since 2010, fans have helped determine what new food items will make it on the West Michigan Whitecaps' menu. The minor league baseball team has put it up to vote for more than a decade. See what Michiganders chose to munch on while watching the Detroit Tigers farm team play!