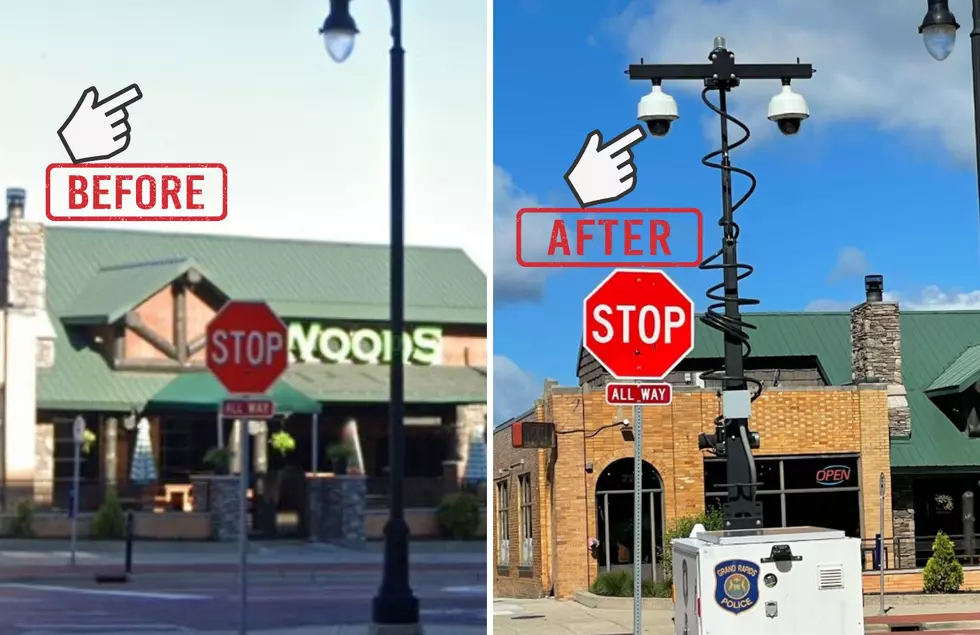 What Are These Grand Rapids Police Cameras Being Used For?
Credit: Canva / Google Maps
A few days ago after my morning show was done, I hopped in my car and made my way to the barbershop for a beard trim. I had to take a detour because of construction happening in Downtown Grand Rapids.
While taking that detour, I spotted something that piqued my interest and made me wonder "what were they being used for?"
Why Are Portable Cameras Set Up In Downtown Grand Rapids?
At Oakes and Ceaser Chavez, I saw something sitting on the corner next to the stop sign, a Grand Rapids Police mobile camera unit.
How Long Have Those Cameras Been Set Up?
I wanted to make sure so that these cameras have not been around for a long time so I hopped on Google Maps and found the most recent Google Street View from October of 2021. In the picture, there is no sign of the GRPD cameras.
What Did The GRPD Say About The Cameras?
I reached out to GRPD via email and phone for comment and at the time of this article being published have not recived a response.
Are Cameras Set Up Near The Woods Lounge Because Of A Shooting?
My guess as to why the cameras are set up is because of the shooting that took place shortly after 1:30 a.m. near the intersection of Oakes Street SW and Cesar E. Chavez Avenue, near Grand Woods Lounge.
According to Wood TV, Four people were injured when multiple shots were fired near the Grand Woods Lounge early Sunday.
The Uber driver whose van was hit by a stray bullet shared what he saw.
The Grand Woods Lounge Released A Statement About The Shooting
According to Wood TV The Grand Woods Lounge released the following statement.
"Our hearts go out to the victims of the shooting that took place last night at the intersection of Oakes Street and Cesar Chavez Ave. We want to correct some misreporting and confirm that this tragic incident was not connected to The Woods or its patrons. The Woods has always been, and continues to be, a safe venue for all.

"This tragedy brings to light our deep concern for the increase in violence in the surrounding area and the decrease of police presence, which we have consistently reported to city officials and the Grand Rapids Police Department over the past three years. At The Woods, our top priority is the safety and wellbeing of our employees and patrons. It is time local leadership prioritizes the security of our downtown streets so Grand Rapids can be a safe, fun destination for all."

 
50 Newish Restaurants & Bars In West Michigan You Should Check Out
These are newish restaurants and bars people in west Michigan recommended for good food and drinks.
Top 25 Restaurants West Michigan Wants Right Now