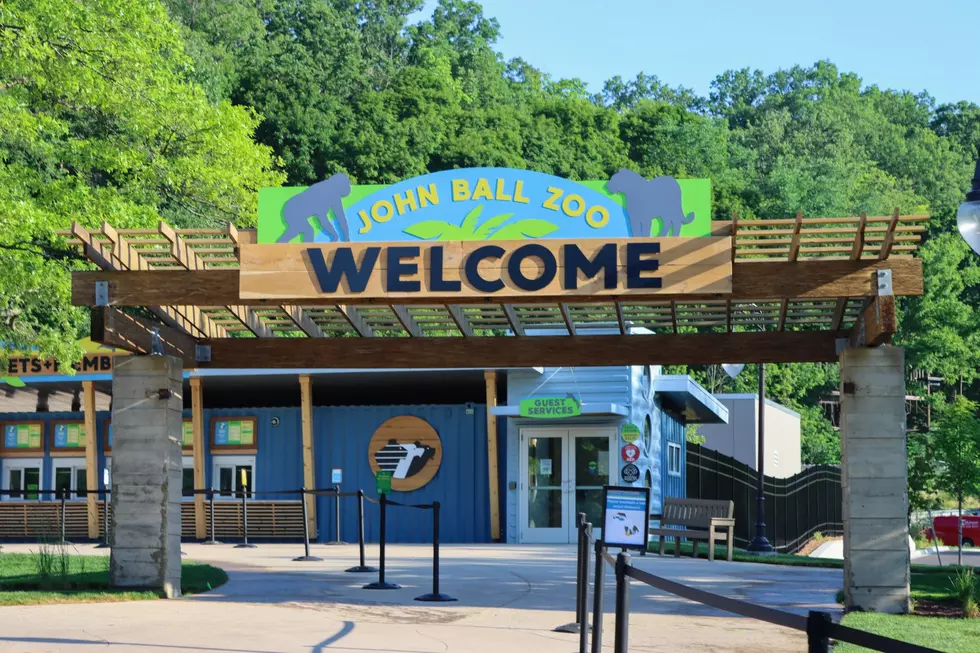 John Ball Zoo Opens This Weekend — What's New This Year?
John Ball Zoo/Facebook
The John Ball Zoo opens for their 2022 season this Friday, March 25th at 10 am. What is new to see at the zoo this year? Several things!!
What New Animals Will Be At John Ball Zoo This Year
Over the last couple of months, there have been a few new additions...
Most recently was the birth of two cotton-top tamarin babies. They were born on Saturday, March 12th, and are doing well. Until their first exam, in about 6 months, we won't know if they are boys, girls, or one of each. Right now the babies hold tight to Dad and Mom and their older siblings. The Cotton-top tamarins are "Critically Endangered" with populations decreasing in part due to illegal pet trade and rapid destruction of their habitats. John Ball Zoo participates in the Cotton-Top Tamarin Species Survival Plan (SSP).
Also born at the zoo over the last month were little Emperor newt larva. These newts are highly toxic and are native to China. Like the Cotton-top tamarins, the population of these amphibians is also rapidly declining. The International Union for Conservation of Nature (IUCN) has declared the species "Near Threatened".
The John Ball Zoo also has some new Baron's racers snakes. These snakes can grow up to 2 meters in length and range in color from green to brown to even blue. These snakes are native to South America and are listed as a species of "Least Concern" on the IUCN List.
This summer, the John Ball Zoo will be supporting of the San Diego Zoo Global Education and Conservation Project (SDZG). The zoo will be the host to two male koalas. They will arrive in May and be at the zoo throughout the summer.
Also new at the John Ball Zoo this year will be Pigmy Hippos, Sitatungas, White Storks, and Australian Black Swans. You can read more about the addition of these animals here.
What Else Will Be at John Ball Zoo?
When you visit the zoo, you will also find 16 larger than life exhibits that are part of the the Washed Ashore collection (on display beginning April 1). Marine debris has been turned into pieces of art. Some of the things you will see include a giant eagle made of recycled ocean waste and jellyfish created from littler collected from beach cleanups.
What Won't You See at John Ball Zoo This Weekend?
West Michigan had a recent outbreak of the Highly Pathogenic Avian Influenza, also known as the Bird Flu. The zoo is working with Local, State and Federal animal health officials to keep their feathered residents healthy and safe. Some birds have been moved inside temporarily. You won't be able to see the eagles, owls, and chickens at the beginning of the 2022 season.
Special Events Planned at John Ball Zoo
Throughout the season, the John Ball Zoo will have special events. The first one scheduled will be on Thursday, April 7th -- It will be Superhero Day at the Zoo! Many Superheroes will be located at the Bissell Tree House for a meet and greet from 9 am to 3 pm. Some of the Superheroes scheduled to attend are: Black Panther, Black Widow, Captain America, Gamora, Spider-Man, Star Lord and more. Put on your cape and head to the zoo on April 7th! For more information check out the John Ball Zoo website.
John Ball Zoo is located at 1300 W. Fulton Street on the westside of Grand Rapids. For more information about admission and zoo hours, check out their website.
Larger-Than-Life Sculptures at Washed Ashore at John Ball Zoo
Explore "
Washed Ashore
" at
John Ball Zoo
in Grand Rapids during the 2022 season. The Washed Ashore exhibition features powerful art for all ages to enjoy that teaches environmental conservation and sustainability. Using debris found on our beaches and in our waterways, the artists craft magnificent sculptures of the marine life negatively affected by pollution.
Michigan's Deadliest Animals & Critters
You may have even seen a few of these in your home or around the state.
10 Animals You Can't Own As Pets In Michigan
Some people really want to have an exotic pet in their home, but very rarely is it a good idea. And if you are looking to add a wild animal to your family, check out this list of animals you can not own as pets in Michigan.