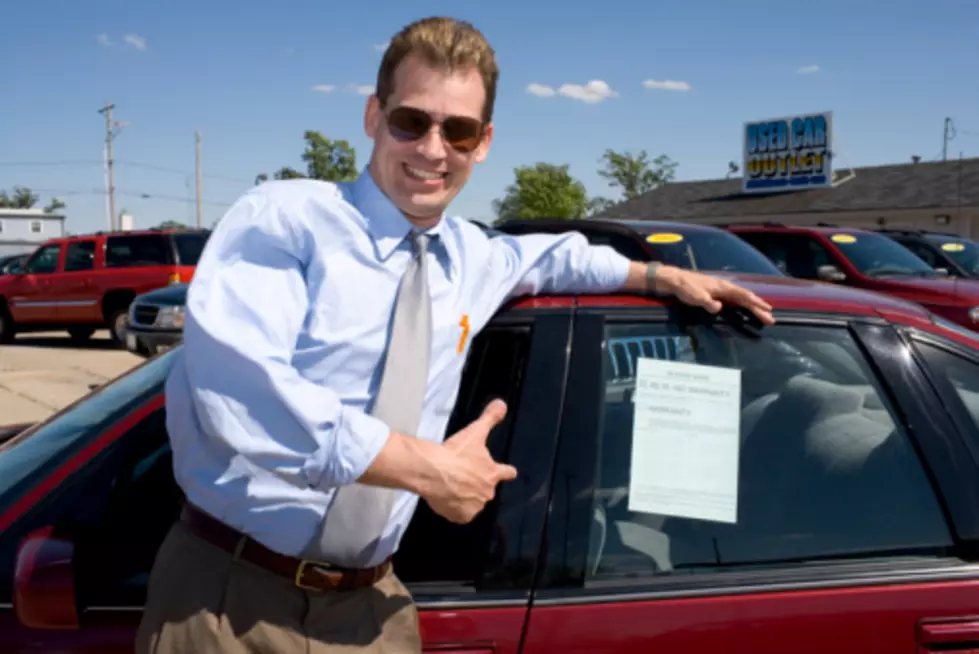 What $15K Buys for Used Cars in GR?
Creatas/ Getty Stock / ThinkStock
I've been looking for a second car for under $15,000 dollars. And good quality Used Cars are selling like crazy. Every time I find one I like - it's sold before getting to the dealership. A few weeks ago 5 cars I wanted to look were already sold that morning before arriving that afternoon.
So let's take a look at the criteria for our Used Car Shopping and let's see what we can get. I'm using the Auto Trader App on my phone for the search.
Price: $10,000 to $15,000 range.
Year: 2010 or Newer. Why? For best % rates on loans the used car will have to no older than 10 years old. You can buy one older, but you'll pay higher interest rates.
Mileage: Under 75,000 miles
Drivetrain: AWD/4WD - we live in Michigan. All wheel drive comes in handy even on rainy streets and of course the snow.
Features: Heated everything...LOL. Heated Seats at least, heated steering wheel even better. Rear-View camera and of course a good radio.
By the way I have no affiliations with any of the car dealers mentioned and am not being compensated for this post by Auto Trader. Cars are in no particular order, these are cars that caught my eye and what I would by for myself for enjoyment in West Michigan.
2016 NISSAN ROGUE AWD SV FOR $13,900: Offered by Used Car Motor Mall on 28th Street. Great Price and let's check the features, only 65,000 miles and it gets 31 mpg on the highway. Artic Blue with Charcoal interior. Heated Seats-check, Navigation and Park-Assist and Back Up Camera.
2010 CHEVROLET EQUINOX for $10,900. At the other end our our budget is this Chevy SUV from Sundance Chevrolet in Grand Ledge. It is also the oldest car in consideration, but as 2010 you can still get financing from your Credit Union or Bank. Gold Mist Metaillic with Jet Black/Brownstone interior on only 47,840 miles. Features: 8 speaker stereo by Pioneer, heated seats, no mention of rear-view camera.
2016 BUICK ENCORE AWD for $14,500: Offered by Fox Buick GMC on Alpine in Comstock Park. The Encore has been a big seller for Buick. White Pearl with Ebony interior. Features 6 speaker stereo, Blind Spot assist, no mention of Heated Seats but it is a one owner car that gets 30 mpg on the highway. Love these cars and my Mother just bought one herself. www.foxgm.com
All cars were featured on Autotrader App as of July 9th, 2020. Cars may have been sold by press-time. And features are the ones posted by the dealers mentioned. Happy Car Shopping...I'm out there doing the same thing and now have a few more cars to go look at tomorrow.