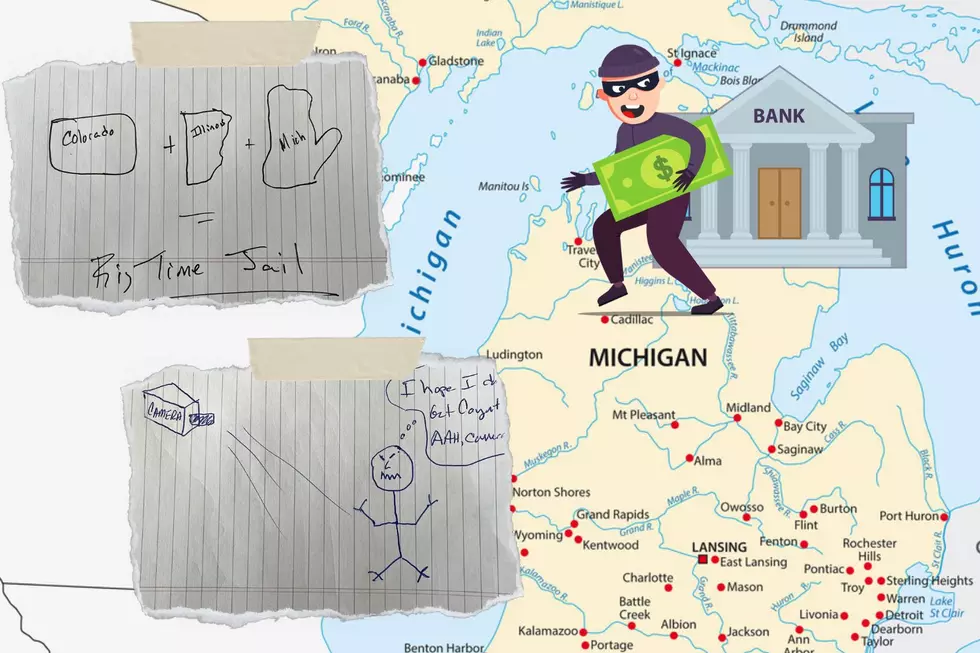 Learn About the Wildest Michigan Bank Robberies From the Past Decade
Photo Credit: Rainer Lesniewski/Getty Images/Canva Pro
Have you ever thought about robbing a bank? That's a dumb idea, no question. The odds are against you and most likely you'll be caught. Even with all of that, Michigan has had its fair share of bank robberies over the years.
I wanted to put this together to showcase some of the wild, crazy and stupid bank robberies that have happened in Michigan. We see wild and crazy scenes in movies and TV shows and hear about them in history class when we are growing up. Bank robberies in real life aren't always as exciting as the movies.
I'm going to share with you some of the biggest heists, suspects and sentences handed down to these morons. A life of crime isn't the way to get ahead, although some people try it over and over again. Please enjoy my "artistic renditions" of these crimes
Wildest Michigan Bank Robberies From the Past Decade
73-Year-Old Man Sentenced For Armed Robbery And Firearm Possession
This guy had been committing robberies since the 1960s. Here's how his geriatric robbery went down. Find the full story at justice.gov.
On January 25, 2013, Gutierrez robbed a branch of the Fifth Third Bank in Kalamazoo and brandished what appeared to be a revolver. On July 10, 2015, he robbed a branch of the Consumers Credit Union next door to the bank he robbed in 2013. In the 2015 robbery, he pretended to be making a lunch delivery before brandishing what appeared to be two handguns and robbing the credit union. Investigators later determined that the two weapons were pellet guns, but a search of his residence led to the recovery of a stolen revolver that matched the description of the weapon used in the 2013 robbery.

"Hopefully Mr. Gutierrez's career in bank robbery and violence is now at an end," U.S. Attorney Patrick Miles said. "The Court's sentence is a message to younger citizens not to follow the path he has trodden; the consequence of not heeding that message is spending the better part of life locked up."
After 4 decades of incarceration, homeboy should get the clue.
Lawton Resident, Douglas Scott Wolhuis, Sentenced For Hoax Bomb And Anthrax Bank Robberies
This is crazy, justice.gov gives the full scoop. Here's the gist:
In April 2015, Wolthuis robbed a Fifth Third Bank branch in Kalamazoo. In June 2015,he robbed a Chase Bank branch in Battle Creek. He concealed his identity for both robberies, including with a mask, and passed demand notes. For the first robbery, he claimed in his demand note that he had a bomb. For the second robbery, he claimed in his note that he had anthrax. When he was arrested a short time after the second robbery, responding officers found a clear container of white powder in his vehicle. Biohazard response teams secured the scene, shutting down traffic for hours, until they confirmed that the substance was not a biological weapon.
Repeat Bank Robber Sentenced To Over 12 Years In Prison, Hid Money in a Hotel Room
Justice.gov sums up the robberies and sentencing. Here's a small piece of the story:
Two days after the robbery in Big Rapids, Loose was arrested at the Budgetel Inn in Grand Rapids after a brief standoff with law enforcement. FBI agents later received a letter Loose had written to his girlfriend indicating he had hidden money after the robbery. Following up on his letter and a diagram he had drawn, the FBI agents discovered $4,700 hidden behind the drywall in the bathroom of his hotel room.
Western Michigan Man Gets 36 Months For Credit Union And Bank Robberies
This guy forgot about the cameras at the bank. Justice.gov breaks it down:
Between February and November 2019, Noel robbed two credit unions and one bank in Western Michigan. On February 14, 2019, the defendant robbed the Lake Michigan Credit Union located at 2636 44th Street SW, Wyoming, Michigan. Four months later, on June 11, 2019, Noel robbed the Lake Michigan Credit Union located at 675 68th Street SW, Byron Township, Michigan. Five months after that, on November 26, 2019, Noel robbed the Chemical Bank located at 303 Arlington Street, Middleville, Michigan. Noel was arrested after an anonymous tipster called local police when they recognized Noel from the Chemical Bank surveillance photo that was released to news media following his third robbery. When confronted by police, Noel confessed to robbing the two credit unions and the bank in order to pay his mounting bills. At sentencing, Judge Maloney emphasized that these robberies were very serious crimes, which put many people at risk.
Detroit Man Who Robbed Credit Union and Crashed Getaway Car Near Vandenberg Air Force Base Pleads Guilty to Bank Robbery Charge
This guy hails from Michigan and earned a spot on the list. Complete stupidity, justice.gov agrees:
After fleeing Mechanics Bank, local law enforcement spotted Pilgrim driving a car on Highway 1 and began pursuing him. After initially stopping his car, Pilgrim refused to exit the vehicle and, to avoid capture, sped away. During his subsequent flight from law enforcement he drove at speeds more than 110 mph, weaving in and out of traffic, and almost colliding with other motorists on the road, the plea agreement states.

Pilgrim's vehicle went off the road near the Vandenberg Air Force Base visitor center, and he attempted to flee on foot, but he was quickly apprehended. Law enforcement recovered $552 from Pilgrim's car and $1,700 from his pockets that were proceeds of his robbery of Coast Hills Credit Union two days earlier.
Michigan Bank Robber Involved In Multistate Crime Spree Sentenced To 235 Months In Prison
This guy, on the run, thought additional felonies would be a good idea. Get the full story at justice.gov. Here's a little bit to get you started:
At the time of the two Michigan robberies, Clark was on parole for a 2017 bank robbery conviction in Ohio. On July 24, after fleeing Michigan, Clark stopped in Mason, Ohio to have the tires checked on the getaway car. After learning that he would need $300 to repair the vehicle, he robbed a PNC bank branch in Mason and obtained $2,508. He then continued travelling south.
Later that same day, police located Clark in Florence, Kentucky in the stolen Dodge Charger. A high speed chase on Interstate 75 followed, with Clark driving his vehicle in excess of 140 miles per hour. The chase ended when Clark lost control of his vehicle, crashing it into another vehicle and severely injuring a nurse on her way home from work.
An Inkster Resident Charged with Bank Robbery, Wanted Teller to Smile
This guy wanted the tellers to "smile", justice.gov details the crime. Here's a portion of the story.
According to court records, on March 2, 2022, at approximately 3:04 p.m., Woolery, wearing a tan Carhartt suit, black beanie hat, and a black facemask, entered the Dearborn Federal Savings Bank, located at 22315 Michigan Avenue in Dearborn, approached a victim teller, handed her a note and gestured to his hip as if he had a weapon. The note demanded the teller to "smile" and put money in a bag or Woolery would "kill everyone." The teller, fearing for her safety, placed $1,690 in a black bag and handed it to Woolery. Woolery then fled the bank on foot and was later arrested by Dearborn police officers, without incident, in a Port-a-John located in the parking lot of the Hampton Inn on Michigan Avenue.
Kalamazoo County Bank Robber Sentenced To Prison
This guy wanted $50,000, but he didn't get it. Get the full story from justice.gov.
Main pleaded guilty to robbing the JPMorgan Chase Bank in Kalamazoo in October 2021 and threatening to pull a gun on the teller if she didn't give him $50,000. Main also admitted to robbing Community Promise Federal Credit Union in Kalamazoo two days later by threatening to set off bombs around the building if two bank tellers didn't give him $50,000. Main obtained approximately $9,945.33 from the two robberies.
Bank Robber Uses Cab as Getaway Car, Pleads Guilty
So this guy is a complete dumbass and took a cab to rob the bank. Get the full story at justice.gov. Here's a taste of what you'll get:
On December 16, 2021, Greinke took a taxicab to Independent Bank.  He went into the bank and presented a demand note that stated, "This is a robbery money in the bag no bait bills or dye packs or I'll come back and kill you all 100 on the side."  The teller gave Greinke $6,230 and Greinke left the bank and witnesses saw him get in the taxi.

The police contacted the taxicab company and reached the driver through dispatch.  The driver made an excuse to stop and Greinke got out but was quickly arrested by responding officers. All of the money was recovered. Greinke pleaded guilty to the bank robbery charge.
Michigan Man Sentenced To 57 Months Imprisonment For Valentine's Day Robbery Of Highland Bank
This story didn't technically happen in Michigan, but the two criminals are from Michigan and drove from the state to commit the crime. Ladies, if you work for a bank and your boyfriend seems overly interested in details about bank procedures, you should be a little suspicious.
Here's a little bit of the story from justice.gov. You can read the full tale on their site.
On February 16, 2014, the girlfriend received an email on her cell phone that contained photos of the alleged bank robbers. Fakhouri tried to explain that although one of the images was of him, he had nothing to do with the bank robbery. He rode with his girlfriend to the Highland Police Department to try to convince the police that he had not been involved in the robbery.

The police did not believe his story; they arrested him. Eventually, however, Fakhouri admitted that he and Gerth had come from Michigan to rob the bank. Gerth was then arrested in Michigan; the air gun that he had used in the robbery was in his backpack.
These two dudes are morons, justice served.
Robbing banks might seem like easy money, but remember that crime doesn't pay.
Michigan's Biggest Bank Robbery