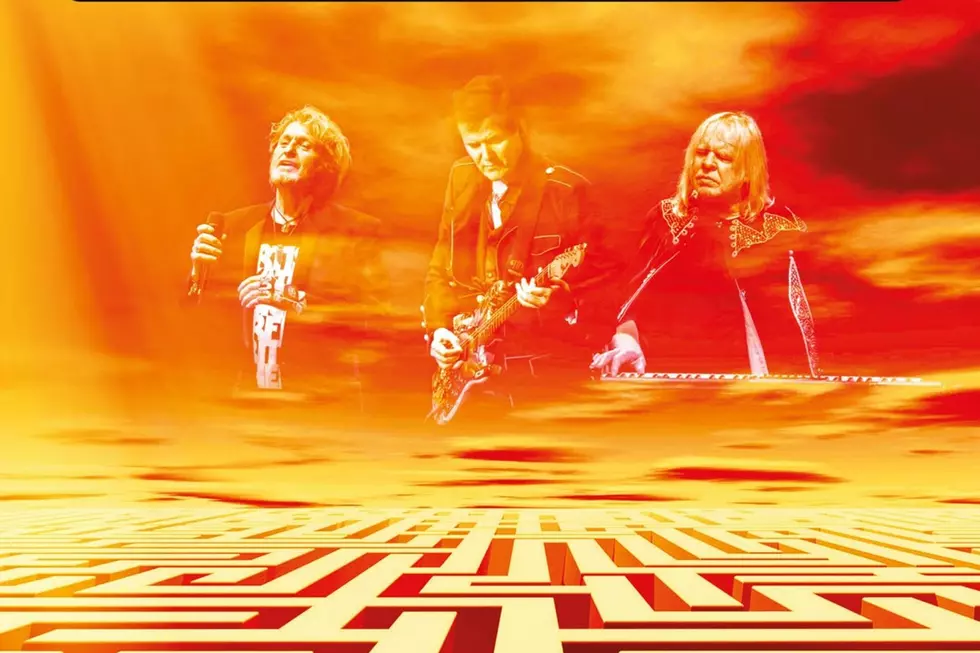 Yes Featuring Anderson, Rabin, Wakeman Announce 'Live at the Apollo'
Eagle Entertainment
The recording took place during the group's sold-out show in Manchester, England, during last year's tour and features classics from Yes' seminal early '70s albums -- The Yes Album, Fragile and Close to the Edge -- as well as songs from 1983's 90125, when Trevor Rabin joined the group and helped steer them to their only No. 1 hit, "Owner of a Lonely Heart."
Anderson Rabin Wakeman released a trailer that features clips of them performing "Owner of a Lonely Heart," "I've Seen All Good People" and "Roundabout."
It's part of a glut of Yes material on the way. Anderson Wakeman Rabin have been working on a new album that they hope to have out in late 2018 or early 2019. Rabin told us last year that the delay is because "There's so many ideas, which we've kind of cataloged, 'Oh, we've got to utilize that' and then we're excited, so we didn't finish through on something and we went to the next thing. So we have a ton of categorized pieces which we have together, and it's just taking a long time to put it all together. But I think it's going to result in something pretty special if we have the patience to get through it!"
Jon Anderson is also curating a two-CD/three-LP compilation from throughout Yes' career that's expected in August.
Yes Featuring Anderson Rabin Wakeman will be coming to the U.S. later this summer for a two-week tour, beginning Aug. 26 at the Whisky A Go-Go in Los Angeles and ending at the Rose Music Center in Huber Heights, Ohio, on Sept. 9. Check out all of the dates here.
Yes, '50th Anniversary Live at the Apollo' Track Listing
Disc One
1. "Orchestral arr. Perpetual Change" / "Cinema" / "Perpetual Change"
2. "Hold On"
3. "I've Seen All Good People : (i) Your Move (ii) All Good People"
4. "Lift Me Up"
5. "And You & I (i) Cord Of Life (ii) Eclipse (iii) The Preacher, The Teacher (iv) Apocalypse"
6. "Rhythm of Love"
7. "Heart of the Sunrise"
Disc Two
8. "Changes"
9. "Long Distance Runaround" / "The Fish (Schindleria Praematurus)"
10. "Orchestral Shade" / "Awaken"
11. "Make It Easy" / "Owner of a Lonely Heart"
12. "Roundabout"
Yes Lineup Changes