Zakk Wylde, Eric Johnson and Jonny Lang Lead 2014 'Experience Hendrix' Tour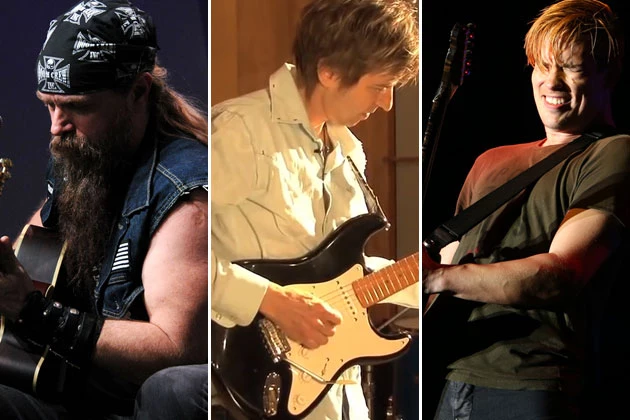 The long-running 'Experience Hendrix' tour will bring a fresh crop of guitarists on the road this fall to celebrate the musical legacy of Jimi Hendrix. There are no Michigan dates on the mostly Texas and California tour.
Previous 'Experience Hendrix' vets Buddy Guy, Jonny Lang, Kenny Wayne Shepherd, and Zakk Wylde will be joined by a new group of performers that includes Black Crowes co-founder Rich Robinson, Eric Johnson, Doyle Bramhall II, Eric Gales, Mato Nanji, Ana Popovic, and former Stevie Ray Vaughan and Double Trouble member Chris Layton. Anchoring the band, as always, is Hendrix bassist Billy Cox.
"Obviously, I'm a fan of everybody that's on [the Experience Hendrix Tour] because they can all throw down like it's nobody's business," enthused Wylde, in a press release. "I wanted to honor his memory playing his songs for this tour," added Lang, who earlier spoke with Ultimate Classic Rock about the excitement of joining the tour. "The thing we can all do is just be ourselves and let the natural interpretation of his songs take over."
"My brother was a musical visionary whose impact transcends his lifespan," wrote Janie Hendrix, the President/CEO of Experience Hendrix. "He often spoke of the concept of 'Electric Church,' using music to connect directly with people. The Experience Hendrix Tour, now in its ninth incarnation, is testimony to the fact that Jimi continues to connect musicians and audiences, crossing generational and cultural boundaries. It's our continuing mission to do all we can to celebrate what he's given us and to keep his music in the forefront. The wonderful musicians on this tour express their love for him in ways that are a direct reflection of the gift he's given us."
Experience Hendrix Fall 2014 Tour Dates
Sept. 19 – Hollywood, Fla.
Sept. 20 – Clearwater, Fla.
Sept. 21 – Jacksonville, Fla.
Sept. 23 – Melbourne, Fla.
Sept. 24 – Atlanta
Sept. 25 – Birmingham, Ala.
Sept. 26 – Nashville, Tenn.
Sept. 28 – Austin, Texas
Sept. 29 – San Antonio
Sept. 30 – Austin, Texas
Oct. 2 – Houston
Oct. 3 – Durant, Okla.
Oct. 4 – Newkirk, Okla.
Oct. 5 – Tulsa, Okla.
Oct. 7 – Mesa, Ariz.
Oct. 9 – Valley Center, Calif.
Oct. 10 – Los Angeles
Oct. 11 – Indio, Calif.
Oct. 12 – Avila Beach, Calif.
Oct. 14 – Santa Cruz, Calif.
Oct. 15 – Santa Rosa, Calif.
Oct. 16 – Davis, Calif.
Oct. 17 – Lemoore, Calif.
Oct. 18 – Oakland
Source:
Zakk Wylde, Eric Johnson and Jonny Lang Lead 2014 'Experience Hendrix' Tour