Motley Crue Talks Farewell Tour: 'We Don't Want to Come Back'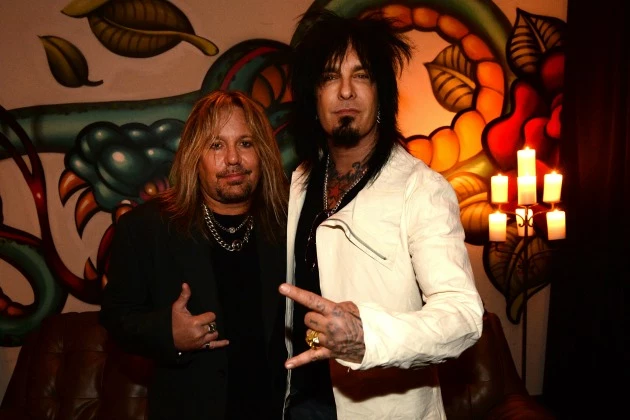 Bands reunite for any number of reasons, and over the years, there remain little more than a handful of acts whose breakups have stayed permanent. It's easy to be cynical about Motley Crue's farewell tour, in other words — but the band members still insist they aren't going to change their minds.
The Final Tour kicks off tonight in Grand Rapids at Van Andel Arena, with Alice Cooper also performing.
Saying a future reunion tour would mean "lying to our fans and shaming ourselves," Crue bassist Nikki Sixx told USA Today, "We will never come back. We do not want to come back. We want people to take this seriously. We see so many farewell tours and comebacks where it's not the same band anymore. You see it sliding down a hole. We want to guarantee that will never happen."
"People are wary of farewell tours," added Vince Neil. "They think bands do it just to ramp up ticket sales. A few years later, a band does a reunion tour, then another farewell tour." Choosing when to walk away is, he says, "a cool way to be remembered" — and far better than any alternative. "We're leaving on our terms, not because of a lack of fans or inner fighting. Everything we have done is for the fans."
Calling the end of the band an "easy" decision, Sixx continued, "It's dignified and gang-oriented. We're a band of brothers. A lot of people are going, 'What about all the money? Don't you have 10 more years in you?' Well, maybe. But we're peaking now. Let's check out at the top. I look at my favorite boxers and wonder why they didn't stop two fights earlier. We're taking our championship belt and going home."
Still, for drummer Tommy Lee, saying goodbye to the group is bittersweet. "It's weird," he admitted. "A part of you is extremely happy and proud that you're leaving a good thing alone. Another part is extremely sad. But it excites me that nobody will be able to say, 'Look at those old guys playing the county fair. They should have tapped out years ago.'"
"By the time we're done, it will have been 35 years," concluded guitarist Mick Mars. "Mötley had a great run. It's time to open the door for younger bands."
Source:
Motley Crue Talks Farewell Tour: 'We Don't Want to Come Back'