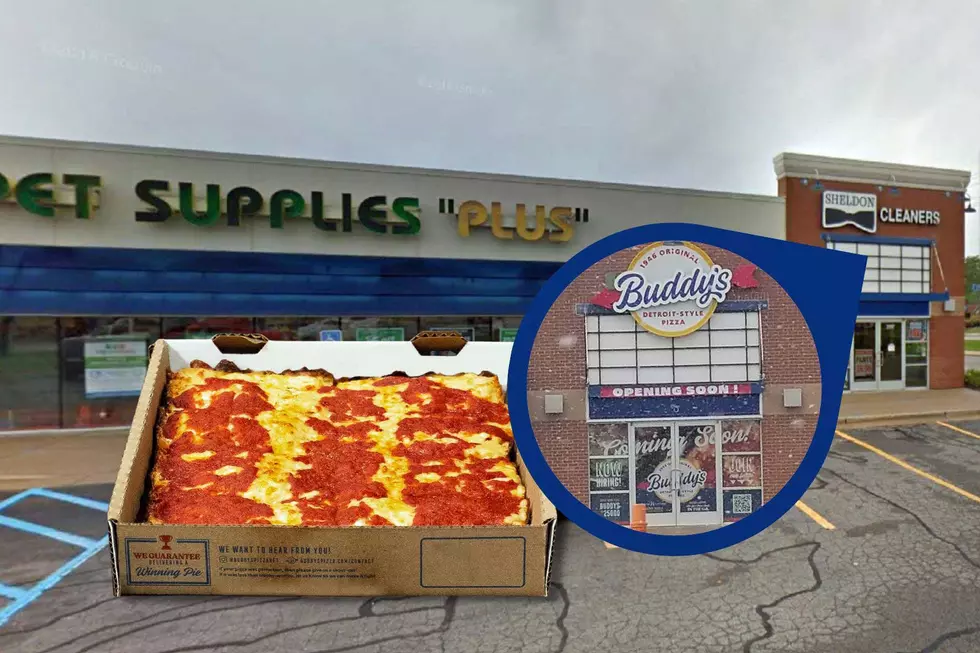 Buddy's Pizza Opening Second Location in the Grand Rapids Area
Photo: Google, Buddy's Pizza via Facebook
It was 75 years ago that we were introduced to a new style of pizza -- Detroit Style Pizza. And it all began in the motor city at Buddy's Rendezvous Pizzeria on Six Mile and Conant Street on Detroit's eastside. Soon Buddy's Pizza will be opening up a second Grand Rapids area location -- in Walker!
What is Detroit Style Pizza?
Back in 1946, Gus Guerra and Concetta "Connie" Piccinato made their first square-shaped pizza. They started with double proofed dough in a square pan and then put the toppings of the pizza on in reverse order of the traditional way of making a pizza.
The pepperoni is placed directly on the dough to allow the meat flavor to be absorbed into the crust. On top of that, crumbled Wisconsin brick cheese was placed on the pie. The the other toppings were added and on the very top were three wide stripes of sauce.
Buddy's pizza still uses that same technique and original pans today that they used 75 years ago. You can read more about the history of Buddy's Pizza here.
Buddy's Pizza Opened in Grand Rapids
In 2019, Buddy's Pizza opened up their first Grand Rapids area location. It is located in what was originally a Carabba's Restaurant at 4061 28th Street SE. Fans of Buddy's Pizza could now get their iconic Detroit-style pizza here in west Michigan.
The company has now announced a second Grand Rapids area location that will be opening soon. They are planning a carry-out restaurant located at 3597 Alpine Avenue, right next to Pet Supplies Plus in the old Sheldon Cleaners location.
There is no official opening date just yet, but the signage is on the building and the Buddy's Pizza website indicates that the Alpine location is "Coming Soon". They are even accepting applications.
The new location also has its own Facebook page, however there isn't much information on it at this point.
Who's ready for some Detroit-style Pizza on Grand Rapids' northwest side?!
Highest Rated Pizza in Grand Rapids