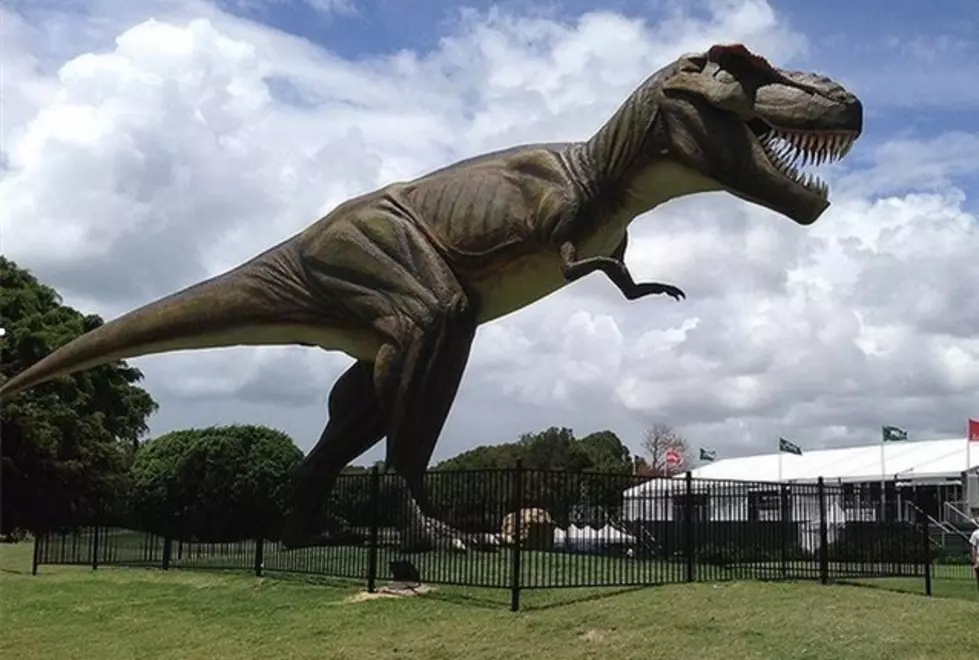 Dino Stroll: Dinosaurs Will Roam Grand Rapids This Weekend
Courtesy of Dino Stroll
No, not *actual* dinosaurs, but about the closest you can get! Though, given the craziness of the past year and a half, with murder hornets, hordes of cicadas, and everything else, maybe it's not that wild to think that dinosaurs would make a return...
But anyway, here's something fun to do when the kids have whined "I'm bored!" for the 100th time already this summer -- Dino Stroll, a life-size dinosaur exhibit is coming to the Delta Plex this weekend, June 19-20! Check out photos in the gallery below!
You'll be able to walk through this pre-historic adventure, getting up close and personal with almost 75 life-like creatures, reptiles and life-size dinosaurs, with most standing over 25 feet tall and spanning over 60 feet long, including T-Rex, Velociraptors, and Stegosaurus.
Organizers say Dino Stroll will be the most realistic tour back into history with animatronic dinosaurs that are created with moving heads, necks, tails, wings, eyes blinking, mouths that open and close, breathing movements, synchronized sounds, spraying water and other fun details that bring them to life. Their goal is to create a realistic and memorable experience of what it felt like when the world's largest creatures roamed the earth.
You and the kiddos will become paleontologists, studying skeletons, fossils and dinosaur eggs. Plus, you can climb inside for photo ops! There will be entertainment by the DinoBand, various roaming Dinosaurs to encounter during the stroll, and more.
Dino Stroll is June 19-20, 2021 at the Delta Plex. Tickets start at $22.99 each plus fees and are on sale now here. Children under 2, Military and Veterans are free!  All tickets must be purchased online in advance. Limited capacity sessions are offered with timed tickets available starting at 10:00 a.m. each day and every half hour, through 5:00 p.m. You're asked to arrive as close as possible to the time on your ticket.
Dino Stroll Coming to Delta Plex
[gallery galleryid="341:256386" gallerytitle="KEEP READING: 50 activities to keep kids busy this summer"