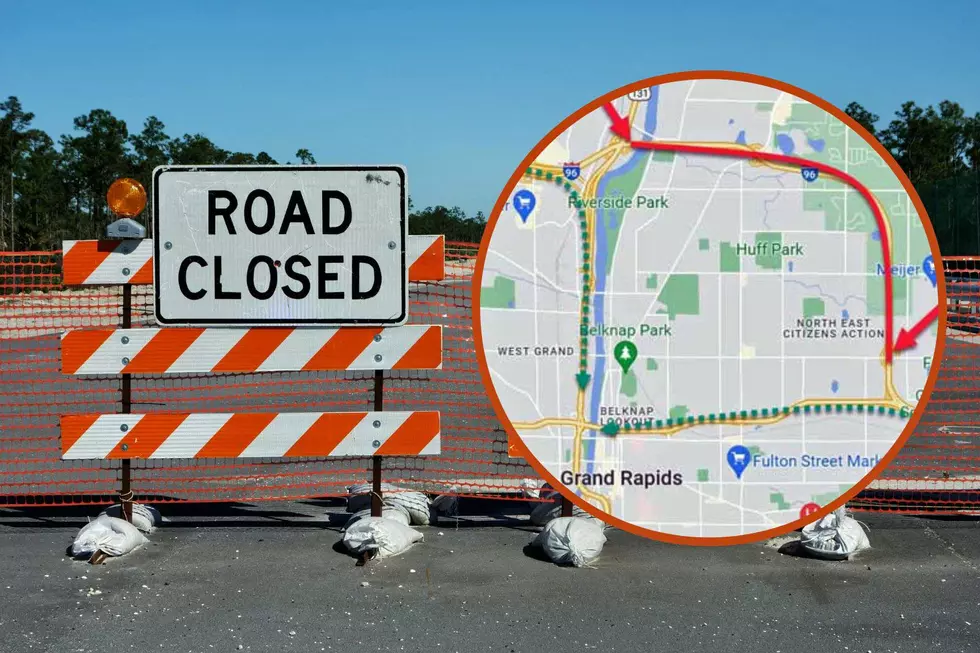 Major Freeway Closed in Grand Rapids Starting This Weekend
Photo: Canva, Michigan Department of Transportation
This is normally the time of year that road construction projects are wrapping up and they are putting the orange construction barrels into storage until next spring.
That is not the case in the Grand Rapids area this weekend...
Total Closure of Westbound I-96 Begins Early Saturday Morning
About a week ago, eastbound I-96 was closed from Leonard St. to US-131. That stretch re-opened on last Monday. This coming weekend the opposite side will be closing down. Starting at 1 am on Saturday, October 15th, Westbound I-96 is scheduled to close for approximately 10 days between I-196 and US-131. (Although the press release from the Michigan Department of Transportation lists the "estimated end date" as Late November 2022.) The detour takes traffic westbound on I-196 (The Gerald R. Ford Freeway) and then northbound on US-131 to get back to I-96.
What Are They Doing to I-96?
The Michigan Department of Transportation is investing $6 million to resurface that 5 mile stretch of I-96 from the Grand River to Leonard Street.
Other Major Road Construction Delays This Weekend
Even though the detour for the construction on I-96 takes drivers to US-131 for the detour, the Michigan Department of Transportation has also decided this would be a good time to do some weekend work on that stretch of road too! (What were they thinking?!).
Starting Friday night, US-131 will be down to just one lane in both directions between Ann Street and 36th Street. Two lanes of US-131 will be closed, both northbound and southbound, from 6 pm on Friday night until 5 am on Monday morning, October 17th. During this time, these ramps will also be closed:
The on-ramp from Hall Street to Northbound US-131
The on-ramp from Cherry Street to Southbound US-131
The on-ramp from Martin Luther King Jr. Street/Sheridan Avenue/Century Avenue to Southbound US-131
US-131 LANE CLOSURE UPDATE: At 12:10 pm on Friday, October 15th, the Michigan Department of Transportation sent out a notification that the lane closures on US-131 are going to be rescheduled for NEXT weekend, from 6 pm Friday October 21st through 5 am on Monday, October 24th.
For construction updates, click here for an interactive map from the Michigan Department of Transportation.
Be patient and have a save trip around the Grand Rapids area this weekend.