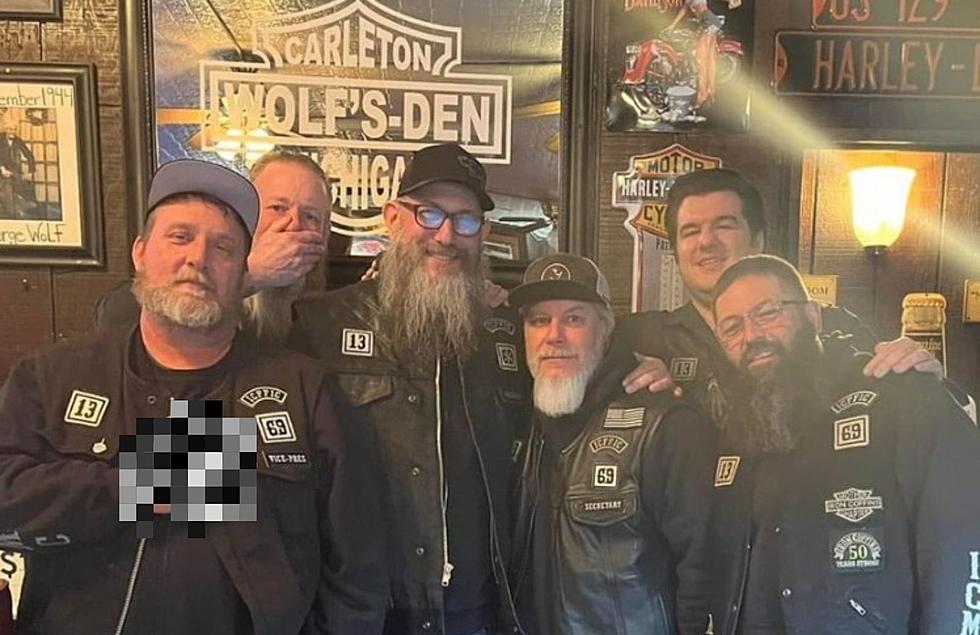 Michigan Police Need Your Help To Find This Biker Gang
Credit: Carleton Police via Facebook
The Carleton, Michigan Police Department needs your help identifying the members of the Iron Coffins motorcycle club who beat up a man at Wolf's Den Bar so badly that he needed 28 staples in his head and is suffering from seizures.
The Carleton Police Department sent out a press release talking about what happened.
On 4/2/2022, Carleton Police was dispatched to the Wolf's Den Bar located in the 1400 block of Monroe in downtown Carleton on a report of several men assaulting one victim.

According to witnesses, the victim was exiting the bar through the front door and accidentally bumped into another customer who was a biker wearing Iron Coffins colors and multiple bikers started yelling at him. The victim decided to leave through a side door and began walking away from several members of the Iron Coffins M.C, who came after the victim, the victim was able to fend off the 1st attacker and attempted to fend off the second attacker when several more club members joined in.

The victim is a 35-year-old Carleton man that suffers from seizures as well as receiving 28 staples to close the head wound received from the assault. We are asking for the public's help identifying the people of interest in this photograph.
Anyone with information is asked to call the Carleton Police Department at 734-654-6717.
These are the Iron Coffins motorcycle club members that the Carleton Police Department need help identifying.
The Carleton Police Department Have An Update
Thankfully, it appears that the Carleton Police Department was able to identify all of the members of the gang that were pictured with the help of tips from the community. As of the writing of this article, none of the men have been publicly identified by authorities, nor is it clear if any of them have been arrested.
7 Year-Old Dre Becomes Honorary Hastings Police Officer
50 Newish Restaurants & Bars In West Michigan You Should Check Out
These are newish restaurants and bars people in west Michigan recommended for good food and drinks.
Top 25 Restaurants West Michigan Wants Right Now