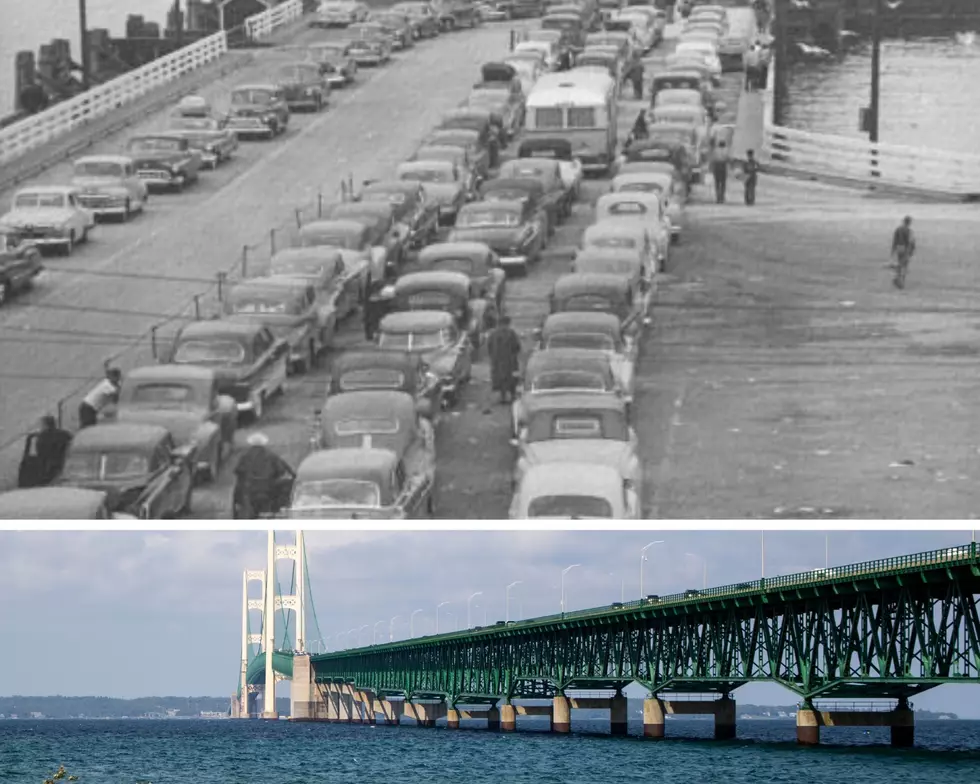 The Big Mac Bridge Is 65: Here's What It Was Like Before It Was Built
State of Michigan/Canva
Happy birthday to one of the iconic symbols of our state, the Mackinac Bridge.
The Bridge Cost $70 Million To Build And Took Three Years To Complete
The link between Michigan's Upper and Lower Peninsulas was completed in 1957 and officially dedicated on November 1, 1957, allowing people to drive to the UP for the first time ever.
The mammoth structure was funded by a $90 million in bonds issued in 1954, when construction began. The extra $20 million was used to service the debt.
The vision to build a bridge across the Straits of Mackinac, which joined Lake Huron and Lake Michigan, goes back as early as 1884, and planning for the current opened in earnest in 1934.
The Generations Since Have Taken The Bridge For Granted
Since I was born after the construction of the Big Mac, I have taken for granted that the trip to the UP would be seamless, but prior to the bridge, getting over to the Upper Peninsula was a trip that required precise planning and allowing for a ferry across the treacherous straits that could be arduous, and long, with the minimum time in great weather being an hour.
Few Alive Today Remember The Ferry Service Which Began In 1923
The first ship to take cars across the Straits of Mackinac was the ferry 'Ariel' (no relation to the Little Mermaid) which had originally taken cars across the Detroit River to Canada. It could only hold 20 cars, and was soon rendered obsolete.
The next year, The Mackinaw City and the Sainte Ignace began making the five mile run, each with a capacity of 40 vehicles. they were later expanded to carry up to 60 vehicles each.
A former Lake Michigan ferry, the City of Cheboygan joined the fleet in 1937, with a capacity of 85 cars. The fleet was completed in 1952 with the Vacationland, the biggest ferry by far with a 150 car max, and a powerful engine to allow winter crossings, the first to do so.
The five ferry fleet stayed in service until the bridge dedication made them obsolete.
The Ferry Ride Was A Thrill To Some, A Bane To Others
While some vacationers found the hour long crossing to be a relaxing and scenic ride, many others found the usually choppy ride nauseous and a pain to line up with their driving schedules.
The toughest time to cross was hunting season, where the ferries found it hard to keep up with the demand.
According to the Mackinac Bridge Authority web site:
During the November deer hunting season, thousands of hunters jammed the docks and the adjoining highway while they waited to board the ferries. Patient veterans of the Straits crossing would calmly munch hot pasties sold by

car-to-car vendors and feed the ever-present sea gulls.
Constructing the Mackinac Bridge, 1954-1957