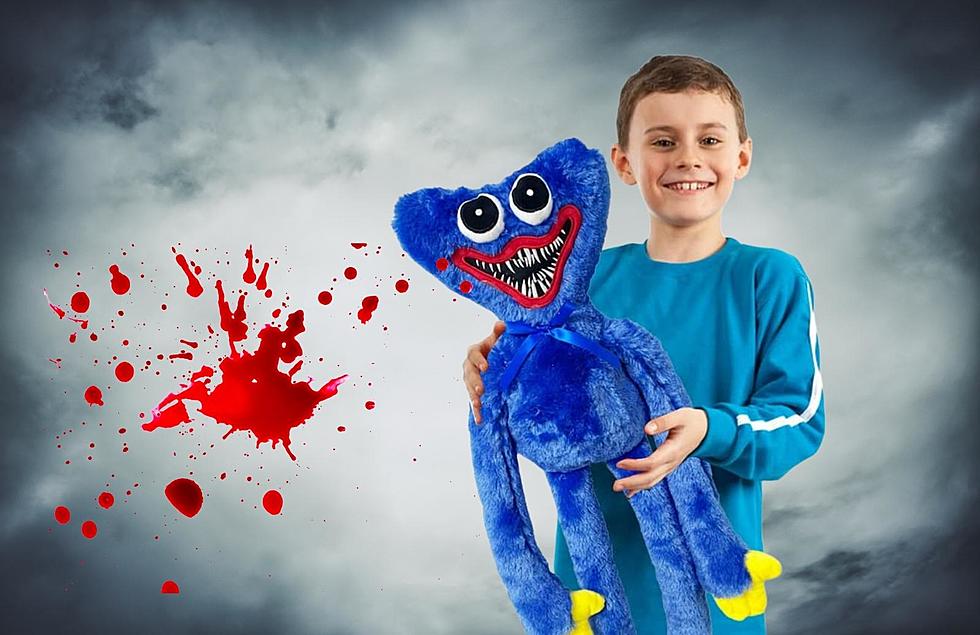 Who Is 'Huggy Wuggy' And Why Are Michigan Kids In Danger?
Credit: Amazon / Canva
The Sault Ste. Marie Police Department is alerting parents in Michigan about their concern over popular Poppy Playtime character 'Huggy Wuggy'.
Who Is Huggy Wuggy?
Huggy Wuggy is an enormous creature with incredibly long arms and legs, leaving him standing at a towering height of at least 10 feet. He has blue fur and many razor-sharp teeth, on top of having another mouth inside of his mouth. He has yellow hands, red lips, and eyes that resemble googly eyes.
Why Are People Concerned About Huggy Wuggy?
Sault Ste. Marie Police Chief Wesley Bierling and Sault Area Public Schools Superintendent Amy Kronemeyer have expressed concern about Huggy Wuggy in a release posted to Facebook.
Unfortunately, the online character "Huggy Wuggy" has come to our community. Huggy Wuggy spawned from the Poppy Playtime App and encourages children to commit violent acts to themselves and others. Huggy Wuggy demonstrates to children how to hug someone until "they can no longer breathe". Huggy Wuggy convinces children that toys or objects are trying to cause harm. Some of the Huggy Wuggy videos depict alcohol and drug use as well as sexual assault and violence towards women. Huggy Wuggy content can be found on Youtube, Tik Tok, and through online search engines. Though some Huggy Wuggy content is being removed and regulated but we encourage all parents to audit their kids App and online usage for Huggy Wuggy content.
These Are Some Concerning Huggy Wuggy Videos Found Online
What Parents Need To Know About Huggy Wuggy
What Can Parents Do?
Police are urging parents to monitor their children's use of YouTube and other video-sharing social media platforms for content that may be inappropriate or too intense for their viewing.
50 Newish Restaurants & Bars In West Michigan You Should Check Out
These are newish restaurants and bars people in west Michigan recommended for good food and drinks.
These 17 Children Have Gone Missing Since January 1, 2022 and Have Still Not Been Found