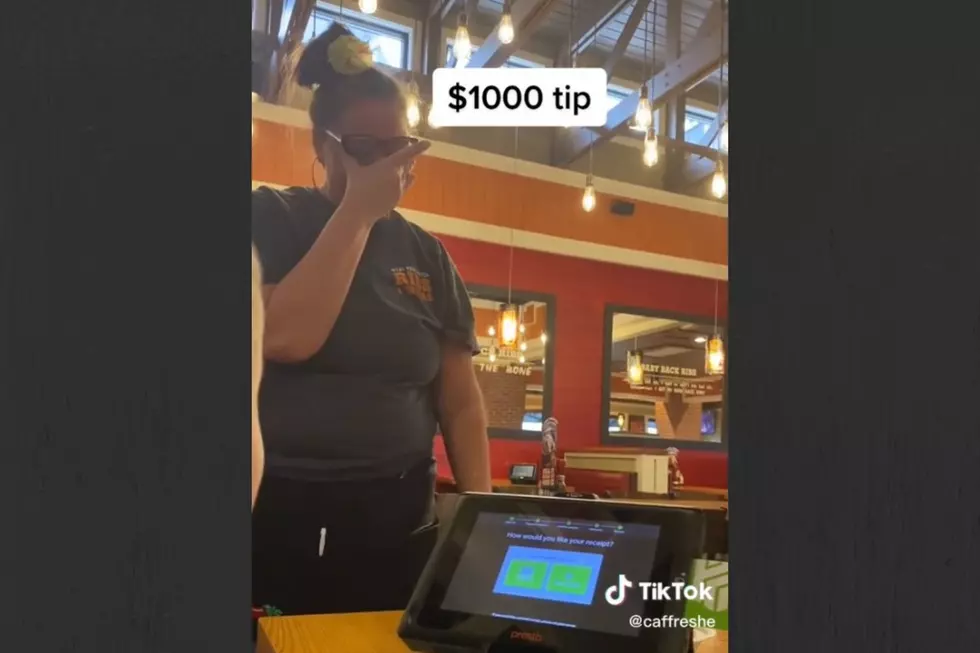 Heartbreaking Story Behind This $1,000 Tip to a Michigan Server
@caffreshe on TikTok
The backstory to this viral video makes this moment even more emotional.
This Michigan family has found a way to honor the death of their baby by changing the lives of strangers. "Nashing" is the term they use when they bless unexpected people on the 9th of each month with a gift or money and it all started with the tragic and sudden loss of a baby named Nash Schupbach according to Today.com,
Nash died suddenly from positional asphyxia when he was 5 months old at his daycare.
Nash's mother Michelle was understandably devasted by the loss of her little baby boy.  She explained to Today that she couldn't bring herself to get out of bed after her baby died. Her sister-in-law suggested helping others to honor Nash's memory. Before Michelle could wipe the tears from her eyes, "Nashing" took off like wildfire. People were being blessed with gifts, large tips, etc; all in the name of little baby Nash.  Michelle decided she wanted to be a part of spreading joy in her son's name.
That's where Traci Kaule comes into the picture. In the video below you see Kaule working her double shift as a waitress on a slow night at Chili's in Traverse City, Michigan.
Michelle told her server Traci about her son Nash would have been 9 years old on that day, January 9, and to honor her son they asked people on social media to donate money to spread joy in Nash's memory. Then she handed Traci $1,000 cash! It's no surprise Traci instantly began to cry.
The video has been viewed over 800,000 times since it was uploaded to TikTok on January 10.
Side note: Traci was so moved that she decided to share her tip with her co-workers since it was a slow night and nobody was making money.
Michelle Schupbach is not done. Watch as she drops more $1,000 tips on strangers by checking out her TikTok.
10 Ways Crying Is Actually Good For You
19 Things You Cannot Donate to Goodwill in Michigan
As you begin your spring cleaning and set aside items you no longer want, you may think about donating them to Goodwill. Before you box them up for donation, double-check that those items are actually something that Goodwill accepts. Things like gently used clothes and books are great. However, Goodwill will not accept things like large appliances and car parts. Check out the whole list of things Goodwill doesn't accept, below.