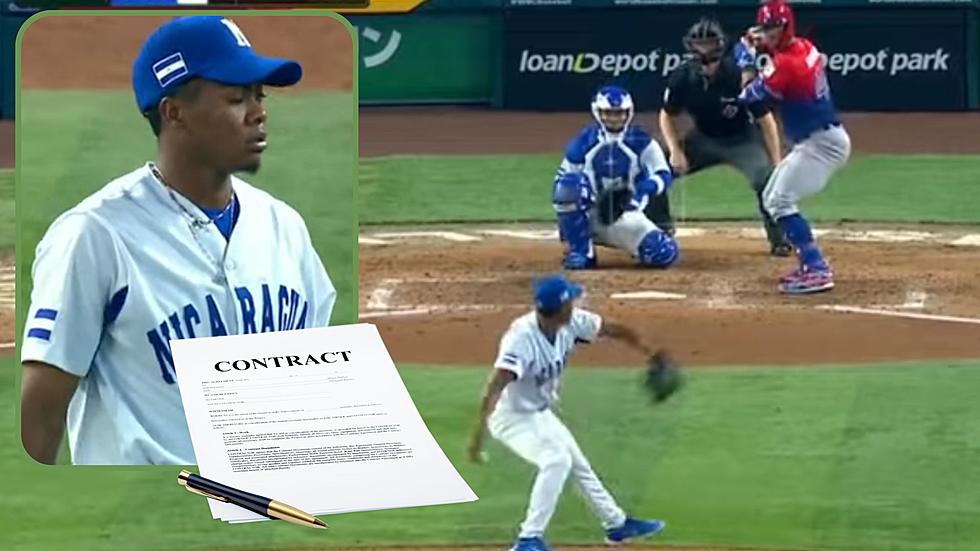 Tigers Signing Unknown Nicaraguan Pitcher Who Struck Out Three MLB Stars
Youtube
If you haven't seen any of the World Baseball Classic going on right now, you're missing out on some of the best, and most exciting baseball ever played.
We're all aware that some of the best baseball players aren't from the U.S. anymore, and nations like the Dominican Republic, Puerto Rico, Cuba, and Venezuela are really putting on a show. But it's this past weekend's game between the Dominican Republic and Nicaragua that's been making headlines for one reason - pitcher Duque Hebbert.
Hebbert only came in for the final inning as Nicaragua's closer, but was facing arguably the toughest lineup of batters in the WBC: Juan Soto, Julio Rodriguez, Manny Machado, and Rafael Devers.
All four are big contract players in the MLB - Juan Soto with the Padres, Julio Rodriguez with the Seattle Mariners, Manny Machado, also with the Padres, and Rafael Devers with the Boston Red Sox - and three of them fell to the 21-year-old unknown on the mound.
(The below video is in Spanish, but you get the jist of the atmosphere from the batters' reactions.)
The only batter to get a piece of Hebbert was Machado, who popped off a double.
Nicaragua was already down 6-1, and would eventually lose the game, but NOBODY was talking about the loss. All eyes were on Hebbert, and the Detroit Tigers pounced on the attention.
Pretty awesome opportunity for this kid, who until this past weekend, was virtually unknown.
Now, he hasn't reported yet to Spring Training for the Tigers, because he's still in Miami playing in the WBC with his home country. AND, he has actually yet to take his physical, and be examined by the team for approval to even sign a contract. But all signs point to Duque making his Minor League Debut sometime this season with the Detroit minor league teams.
Now, if a knee-jerk reaction to a shining moment for an athlete sounds familiar for Detroit, I was reminded of the Detroit Lions incident with none other than Havard Rugland, aka "Kickalicious."
The Lions saw his trick shots on Youtube, and signed him on the spot in 2013. But... turns out... there was a reason he wasn't on anyone else's teams, because... he kinda sucked.
Hopefully Duque doesn't turn into another "Kickalicous" incident for Detroit. Good luck buddy.
10 Notable Baseball Stadiums in Michigan
Here are 10 baseball stadiums in Michigan for you to check out if you love the game of baseball or just want to have a good time.
Brock's Major League Baseball Hat Collection