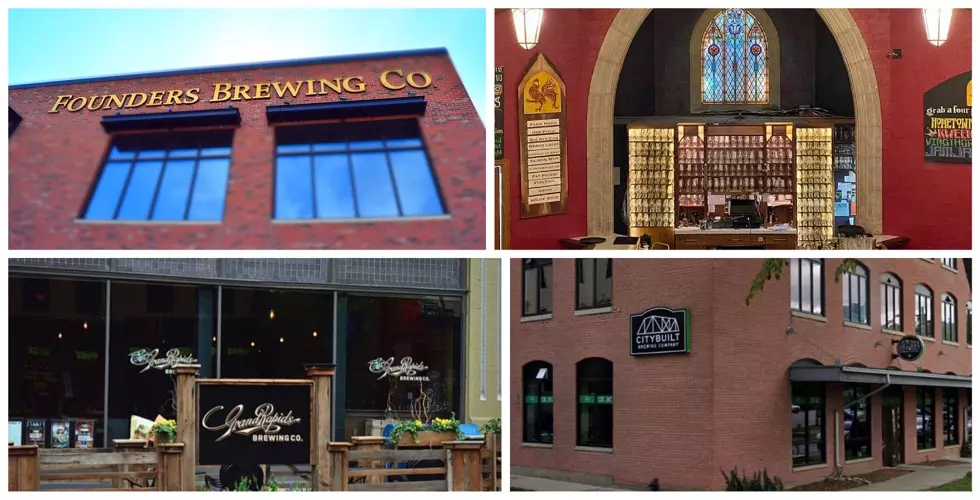 Grand Rapids Once Again Named 'Best Beer City' in America
TSM/ Brewery Vivant Facebook/ Google
We're No. 1! Looks like we'll be keeping that "Beer City USA" title after all.
Grand Rapids has once again been named "Best Beer City in America", beating out 19 competitors in a USA Today 10 Best Readers' Poll.
The 20 finalist cities were chosen by a panel of beer experts for the best beer scenes in the nation: "stellar selections of established and up-and-coming breweries, beer bars, brewpubs, beer festivals and even thriving homebrewing communities where novice brewers can get their foot in the door." Then it was put up to a public vote-- and Grand Rapids took the top spot.
In the past, GR has won two "Best Beer Scene" titles in USA Today polls... but not last year! In 2020, Grand Rapids came in third, beaten out by Milwaukee at No. 2 and St. Louis at No. 1. Well, now we're back where we should be at the top of the list.
Here's USA Today's praise for GR:
Winner of two past Best Beer Scene titles, Michigan's second-largest city sports the state's strongest beer scene, thanks largely to the presence of the world-renowned Founders Brewing Co. Not to be outdone, there are several other brewing operations around town, most notably the Belgian-inspired Brewery Vivant. The city's official "Beer City Ale Trail" lists more than 80 breweries in the surrounding area, and the local calendar is constantly filled with beer festivals, events, and promotions. Throw in exceptional beer stores such as Siciliano's Market, and it's easy to see why Grand Rapids proudly stakes its claim as 'Beer City USA'.
Here's the final ranking for "Best Beer City":
Grand Rapids, Michigan
St. Louis, Missouri
Asheville, North Carolina
Philadelphia, Pennsylvania
Indianapolis, Indiana
Denver, Colorado
Atlanta, Georgia
Fort Collins, Colorado
Milwaukee, Wisconsin
Charlotte, North Carolina
In another USA Today Poll for Best Brewpub in the U.S., three Michigan bars made the top ten, with Ann Arbor's HOMES Brewery ranked No. 2, Grand Rapids' City Built Brewing Company No. 3, and Saline's Salt Springs Brewery No. 6.
GR's City Built Brewing also nabbed another honor, with their Prague Underground beer taking the top spot for "Best Beer Label"!
What If Grand Rapids Bars Were Grand Rapids Girls?