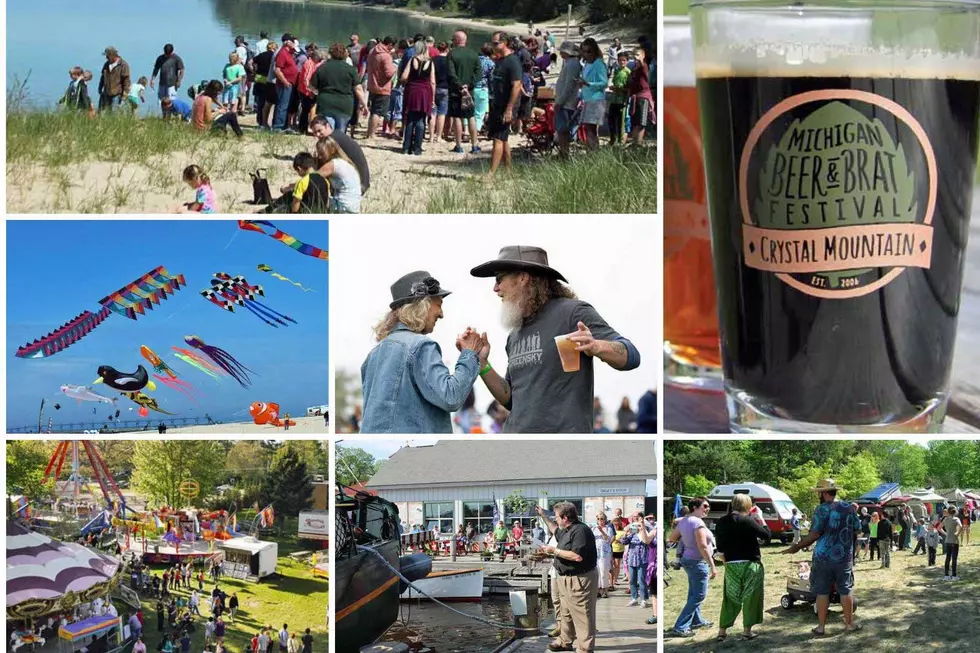 Plan Ahead: West Michigan Fairs and Festivals May 16-31
Photos: Facebook
The fairs and festivals in West Michigan are up and running for the 2022 summer season. Here is a list of events planned for the last half of the month of May, including Memorial Day weekend...
Saturday, May 21-Sunday, May 22, 2022 - Grand Haven State Park, Grand Haven, MI
The sky at Grand Haven State Park will be filled with colorful kites of all shapes and sizes. There will also be world famous stunt kite fliers performing to music. You can also bring your own kite to fly on the open flying field. The festival is free to attend, however there is a fee to park at Grand Haven State Park. More information is available on the Kite Festival of Grand Haven Facebook page.
Saturday, May 21, 2022 - Allegan County Fairgrounds, Allegan, MI
This will be the first annual ALEgan Beer BBQ and Blues Fest. It will take place at the Allegan County Fairgrounds on Saturday, May 21st and is hosted by the Allegan Jaycees in collaboration with Tantrick Brewing Company. Here is a chance for you to sampe the area's finest beer from over 15 West Michigan Breweries along with BBQ from five food vendors. There will also be live music by the JR Clark Band and The Out of Favor Boys. Click here for additional information and to buy tickets.
Saturday, May 21, 2022 - Whirlpool Centennial Park, St. Joseph, MI
Get summer started at the Compass Music Fest. This is a single day, 8 hour music event "set to the beautiful backdrop of Lake Michigan". There will be live music, food, craft brews and wine. Bands scheduled for the day include: The Backups and The Get Downs, Jack Droppers & The Best Intentions, Mary Lambert, Morningsiders, and JP Saxe. For more information, visit their Facebook event page.
Saturday, May 21-Sunday, May 2022 - Plym Park, Niles, MI
Here is your chance to leave the modern world behind to take a step back to a more simpler time. "As you walk through our gates be prepared to have your breath taken away as you enter a celebration of the medieval times. As you wander the land you will meet merchants selling their wares and bards will lull you with their musical talents." You could even be heckled by the town Fool! For updated information, visit their Facebook page.
Wednesday, May 25-Monday, May 30, 2022 - Fruitport, MI
This is a week-long family fun festival and Midway Carnival held in Fruitport. Some of the events scheduled include an Ox Roast, the Whispering Pines Animal Kingdom and Petting Zoo, Pixie's Pony Rides, Music, Fireworks, a 5K Race/Walk, a Motorcycle Run, a Parade, a Horseshoe Tournament, and a Car Show. For more information, here is the Fruitport Lions Club Facebook page.
Friday, May 27, 2022 - Michigan Maritime Museum, South Haven, MI
The Michigan Maritime Museum will be celebrating the 2022 summer season. Festivities include the annual Blessing of the Fleet where tall ship Friends Good Will, Museum vessels, and other South Haven harbor boats are part of a ceremony for a safe and successful season. The After the Blessing it will be a summer kick-off celebration in the heart of South Haven's Maritime District with a Fish Fry, Craft Beer, Music, and more. More information can be found on the Michigan Maritime Museum Facebook Events Page.
Friday, May 27-Monday, May 30, 2022 - Camp Blodgett, West Olive, MI
Buses By The Beach, is a non-profit organization that holds events to raise money for The Phoenix Society for Burn Survivors. This benefit will feature Volkswagon style rustic wooded camping, live music, huge raffle and silent auction of VW related items. In addition, there will be family fun activities like tie dying, a rock climbing wall, a high ropes course, a kids talent show, a community breakfast Monday morning and more! Spend Memorial Day weekend enjoying the sandy beaches and crystal clear blue water, nature trails, and paved bike trails at Camp Blodgett. All VW's and VW lovers are welcome. No need to have a bus!
Saturday, May 28, 2022 - Crystal Mountain, Thompsonville, MI
This is the 15th annual celebration of Michigan-made food and craft beverages. It takes place at Crystal Mountain. You can enjoy live music while sampling some of Michigan's best microbrews, meads, hard ciders, wine, liquor, along with gourmet brats! More information is available on their Facebook events page.
Saturday, May 29, 2022 - Barnes Park, Eastport, MI
This free festival is located on the beautiful beaches of Grand Traverse Bay. It celebrates Antrim County's natural resources and honors Michigan's state stone with festivities including entertainment, food, events, and fun for everyone. For more information, here is their Facebook Events page.