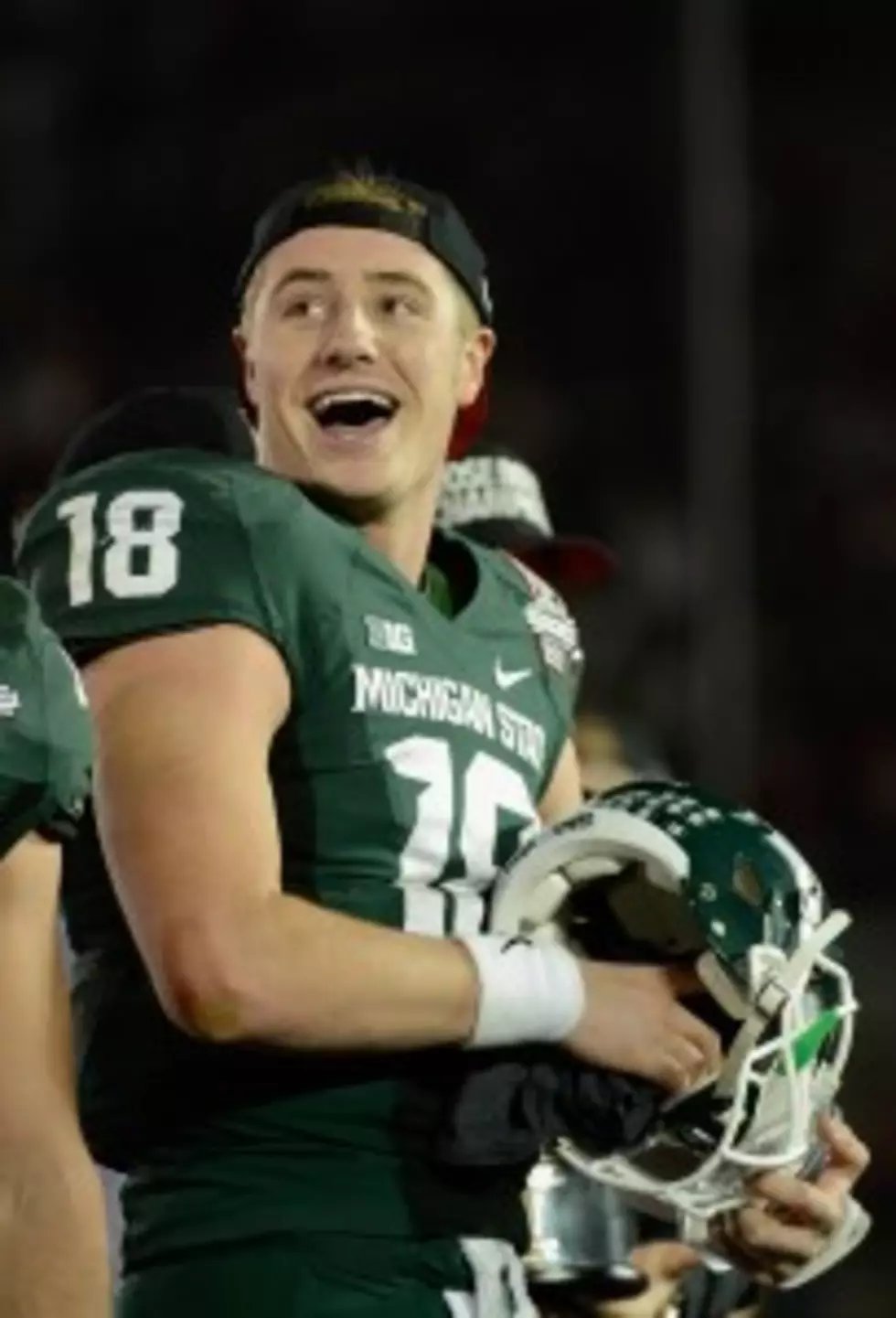 Rose Bowl Final: Michigan State 24, Stanford 20! Spartans Win! [Video]
Kevork Djansezian/Getty Images
Fourth-ranked Michigan State University rallied to defeat fifth-ranked Stanford 24-20 on Wednesday evening in the Rose Bowl in Pasadena, Calif.

Michigan State's defense limited Stanford to 305 total yards, just 11 first downs and 0-for-2 on crucial fourth-down conversions. MSU sophomore quarterback Conor Cook completed 22 of 36 passes for a career-high 332 yards and two touchdowns, getting intercepted once and sacked four times.
The Big Ten Conference champion Spartans won for a school-record 13th time in 14 tries this college football season.
Michigan State was playing in the Rose Bowl for the first time since 1988, which it also won.
Stanford's potent running game appeared poised to take the game over early, rushing for 91 yards in the first quarter against a Michigan State defense that averaged less than that per game.
But from that point on, the Spartans stiffened and held the Cardinal offense to just 71 rushing yards and three points the rest of the way.
Stanford jumped to an early 10-0 lead, the first time all season that Michigan State had trailed by double digits. But once the defense buckled down, Cook and the Spartan offense had one of their strongest performances of the season.
After throwing a costly pick-six that put Stanford up 17-7 with just over two minutes left before halftime, the sophomore quarterback led the Spartans on a seven-play, 75-yard touchdown drive to answer and cut the Cardinal lead to just three at the intermission. Michigan State then scored 10 more unanswered points to take the lead in the second half.
The Spartans' defense sealed the victory when Kyler Elsworth, playing for the suspended All-Big Ten middle linebacker Max Bullough, dove over the pile for a huge stop on fourth-and-one with just 1:34 left to seal the victory.
Michigan State made its first appearance in the Rose Bowl since 1988, and the crowd of 95,173 (the largest since 1998) was more than two-thirds Spartan fans.
With their second half rally, the Spartans became the first team since 2000 to win the Rose Bowl after trailing at halftime. They are just the second Big Ten team to win in Pasadena in the last 13 years.
It was the 10th consecutive win by the Spartans.
Stanford, the Pac-12 champ, finished 11-3.
In celebration, here's the MSU Fight Song: