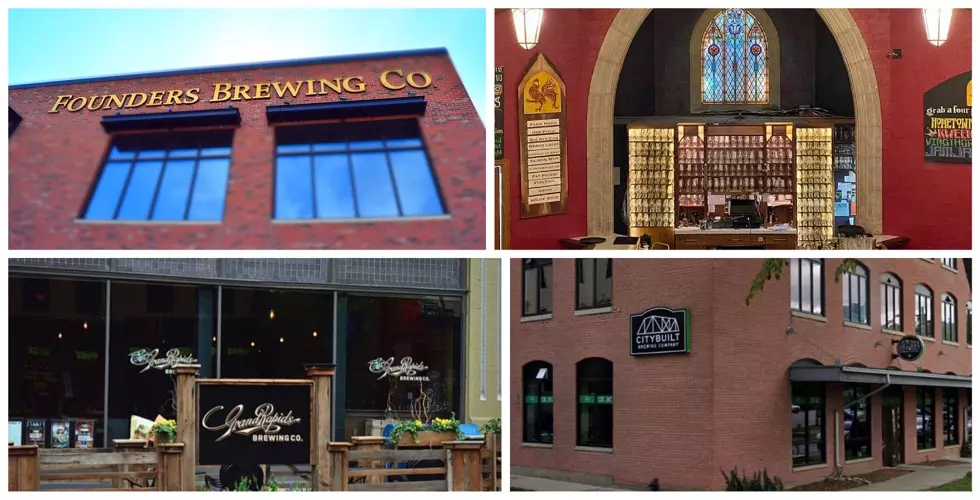 You Can Help Grand Rapids Retain 'Beer City USA' Title
TSM/ Brewery Vivant Facebook/ Google
Grand Rapids is often referred to as "Beer City USA"... but to back that up we should probably keep nabbing these national honors, right?
Grand Rapids is once again in the running for a national contest! GR is among 20 nominees for "Best Beer City in America" in a USA Today 10 Best Readers Poll.
The 20 U.S. cities were chosen by a panel of beer experts as having the best beer scenes in the nation--  "stellar selections of established and up-and-coming breweries, beer bars, brewpubs, beer festivals and even thriving homebrewing communities where novice brewers can get their foot in the door." And now it's up to us to vote!
In the past, GR has won two "Best Beer Scene" titles in USA Today polls... but not last year! In 2020, Grand Rapids came in third, beaten out by Milwaukee at No. 2 and St. Louis at No. 1. Boooooo! Let's not let that happen again.
In the current contest, you can vote for Grand Rapids once per day until voting ends on Tuesday, March 16 at noon ET. Winners will then be announced on Friday, March 26.
Here's USA Today's praise for GR:
Winner of two past Best Beer Scene titles, Michigan's second-largest city sports the state's strongest beer scene, thanks largely to the presence of the world-renowned Founders Brewing Co. Not to be outdone, there are several other brewing operations around town, most notably the Belgian-inspired Brewery Vivant. The city's official "Beer City Ale Trail" lists more than 80 breweries in the surrounding area, and the local calendar is constantly filled with beer festivals, events, and promotions. Throw in exceptional beer stores such as Siciliano's Market, and it's easy to see why Grand Rapids proudly stakes its claim as 'Beer City USA'.
So who are we up against this year? Here are all the cities in the running for Best Beer City in America:
Asheville, North Carolina
Atlanta, Georgia
Bend, Oregon
Boston, Massachusetts
Charlotte, North Carolina
Chicago, Illinois
Denver, Colorado
Fort Collins, Colorado
Indianapolis, Indiana
Madison, Wisconsin
Milwaukee, Wisonsin
New York, New York
Philadelphia, Pennsylvania
Portland, Maine,
Portland, Oregon
San Diego, California
San Francisco, California
Seattle, Washington
St. Louis, Missouri
Well, let's take all these other cities out! You can vote for Grand Rapids here.
What If Grand Rapids Bars Were Grand Rapids Girls?