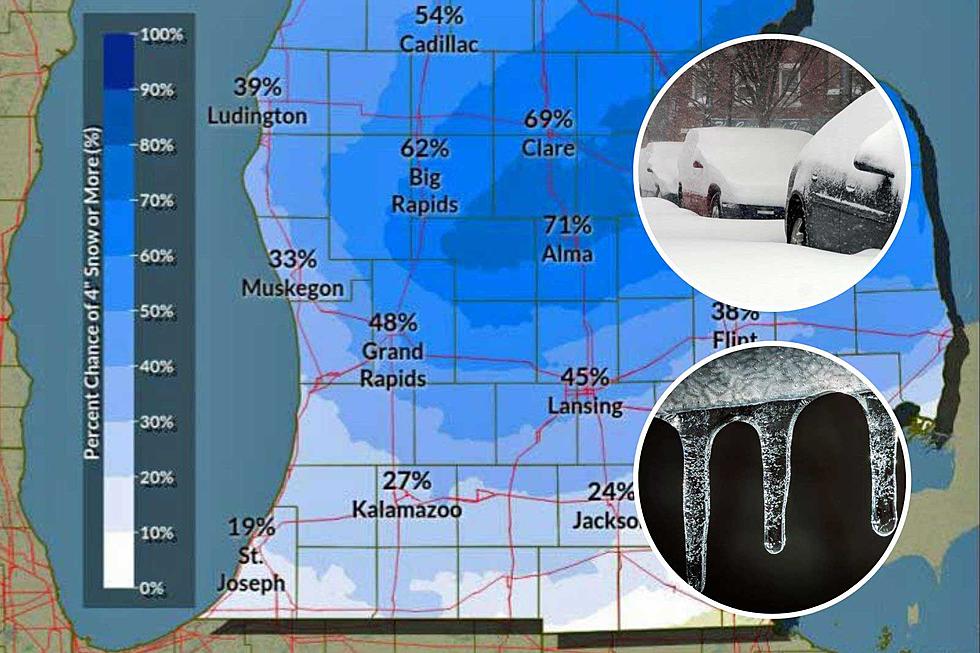 Here We Go Again! Winter Storm Heads Towards Michigan for Friday
Photos: National Weather Service Grand Rapids, Canva
Every since just before Christmas, it seems like we have been getting hit hard with one winter storm after another in West Michigan.
In December it was a lot of snow. For the last couple of weeks it has been crippling ice accumulations.
Another Storm Is Moving Towards Michigan for Friday
The National Weather Service in Grand Rapids is warning of hazardous winter weather for the end of this week. A recent Facebook post says...
Impactful winter weather is likely to move into Michigan Friday as a storm system develops across the Southern Plains Thursday and heads in our direction by late Friday morning or early afternoon. Several inches of wet snow will be possible across much of the region Friday afternoon into Friday night.
How Much Snow Will This Storm Bring?
That remains to be the big question. The zone of heaviest snow has fluctuated with this system, but recent indications point to areas near or slightly north of the I-96 corridor to receive the heaviest amounts -- possibly over 6" during the day on Friday and Friday night.
As of Wednesday, the weather models couldn't even agree on how much snow we might get. Blake Harms, Meteorologist at WOOD TV-8 posted this graphic of the different weather model predictions...
As you can see, the European model is giving us 15" of snow. The U.S. models are in the 6-9" range and the Canadian model gives us less than a half inch of snow.
Once again the southern portions of the state could have some light freezing rain. Winds will also pick up with this storm with wind gusts as high as  30-40 miles per hour -- and possibly higher.  The ride home from work on Friday afternoon and evening could be treacherous.
On Wednesday, March 1st, the National Weather Service in Grand Rapids released the following graphic:
Here is what they are predicting for ice accumulations:
The heaviest ice accumulations look to be in the southern portion of the state, the same area that is still cleaning up from the storm a week ago. According to the Consumers Energy Outage Map, there are still 777 customers in Hillsdale County without out power from the last storm.
A Winter Storm Watch Goes into Effect on Friday Afternoon
The National Weather Service in Grand Rapids has issued a Winter Storm Watch for the area. It is for Newaygo, Mecosta, Isabella, Muskegon, Montcalm, Gratiot, Ottawa, Kent, Ionia, and Clinton Counties...
...WINTER STORM WATCH IN EFFECT FROM FRIDAY AFTERNOON THROUGH
LATE FRIDAY NIGHT...
* WHAT...Heavy snow possible. Total snow accumulations of 6 or
more inches possible. Winds could gust as high as 40 mph.
* WHERE...Portions of central, south central, southwest and west
central Michigan.
* WHEN...From Friday afternoon through late Friday night.
* IMPACTS...Plan on slippery road conditions. The hazardous
conditions could impact the evening commute.
* ADDITIONAL DETAILS...Wet, heavy snow is expected, with snowfall
rates of 1 inch per hour possible. Slippery, snow-covered roads
are possible, and may greatly impact the Friday afternoon and
evening commute. Hazardous travel conditions may persist into
Saturday.
West Michigan Ice Storm Brings Beauty & Carnage To Kalamazoo
The first thing I witnessed this morning was a loud "CRACK" then turning my head to see a tree limb snap off and fall to the ground. It gets so cold and heavy once the ice absorbs into the wood that the limbs just can't take the pressure from the weight and will snap
Michigan's 2013 Ice Storm
Michigan's 2023 Ice Storm pales in comparison to what happened across the region in 2013.