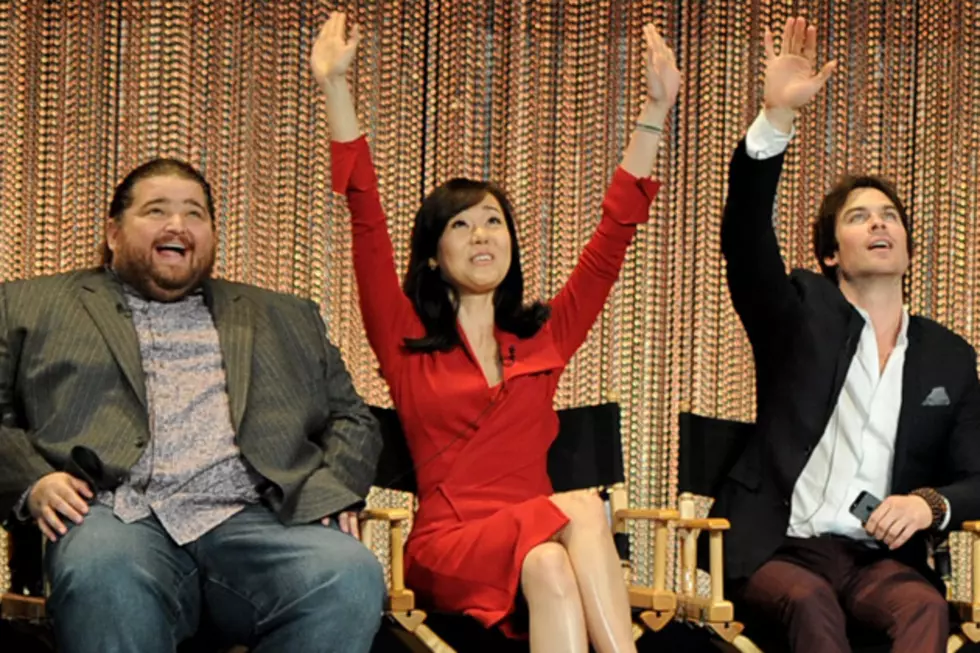 'Lost' Reunion: ABC Show's Cast Reunites at PaleyFest in Los Angeles
Getty Images
It's been almost 10 full years since the opening of ABC's 'LOST' saw the survivors of Oceanic Flight 815 marooned upon the shores of a mysterious island, whose various challenges forced them into a mantra of "live together, die alone." While six seasons and an epic finale may not have answered every question raised by inquisitive fans, the majority of the cast all gathered at Sunday's PaleyFest reunion panel to celebrate the magic (and insanity) that was 'LOST.'[Note: Non-'LOST' fans should be wary of spoilers from the series.]
In addition to showrunners Damon Lindelof (soon returning to TV with HBO's 'The Leftovers') and Carlton Cuse ('Bates Motel,' 'The Strain'), also in attendance were cast members Josh Holloway (Sawyer), Jorge Garcia (Hugo "Hurley" Reyes), Yunjun Kim (Sun Kwan), Ian Somerhalder (Boone Carlyle), Maggie Grace (Shannon Rutherford), Henry Ian Cusick (Desmond Hume) and an entirely grown-up Malcolm David Kelley (WAAAAAAAALLLLLLLLLTTTTTTTT!!!).
Having recently been elevated to series regular on CBS' 'Hawaii Five-0,' Garcia reflected on Hurley, despite the fact that he auditioned for Sawyer with Yunjun Kim as Kate (the full script had yet to be written). Garcia had been told during the first season that Hurley had earlier been a repo man whose nicety often convinced people to simply hand over their property, before the "numbers" episode revealed that Hurley had in fact won the lottery.
Maggie Grace has since achieved some notoriety with her role in the 'Taken' franchise, and recently signed to an untitled Wall Street drama for CBS, following a season-long stint on Showtime's 'Californication.' Grace joked about her "proudest moment" of shooting, in which she chewed minced garlic and puffed on cigars in preparation for a makeout scene with her stepbrother Boone, as portrayed by Ian Somerhalder.
Somerhalder, in fact, holds the distinction of having been the first actor cast on 'LOST,' as well as the first regular to be killed off, taking the honor in good spirits as a way to "defy the television convention" by killing off a favorite character. In any case, the unusual relationship between the pair was much better received than that of the infamous Nikki and Paolo ('300' star Rodrigo Santoro) for whom an entire year's worth of backstory had been crafted, only for Lindelof and Cuse to mutually decide they hated the characters and killed them off.
Naturally, Malcolm David Kelley's apparent aging throughout the first and second seasons of 'LOST' necessitated his exit from the series, with only sporadic appearances in the years that followed, though Kelley himself continued to work both on and off camera. Currently, Kelley works with Tony Oller in a musical group called MKTO, whose first album hits April 1.
Yunjun Kim knew from the pilot that her character Sun could secretly understand English, though by the time of her original audition, her husband Jin (Daniel Dae Kim) had not yet been written into the script. Kim felt safe on the series the moment writing revealed that her character had been pregnant, though cast members apparently lived in such constant fear of death that Daniel Dae Kim even asked producers if he should hold off on buying a house in Hawaii.
Creators Damon Lindelof and Carlton Cuse naturally took a bit of flack for their decision to focus on characters over answering the mysteries posed by the island, though both men put forth that they made the decision early on, particularly with regard to the final season. "'LOST' was a show about people on an island in the middle of nowhere, but metaphorically they were lost in their lives [and in need of] purpose and redemption," Cuse said. "[The ending] had to be a spiritual one."
Though he remains best known for his role as 'LOST''s Desmond, Henry Ian Cusick will next be seen with a regular role on forthcoming CW sci-fi drama 'The 100.' Cusick also pressed that he knew even less about his character's backstory than the regular cast mates were told, though that didn't stop him from taking a few costumes from the role as souvenirs.
While Holloway's Sawyer ostensibly emerged as a second leading man on the drama, producers initially intended to kill off Jack (originally played by Michael Keaton) in the pilot episode as a means to establish the stakes early on, in defiance of any and all promotional appearances touting Keaton's central role. Cuse and Lindelof rethought the idea after ABC gave the note that the audience would never trust them again after such an early gut punch.
Naturally, both cast and creators still get a number of questions and fan theories to potentially explain any lingering mysteries created by 'LOST' in its six seasons. Garcia joked that he heard a fan pose the idea that everyone aboard Flight 815 had been cloned in midair, while Cuse and Lindelof revealed that they did in fact develop an explanation of the infamous "outrigger shootout" of season 5 episode "The Little Prince." Neither were willing to divulge the identities of those aboard the second boat doing the shooting, though they might auction the script page off for charity in the future.
Apart from a few costumes taken from the set here and there, Lindelof joked that he "might" have kept the infamous hatch door for use as a coffee table, while Cuse similarly copped to keeping the hatch's countdown clock, and Garcia kept several of Hurley's paintings. As for unusual fan encounters, Holloway revealed he saw one particular fan "a few too many times" with offers of a "chicken dinner," while Terry O'Quinn once hitched a ride home from the set, only for the driver to keep going to her own house, saying, "I have to show you to my husband!"