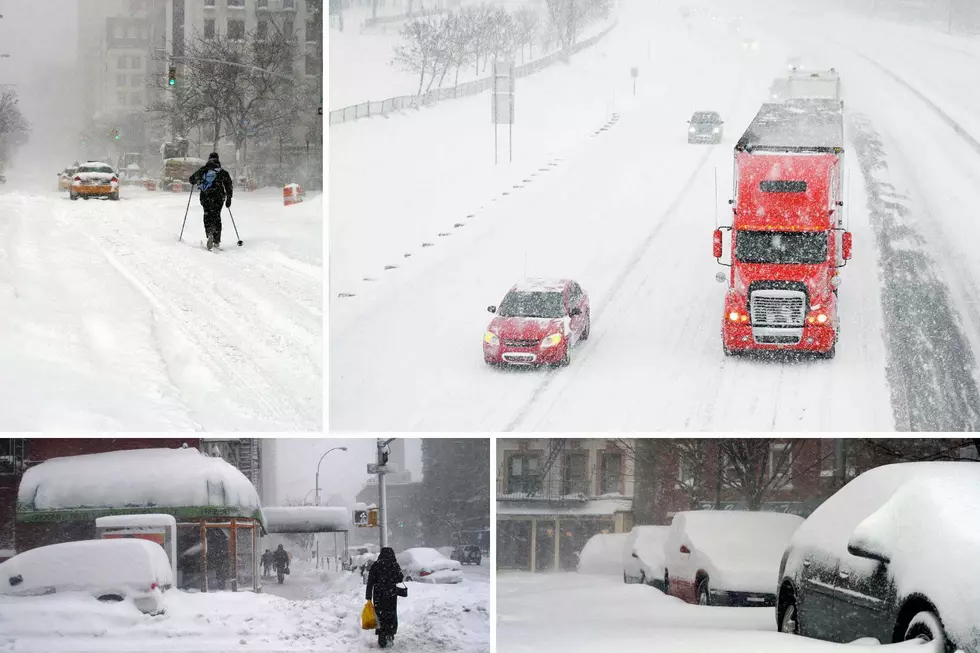 Blizzard Update: Was This Blizzard Worse Than the Blizzard of '78?
Photos: Canva
Keep checking back to this post for further updates. As new updates become available, they will be added to the top of this post. You may want to bookmark this page for quick reference during the storm. Many updates will include important links to the information you may need.
---
UPDATE: December 26, 2023 - 11:30 a.m.
Was The Christmas Blizzard of 2022 Worse Than the Blizzard of '78?
With any major winter weather event, many in West Michigan compare it to The Blizzard of '78. Now that the snow has mostly stopped and the winds have died down, the National Weather Service is comparing the two storms by the numbers.
---
UPDATE: December 24, 2023 - 2:00 pm
Many Christmas Eve Cancellations
The cancellations for this Christmas Eve are starting to roll in. Many Christmas Eve Services at area churches have been cancelled due to the weather.
You can check out the list of Closings and Delays on the Fox 17 website.
---
UPDATE: December 24, 2023 - 11:20 am
Kent County Road Commission Creating "Passable Conditions"
---
UPDATE: December 24, 2023 - 11:10 am
Warming Stations
If you need a place to warm up, there have been some warming stations set up around the area. Alano Club of Kent County, 1020 College Ave. NE, Grand Rapids Crossroads Bible Church, 800 Scribner Ave. NW, Grand Rapids Degage Ministries, 139 Sheldon Ave. SE, Grand Rapids Exodus Place, 322 Front Ave. Grand Rapids Matthew's House, 766 7th St. NW, Grand Rapids Mel Trotter Ministries, 225 Commerce Ave. SW, Grand Rapids Unlimited Alternatives, 321 Fuller Ave. NE, Grand Rapids West Grand Neighborhood Organization, 754 Leonard St. NW #2, Grand Rapids If you are in need of assistance during this winter storm, call 211 and you will be dispatched to a representative who will help you.
---
UPDATE: December 24, 2023 - 10:50 am
Do Not Plow Snow into the Roads
The Kent County Road Commission is reminding people to not plow snow into or across the road. The Michigan Vehicle Code 257.66a(4) states: "(Unauthorized) person shall not deposit...snow, ice or slush on any roadway or highway."
---
UPDATE: December 24, 2023 - 10:45 am
No Skating, Winter Activities, or Trash Pick Up in Grand Rapids
Also, the City of Grand Rapids has suspended curbside refuse collection service. Normal operations will resume on Monday.
---
UPDATE: December 23, 2023 - 5:30 pm
The Rapid Suspending Service Early on Friday
The Rapid posted that for the safety and well-being of their drivers and customers, they will be suspending all service at 7 pm on Friday, December 23rd.
---
UPDATE: December 23, 2023 - 5:15 pm
Malls Closed Early
Due to the weather, both Woodland and Rivertown Crossings Malls have closed early on Friday.
---
UPDATE: December 23, 2023 - 4:30 pm
Don't Drive
---
UPDATE: December 23, 2023 - 4:15 pm
Freeways Closed Due to Crashes
There were several accidents on West Michigan roads. If you don't have to travel, it is advised that you just stay home. Throughout the day, several interstates and highways in West Michigan have had to close while crews worked to clean up accidents. Here is a video taken by Jessi earlier today on eastbound I-196 near Holland...
---
UPDATE: December 23, 2023 - 2:15 pm
Blizzard Bingo
Our friends at Fox 17 have a good attitude about all this snow and cold weather. They have created a Blizzard Bingo card! When you watch their reports, be listening for things like "Warned to Stay off Roads", "Team Coverage", and a "Reporter picking up Snow". Those are just some of the things to look for to win "Blizzard Bingo"...
---
UPDATE: December 23, 2023 - 2:00 pm
Christmas Lite Show at LMCU Ballpark Closed
www.christmasliteshow.com
---
UPDATE: December 23, 2023 - 12:00 pm
The Weather Channel is in Holland
One sign that the weather is bad...when The Weather Channel shows up! Mike Seidel was live in Holland earlier today. WOOD TV-8 Meteorologist Blake Harms was able to catch this picture of his TV screen with Mike doing a live shot from West Michigan...
Here is Mike's report...
He's not quite sure just where he is (Holland State Park) and I think the highway he is referring to is I-196...not 197!
---
UPDATE: December 23, 2023 - 10:30 am
Many Flights To and From Gerald R. Ford International Airport at Cancelled or Delayed
As the winter storm makes its way across the midwest, travel is becoming difficult not only on the roads, but also in the air. Thousands of flights at many airports across the country are experiencing cancellations or delays.
If you are planning to fly out of the Gerald R. Ford International Airport make sure you check your flight status. Both departing and arriving flights into Grand Rapids are being delayed or cancelled. As of 5 pm on Friday, all departing flights for Friday night out of Grand Rapids have been cancelled.
You can check the status of flights in and out of Grand Rapids on the Gerald R. Ford International Airport's website with their real-time flight tracker.
---
UPDATE: December 23, 2023 - 10:00 am
Ice Skating at Rosa Parks Circle Cancelled
The City of Grand Rapids Parks and Recreation Department have cancelled all in-person recreation and fitness programs, ice skating at Rosa Parks Circle, and winter activities at Indian Trails Golf Course for Friday, December 23rd due to the weather..
---
UPDATE: December 22, 2023 - 12:40 pm
All Grand Rapids Public Library Locations Closed Until at Least Next Tuesday
The Grand Rapids Public Library has announced that all GRPL locations will be closed beginning at 5:00 p.m. on Thursday, December 22, 2022, and expect to reopen Tuesday, December 27, 2022.
---
UPDATE: December 22, 3023 - 11:00 am
Grand Rapids Griffins Game for Friday Has Been Cancelled
The Grand Rapids Griffins game that was scheduled for Friday, December 23, 2022, at Van Andel Arena against the Cleveland Monster has been rescheduled for Wednesday, January 4, 2023 due to the expected severe weather.
---
UPDATE: December 22, 2022 - 10:30 am
Consumers Energy Preparing for Power Outages
Consumers Energy has released a news release to let people know that they are also preparing for the winter storm and possible power outages, downed wires, and other safety hazards.
Garrick Rochow, President, and CEO of Consumers Energy said...
Consumers Energy customers should know we are all-hands-on-deck preparing for this storm. Crews are preparing trucks and essential materials right now to assist with any restoration efforts.
They are encouraging people to visit www.ConsumersEnergy.com/Outage-Center for helpful tips and updates. Customers can also use that link to report an outage and sign up to receive power restoration updates. They are also advising customers to download the Consumers Energy app on their smartphone or tablet.
Some tips to prepare for the storm include:
Charge all electronic devices. It's advised to have an emergency battery or charging station available for use during an outage.
Have an emergency kit that includes flashlights and extra batteries, water, canned food, and blankets. Be prepared with enough medication, baby supplies, and pet food if applicable. A battery-operated radio is also a good idea.
Unplug sensitive electronics like TVs, computers, and printers. Turn power strips off.
Also, remember to stay at least 25 feet away from any downed power lines or anything they are touching. Keep children and pets away as well. Report the issue by calling 9-1-1 AND Consumers Energy at 800-477-5050.
If you will be using a portable generator during a power loss, remember to keep it 25 feet away from any doors, windows, or fresh air intakes.
---
Blizzard Warning Goes Into Effect at 4 pm on Thursday
The National Weather Service in Grand Rapids has issued a Blizzard Warning that will go into effect at 4 pm on Thursday, December 22nd, 2022. This warning will run until 7 pm on Saturday, December 24th for the counties along Lake Michigan and also the next adjoining inland counties.
This weather advisory warns of snow accumulations in excess of a foot in many areas along with wind gusts of over 50 mph. Travel will likely be very difficult to impossible, especially on Friday. The gusty winds have the potential to bring down tree limbs and power lines.
During this warning, travel is not advised. The National Weather Service even goes so far as to say...
Travel should be restricted to emergencies only.
You can read the official release from the National Weather Service here.
The remaining counties in Michigan will be under a Winter Storm Warning from 4 pm on Thursday, December 22nd through 1 am on Saturday, December 24th. Heavy snow is expected in those counties with accumulations of 6-10 inches and wind gusts up to 50 mph.
See more information on the Winter Storm Warning here.
Michiganders' Go-To Indoor Activities for Snowy Weather
We asked and Michiganders answered. Here are 9 go-to indoor activities to keep you busy during snowy weather.
3 of the Snowiest Cities in the U.S. are in Michigan